Emily Albert, of Greenwood, Nova Scotia, is the perfect example of the kind of special student the Mount attracts.
She's not even a full-time university student yet, and she's already clocked many hours on campus through attendance at several Girls Get WISE science retreats, and been the recipient of two major Mount accolades — a Student Leadership Award (a free room in residence in recognition of significant prior leadership achievement) and an entrance scholarship valued at $22,000 over four years.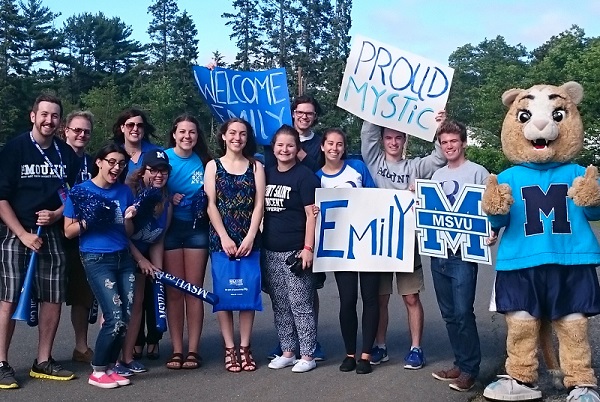 A leader in her high school and community, Emily (7th from the left, above) has helped lead her school's Remembrance Day ceremony, led Me to We fundraising efforts to help build a school in Africa, and has held multiple Student Council positions. In her community, she volunteers at St. Marks Chapel and in the Greenwood Military Family Resource Centre. On top of it all, she has an outstanding academic record (and many academic awards to prove it!) and holds a part-time job.
On Monday, June 27, Emily travelled with her family to West Kings District High School for her graduation. Notably, Emily was valedictorian for the ceremony. We decided to surprise her along the way.
Watch the video capturing her reaction.
Welcome, Emily, and all new students gearing up for your September starts at the Mount. We are delighted you chose a Mount education and look forward to seeing you!
---

Haven't applied yet? Coming in the fall?
Click here to RSVP for Summer Advising & Registration (July 17).