Academic achiever and student leader encourages others to define feminism for themselves
As a passionate student researcher, leader and feminist, Charlotte Kiddell embodies many of the values inherent in the Mount's history. Her insatiable desire to learn and support others gives her a special ability to help those around her become the best versions of themselves – an admirable influence to have at a young age.
Charlotte graduated this spring with a Bachelor of Arts degree and a combined major in English and Psychology, but she isn't done just yet. This fall, she will return to the Mount to begin her Honours certificate in English and she currently works within the Mount's Library, a place she knows quite well.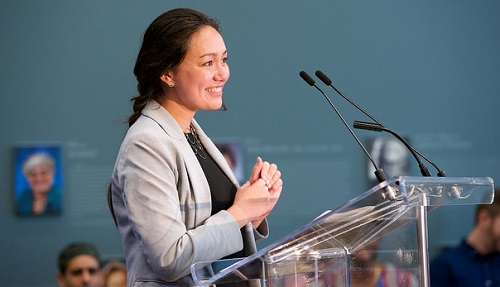 At the Mount's 2015 Academic Awards Reception, Charlotte received the Sister Francis Desales Endowed Research award and the Beryl Rowland Book prize in English for her skillful use of the Mount Library in developing a sexual assault research project. An endeavour that began in her community psychology class, she explored how narrative-based writing and the sharing of stories can help survivors in the restorative justice process.
Her Honours work will examine the ways that narrative literature, writing the story of oneself, can be used as a mode of healing and therapy. "I have this dream that literature will save the world," she laughed.
Charlotte's many accomplishments extend beyond the classroom – she was the Operations Manager at the Fountain Play Centre (a subsidized child care service for Mount students), and the founder of the MSVU Feminist Collective.
Said Charlotte about the collective, "Our statement on what we do and what feminism means to us is pretty vague, but intentionally so, because we want it to be inclusive and flexible to how members personally define their feminism."
Charlotte began the collective to create a more open dialogue surrounding feminism, especially given the Mount's history in supporting women. She was motivated after learning that some students thought it was unnecessary to address feminism at the Mount because of the high percentage of female students. "We absolutely need feminism because we are 70% female," she said. "Women's rights should be at the forefront of our conversations."
[More on the MSVU Feminist Collective]
An initiative that began as a way to raise awareness and encourage general dialogue in the Mount community evolved into an educational outlet where discussions became more than simply defining feminism. The collective organized a campaign where students filled in a poster template with their definition of feminism and held a three-part panel series on feminist issues in child care, geek culture and at the Mount. Mount President and Vice-Chancellor Dr. Ramona Lumpkin, CM, and Mount Vice-President, Academic Dr. Elizabeth Church were both members of the final panel.
"There was a real sentiment that so many people had been wanting and waiting for this kind of thing to happen, which was really inspiring and encouraging," she said.
Given Charlotte's efforts and keen interest in supporting women, it was fitting that she served as emcee at the Mount's recent grand opening event for the new
Margaret Norrie McCain Centre for Teaching, Learning and Research
(see photo above)
. The Centre is the first on a Canadian university campus dedicated to the accomplishments of women and celebrates the stories of countless women throughout. We look forward to continuing to reading the rest of Charlotte's story – we know it's going to be a great one.