On May 29, 2015, Mount Saint Vincent University marked the opening of its new Margaret Norrie McCain Centre for Teaching, Learning and Research. The first building on a Canadian university campus dedicated to the accomplishments of women, the McCain Centre celebrates women's contributions to business, public policy, family life, academia, the arts, sciences and community.
"This new building will
shape the education of Mount students for generations to come," said Mount President and Vice Chancellor
Dr. Ramona Lumpkin
, CM, at the grand opening celebration. "I'm excited by the inspiration that will come from these halls – for our students, staff, faculty and community – as we honour the many roles of women. To our donors and supporters: what a legacy you have built!"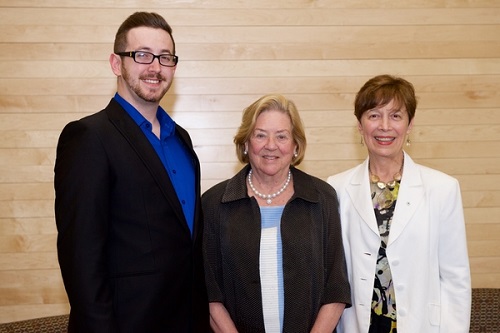 Named for lead donor The Honourable Margaret Norrie McCain, the Centre celebrates women throughout, including
18 inspiring women
whose stories are featured in the Elizabeth and Fred Fountain Atrium within the new building, and several others – for example Mary Simon, Patricia Joseph Arab and Mona Mahmudnizhad – for whom various
spaces are named
. The
Riva Spatz Women's Wall of Honour
, named by donor Dr. Jim Spatz in honour of his mother, is a fitting installation just outside the building.
(Pitcured: Justin Corcoran, Mount Students' Union President, The Honourable Margaret Norrie McCain, CC, ONB, and Mount President and Vice-Chancellor Dr. Ramona Lumpkin, CM)
About the McCain Centre
The McCain Centre is a student-oriented new building that is technologically advanced, environmentally conscious, accessible, and boasts incredible basin views. The building more than doubles the number of spaces for exclusive use by students on the Mount campus and also offers a new capacity for students to connect their personal mobile technologies to classroom collaborations. Further, the McCain Centre links the upper and lower areas of the Mount campus via a pedway and new link. The building's equipment and design are rated at a high level of efficiency and include daylight harvesting (to maximize the use of natural light sources) and built-in energy conservation systems. [
See fact sheet for more information.
]
The building Mount donors built
The building was made possible through an ambitious fundraising campaign – Project TWENTY12 sought to raise $12 million in just 20 months, ultimately exceeding that goal in part thanks to a $2.5 million gift from Margaret McCain – the university's largest ever. The total cost of the new building, completed on time and on budget in keeping with the Mount's decades-long track record of balancing budgets, is $18 million, with the balance being financed.
Lead donors Margaret McCain, Elizabeth and Fred Fountain, CM and Justin Corcoran, President of the Mount Students' Union and representing Mount students, were on hand for the opening.
Said The Honourable Margaret Norrie McCain (pictured below), "My belief in the Mount's mission and vision – particularly the University's commitment to the advancement of women – made this project a great fit for me. I'm so thrilled to see this new building open today. It is a true reflection of our shared commitment to women as pillars of our families and communities, and we hope that the region will enjoy its significance."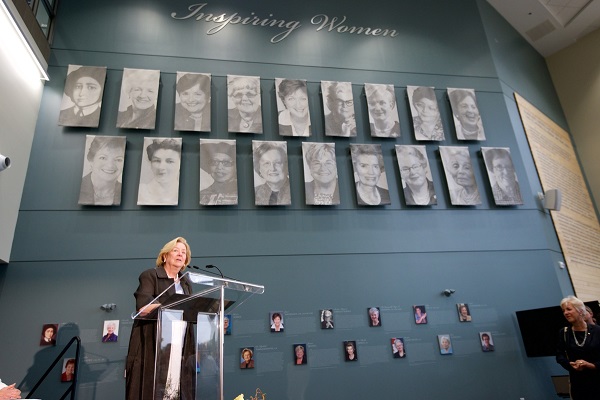 In celebration of Mount student support of the McCain Centre, the pedway connecting the building to the Rosaria Student Centre has been named Student Legacy Lane. "Thank you to all students who have been part of this significant contribution – thank you for investing in the Mount and for lending your support for generations of future students," said Justin Corcoran, President of the Mount Students' Union. "I can speak with confidence on behalf of past, current and future Mount students when I say this is a very good day for the Mount, our campus and our students."
Riva Spatz Women's Wall of Honour unveiled
Also on May 29, the Mount unveiled its new Riva Spatz Women's Wall of Honour. Named for his mother by Dr. Jim Spatz, Chairman and CEO, Southwest Properties Limited, the Riva Spatz Women's Wall of Honour is located just outside the McCain Centre and is the only installation of its kind in Canada offering a lasting way of honouring women from all walks of life (mentors, business leaders, mothers, sisters, daughters). The wall displays more than 400 names across seven named panels, and also links to a virtual wall sharing photos and stories of the women honoured:
http://www.womenswallofhonour.ca/en/home/virtualwall.aspx
.
Riva Spatz (1922-2013) was a Holocaust survivor and resistance fighter against the Nazis. After the war, she moved to Munich, where she met and married Simon Spatz with whom she later moved to Canada. The compassion that led her to study nursing echoed throughout her entire life – raising her children, working to support the business she and her husband created, and maintaining strong community and family connections.
(Pictured below, from left to right: Mount President and Vice-Chancellor Dr. Ramona Lumpkin, CM, Dr. Jim Spatz, Chairman and CEO, Southwest Properties Limited, and the Honourable Margaret Norrie McCain, CC, ONB)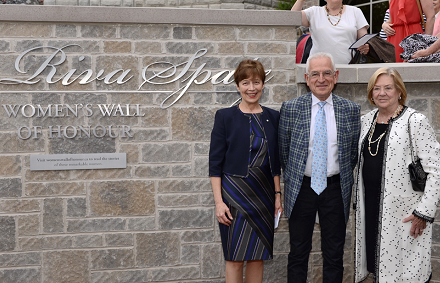 About Mount Saint Vincent University
Recognized as a leader in flexible education, applied research, and a personalized approach to learning, Mount Saint Vincent University has been nationally recognized among Canadian undergraduate universities for our success in Social Sciences and Humanities Research Council grants and for having one of the lowest student-to-professor ratios. Based on a 142-year legacy in the advancement of women and instilling a strong value for social justice in our students, the Mount is committed to being a model of creative teaching and research that nurtures socially responsible global citizens.
---
For more information:
Gillian Batten
Manager, Communications
Mount Saint Vincent University
902-457-6439, 902-441-0505
Gillian.Batten@msvu.ca