Sandra Currie-Samson has always identified herself as an avid learner, and it's this passion for education that drew her to the Mount's Master of Education (MEd) program in Lifelong Learning.
Sandra had formerly worked for several not-for-profit organizations in a variety of roles, but the work that stood out in her career history was training and workshop facilitation. She was preparing to transition back into the workforce from life as a stay-at-home mother when she discovered the graduate program that would help her to launch a successful consulting business in adult education—and eventually help shape her husband
's professional future, as well.
(Sandra and Samuel pictured below.)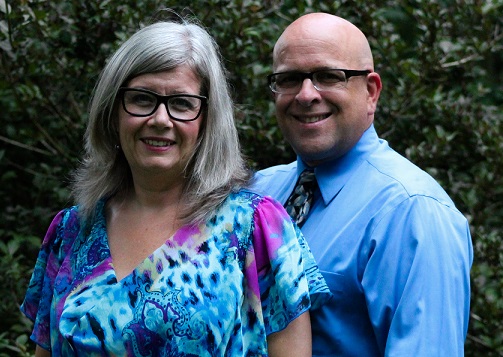 Sandra had left her work in the not-for-profit sector to devote her time to raising her two daughters Laura and Charlotte with her husband Samuel, a Vice-Principal at École Secondaire du Sommet. When she decided that it was time to return to work, she spent some time considering the kind of career that she wanted. Sandra wanted to build on her previous work in training, and she herself was passionate about learning and continuously building her own skill set and knowledge base. She knew that a career in adult education was a great fit for her—she just needed to find a program that was going to help her to get there.
Exploring the ideas behind the skills
Sandra began by enrolling in the Certificate program in Adult Education from the College of Continuing Education at Dalhousie University. This program was helpful in giving her an understanding of the practical skill set that she'd need to work in the field. But, as Sandra discussed her goals with her instructors, she realized that she wanted to explore the ideas behind the skills. One of her instructors recommended the Mount's
MEd program in Lifelong Learning
. Sandra took her instructor's advice—and in her first graduate course, she realized what great advice it was. "I felt like I was home," she said.
The program brought together people from all kinds of educational fields. And this diversity was a big part of the program's success, Sandra said.
In her discussions with both her professors and her fellow students, Sandra was able to thoroughly explore the ideas and the theories that had drawn her to the Lifelong Learning program in the first place. At the Mount, she was able to share these ideas with her classmates, who came from a wide variety of professional backgrounds. This diversity of perspectives and experiences among the graduate students in her program helped her to test the academic theories that she was studying in a range of professions and fields, and to understand how to apply her education to many different contexts and situations.
Learning becomes contagious
At home, Sandra was excited to share what she was learning and exploring in class with her husband Samuel. And it wasn't long before Samuel realized how valuable a graduate degree in Lifelong Learning would be to his own position as a secondary principal, where much of his work is supporting teachers' professional development and ongoing education. He enrolled in the program too, and now he and Sandra enjoy discussing the field of adult education and lifelong learning at home.
Today, Sandra has earned her MEd, and she has established a successful consulting business. At Sassy Solutions, Sandra works with all kinds of companies to develop and deliver training, workshops, and professional development seminars. Through her consulting work, Sandra is able to share the insights that her own education have provided her—that lifelong learning is not only important to a company's ability to succeed in business, but also in its employees' ability to grow, to develop, and to be able to see solutions to problems and new options that they might never have been able to imagine before.