For as long as I've been part of the academic world, I've loved this time of year.
September signals new opportunity in so many wonderful ways – from new experiences and new knowledge, to new friendships.Whether you are a new or returning student, faculty member or staff, I would like to warmly welcome you (or welcome you back) to the Mount.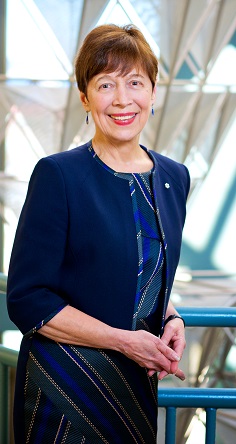 This past summer has been a busy one here on campus and included some changes I wanted to highlight for you.


New faculty
Between July and January we will welcome 12 new faculty to the Mount, as well as one new librarian. These individuals are educators and researchers in areas such as strategic human resources, technology in communication, micronutrient deficiencies, global aging, pilgrimage tourism, and applied developmental psychology (among many other topics), and we are thrilled to have them as part of the Mount community. Stay tuned for more information about our new faculty members.


Facility upgrades
Our Facilities team has been busy this summer, making upgrades in several locations across campus. We have most recently completed some renovations of the Seton Auditorium, including acoustic and AV improvements (we hope to make furniture and flooring upgrades next). As well, we have completed some updates to our residence buildings, paved a new parking lot on campus adjacent to the Aboriginal Student Centre, and installed improved lighting on Seton Road.

This academic year will also mark the first full year for our International Education Centre in their new location, Seton Annex. If you haven't already done so, I encourage you to pay them a visit.


Update from the Office of Student Experience
There have also been some department relocations this past summer, including several Student Services teams. Paula Barry, our Associate Vice-President of Student Experience, details these well, along with many more items, in her recent "top ten updates".


New Students' Union president
This summer, the Mount community also welcomed a new Students' Union president, BPR student Ryan Nearing. Ryan and the other members of the Students' Union (SU) executive (Morgan Atwater, Haley Myatt and Erin Murray) can be found in the SU office in the Rosaria Student Centre. I know they would welcome all students, faculty and staff to stop by anytime. The Students' Union recently finalized a new four-year strategic plan which they have already begun to implement through their many great initiatives on behalf of Mount students.


Keep in touch
I look forward to meeting you in the weeks and months ahead. I try to eat lunch in the Rosaria Dining Hall as often as I can and I invite you to come sit with me.

Whether you're joining us on campus or from other locations, I also encourage you to stay in touch with the Mount via our official Facebook, Twitter and Instagram accounts.

As we embark on another year, I hope you embrace all that this time of opportunity has to offer – and be kind to yourself along the way. Find your supports – friends, faculty and staff – as you find your opportunities. There are many of both here at the Mount.

Ramona