Dr. Gavin Kernaghan is part of a research team looking at harnessing the power of local yeasts to improve wine quality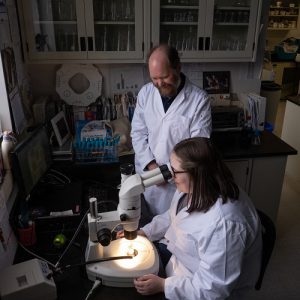 Mount Saint Vincent University professor Dr. Gavin Kernaghan has teamed up with researchers Dr. Marcia English, St. Francis Xavier University, and Dr. Lihua Fan, Agriculture and Agri-Food Canada, to investigate how locally occurring yeasts can be used by Nova Scotia vineyards to improve wine quality.
Dr. Kernaghan is a professor of Biology and Mycologist. He studies fungi including yeasts, molds and mushrooms. Through this research collaboration, he is looking at different yeasts present at select Nova Scotian vineyards and investigating how the commercially available yeasts and indigenous yeasts compete.
Final results from this study will demonstrate how wine and grape producers can improve their wine quality using indigenous yeasts. Through this effort, wine and grape producers in Nova Scotia will gain a better understanding of the indigenous yeasts found in their vineyards and how the different kinds of yeasts can improve the quality of wines.
Drs. Fan, English, and Kernaghan formed this research partnership through the Grape Growers Association of Nova Scotia (GGANS). GGANS connected the researchers based on their mutual research interests and expertise. Funding for this project totaling $264,600 over 5 years is being provided by the Grapevine Certification Network (CGCN) under the Canadian Agricultural Partnership's AgriScience Clusters through the Department of Agriculture and Agri-Food Canada.
Dr. Kernaghan's work with fungi will help Nova Scotia vintners produce their wine with a significantly improved process. In separate studies, Dr. Kernaghan has also been helping the Nova Scotia wine industry understand more about local grapes and finding ways for growers to use fewer toxins that pollute the environment. In the Atlantic Root Symbiosis Lab located at MSVU, Dr. Kernaghan conducts studies to find new ways that fungi can be used to improve plant growth.
In 2018, wine and grape producers across Canada came together to form the CGCN. The purpose of this group is to develop a national research cluster to help consolidate the work being done for the benefit of the Canadian wine industry. One of the key research focuses for the CGCN was the use of indigenous yeasts to improve wine quality in Canada.