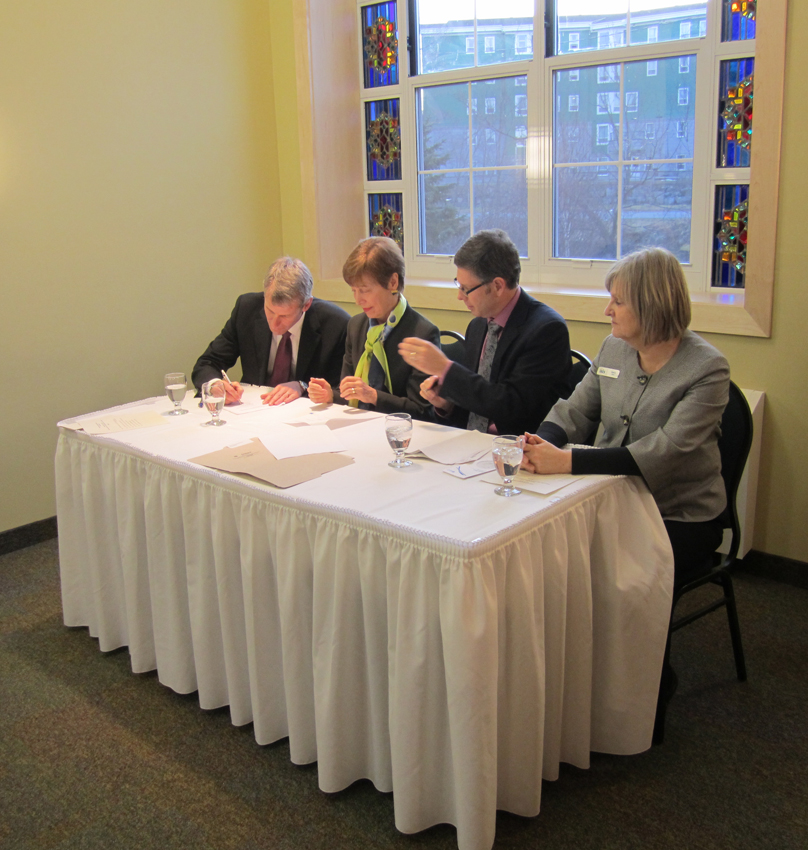 Mount Saint Vincent University (the Mount) and Immigrant Settlement and Integration Services (ISIS) signed a Letter of Understanding last week that will build on an existing partnership aimed at growing the Mount's cultural diversity.
"We're so pleased to have the opportunity to work more closely with ISIS on a partnership that will see great benefits for both organizations," says Dr. Ramona Lumpkin, President of the Mount. "Clients at ISIS will have increased opportunity for employment and services at the Mount, while the University will enjoy the rich culture and knowledge that immigrants in Nova Scotia bring to our province."
The Mount and ISIS first began working together in 2007 when the Mount welcomed ISIS clients into work placements on campus under the New Beginnings Program, aimed at ensuring new immigrants to the province gain the work experience they need to integrate into the local workforce. 
"ISIS has worked collaboratively with the Mount for many years in many capacities and we are extremely pleased to be able to formalize and strengthen this relationship today," says Gerry Mills, Director of Operations, ISIS.  "This partnership agreement will provide enhanced opportunities for work and study for immigrants who come to Nova Scotia and they in turn will be able to contribute their many skills and experience to the Mount Saint Vincent University community."
"With students from more than 60 countries at the Mount, we are so pleased to have the opportunity to welcome even more International staff, faculty, and students to our community" says Dr. Lumpkin.

About Mount Saint Vincent University
The Mount is recognized as a leader in flexible education, applied research, and a personalized approach to education.  Nationally recognized among undergraduate universities in Canada for our success in Social Sciences and Humanities Research Council grants, the Mount has one of the lowest student-to-professor ratios. The Mount is committed to providing the best university experience for all members of our community and to developing thoughtful, engaged citizens who make a positive impact on their world. For additional information about the University, visit msvu.ca.

ISIS' mission is to welcome immigrants and to work in partnership to offer services and create opportunities that enable them to participate fully in Canadian life.  ISIS is the leading deliverer of settlement services in Atlantic Canada and provides the full range of programs and services to 3,500+ immigrant clients annually in 34 communities across Nova Scotia. ISIS is the primary contact in Nova Scotia on refugee, settlement and immigration issues for 2,000+ organizations, employers, government departments, and individuals annually.
-30-
For more information contact:
Akiko Lovett
Public Affairs
Mount Saint Vincent University
902-441-0505