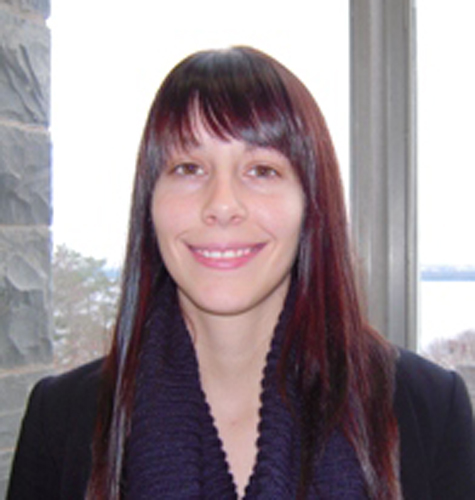 Amanda Sibley, a fourth year student at the Mount is working on a research project that means more to her than just learning.

Originally from North Sydney, Cape Breton, the Applied Human Nutrition student is currently working on a project that she hopes will help bring awareness to the services and programs needed for people with intellectual disabilities in rural areas of the province.

As a research assistant with the Intellectual Disabilities Service Needs Research Alliance (IDSN-RA), led by Deborah Norris of the Department of Family Studies and Gerontology, Amanda says the work the group is doing is essential to improving the services available for people with intellectual disabilities.

"I think many people don't understand the importance of what we're doing," Amanda says. "There is a lack of understanding about the adult population with intellectual disabilities in Nova Scotia. Our research can really contribute to advancements in this area."

The IDSN alliance is a collaborative group of consumer advocacy and community service organizations, academics, and government representatives. Their vision is that all individuals with an intellectual disability be fully supported within their own communities.

 "We're working toward building a comprehensive database for people and their families living with disabilities," Amanda explains. "We're conducting research around the province to find out the prevalence and current and future service needs of that population."

Helping those with intellectual disabilities is more than just a research project for Amanda. She was inspired to become involved in this area of study because of her family members whose lives have been affected by the lack of services available to her own aunt.

"Having grown up with a family member with a severe disability, I know the importance of identifying the needs of this population," says Amanda. "My aunt lived in my grandparents' home for the majority of her life. Services that may have benefitted her such as respite care, transportation, and financial aid were often not accessible. She eventually had to be moved to a long term care facility."

The research of the IDSN-RA is focused on the population that is transitioning from adolescence to adulthood. They've found there is plenty of support during childhood and teenage years, particularly through the educational system, but once a person reaches the age of 19, services are virtually non-existent.

"Prior to commencing work on this project, I was completely unaware of the lack of information on this group of individuals," says Amanda.  "Most of the research has been conducted within the child, youth and senior sectors of the population, however despite its success; little research has been conducted in the adult population."

While Amanda continues her work with IDSN, she is also looking forward to the next chapter of her studies.  She has recently been accepted into the Applied Human Nutrition internship program, where she will have even more opportunities to put her studies into practice.

In the meantime, she looks forward to the impact her research with IDSN will have on the lives of those living with an intellectual disability, a cause close to her heart.

For more information on IDSN and their current research projects, visit this website.