Cynthia Good to lead course at the Mount on issues and practicalities in publishing
Cynthia Good, former President and Publisher at Penguin Books, describes the book as a "perfect feat of engineering." While the finer points of the book's form have evolved over past centuries, its physical form has stayed generally the same. And, despite the proliferation of e-books, that's also why it's likely here to stay.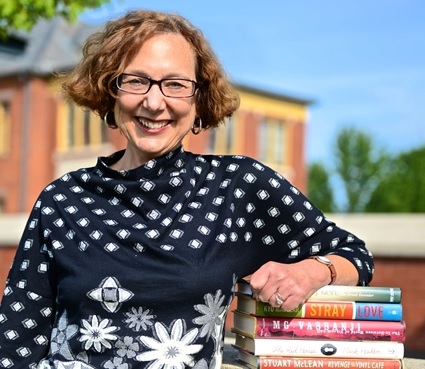 "The digital age won't kill physical books," Cynthia asserts. "More than 80% of book sales are sales of physical books. There's even been a decrease in the past year in the sale of electronic books in the United States." That's not to say that Cynthia doesn't see a pl
ace for e-books – in fact, she reads on her iPad, her Kindle® and her iPhone regularly – but nothing can replace the companionship of a physical book for her.
Books have played an enormous part in Cynthia's life pretty much since she could read. She holds both undergraduate and graduate degrees in English from the University of Toronto and was on the cusp of completing her PhD when she landed her first job in publishing. (Note: she's since received an honorary doctorate from Mount Allison University, an event she describes as marking one of the best days of her life.)
Cynthia spent the majority of her publishing career at Penguin Books and was instrumental in the creation of their Canadian publishing program. In 2004, she left Penguin Books and, soon after, founded Humber College's Creative Book Publishing Program in Toronto. Recently, she moved to a new role at Humber as Director of Student and Industry Initiatives. In recognition of her accomplishments at the college, she was named director emeritus and awarded the Humber Award for Excellence in Teaching.
From June 8 to 18, 2015, Cynthia will teach an intensive
senior-level course
on issues and practicalities in publishing in the
Writing Program
of the
English Department
at Mount Saint Vincent University. Mount students in English and Communication Studies are eligible to join in this unique opportunity.
There are few better to learn from than someone who has been at the front lines of publishing in Canada for several decades and refers to books as "all I ever cared about." Cynthia's course will immerse students in both the business and creativity of publishing, touching on issues like pricing (which she describes as one of the biggest issues facing the publishing industry), and also opportunities like those afforded by evolving technologies.
"We need to look at the artistic and creative opportunities provided by the e-book format, including book apps and enhanced e-books," she says. "There's great potential for writers, creators and illustrators to do something new."
Cynthia describes this new view as "putting the story at the centre." In many ways a shift in approach for writers and publishers, it's an approach that affords significant new opportunity. "Start with the story and think about all of the ways it can be expressed – physical books, e-books, in the theatre – even theme parks as in the case of the Harry Potter series, for example."
And while she readily acknowledges the challenges the publishing industry is facing today, she's also excited for what's to come. Consider self-publishing, possibly the biggest trend in publishing, according to Cynthia: On the one hand, the increasing popularity of self-publishing seems to be a threat to publishing houses, but on the other, it's big business for organizations who recognize the opportunity. Further, as some large multinational publishers grow even larger through mergers, Cynthia believes room is being created for smaller Canadian publishing houses to grow. As Cynthia puts it, the boundaries are changing and disappearing.
Regardless of the challenges of the 21st century – from e-books to pricing and threats to book value – Cynthia's optimism wins out: "We just might find this is a golden age for Canadian publishing and writing."