More than 40 Syrian children and their families now call the Clayton Park area of Halifax home following a tumultuous journey across the world. Adjusting to a new community is not easy, especially when English is a second language.

But a new after-school program will help bridge the gaps through collaboration between a local elementary school and Mount students.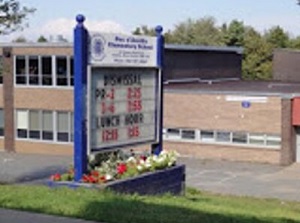 The weekly after school program, which held its first session on February 29, 2016, takes place on Mondays from 3:30 to 4:30 p.m. and was developed in partnership with, and is held at, Duc d'Anville Elementary School (pictured at right).

Through the program, Mount student volunteers (several of them Arabic-speaking) are paired with children of refugee families who attend the school and they work to help them understand their homework. Through a casual drop-in approach, school students are able to get the extra support they need, when they need it, and make additional connections within the community.

Paula Barry, Vice-President of Student Experience at the Mount, explains, "If you struggled with grade five math, you would ask your parents to help you. But, if the parents aren't familiar with the English language, then it puts the kids in a bit of a bind in terms of where they are going to get that support." That's where this new program will come in.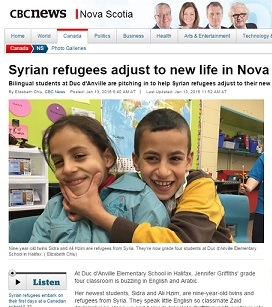 As reported by the CBC in January, Duc d'Anville Elementary has no Arabic-speaking teachers, and though the school is provided resources to support its very diverse student community, more help is always needed. As home to students studying Education and pursuing Child and Youth Studies (some of them from other countries themselves), and located very near the elementary school, the Mount was a natural partner for the Duc d'Anville.


Educational Win-Win
As noted, Mount student volunteers come from programs such as Education, Psychology, and Child and Youth Studies. They have experience working with children and provide guidance in interpreting homework requirements. These sessions are also a place for children to practice their English language skills, make new friends and learn strategies for navigating language barriers.

"We have to make every effort to really be thoughtful about how we welcome and integrate people into our country. That means, not just thinking about how they are the ones to adjust, but also how we can accommodate," says Christine Doe, a coordinator of the program and Assistant Professor of Education at the Mount.

The support program is also a way for Mount students to gain hands-on experience related to their studies while making a positive impact on the success of participating children.

Sara King, a coordinator of the program and Assistant Professor in the School Psychology Program at the Mount says, "Students need to understand the whole context of a person. Coming out, even an hour a week, and learning more about a kid is going to broaden students' perspectives when they go out and actually start working."


Future Support
The Mount and Duc d'Anville Elementary hope to expand the program as more Syrian refugees make a home in Clayton Park. In the future, these sessions may also offer support to parents as a place to practice their conversational English and meet others facing similar challenges.

Lama Alumbark, is pursuing a degree in teaching English as a second language at the Mount and believes this type of support helps people feel settled in their community. "For acculturation, learning the language is the most important thing," she says. "This kind of opportunity – it makes [newcomers] feel very welcome inside the community." At the heart of the initiative is the idea that schools are more than just for education, they are community centres where citizens, old and new, can come together.