If you could give a message to your younger self, what would you say? What might your younger self say to you?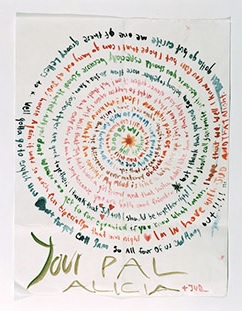 Such was the theme of What was I thinking…!?!?, an event presented by the MSVU Art Gallery on Wednesday, March 2, 2016. The event complemented the gallery's Kids These Days exhibit of contemporary artworks about the self-expression and creativity of teenage girls. What was I thinking…!?!? was a personal look back at growing up by young and middle-aged members of the Mount community.
Attendees became performers as they bravely stepped up to the microphone and read aloud childhood journals, notes, poems, and even calendars. With topics ranging from lunchtime detentions, to forming girl bands, to (awkward) teenage romance, What Was I thinking…!?!? evoked both humour and nostalgia.
Run by a small team of four employees, the MSVU Art Gallery has a unique influence on campus and in the community for conjuring a range of emotions and reflections in its visitors. "Kids These Days has been relatively fun and lighthearted," says Claire Dykhuis, the gallery's program coordinator. "But we have several deeper exhibitions coming up." (Pictured above: Your Pal Alicia from the Notes series, by Kyla Mallett, 2004)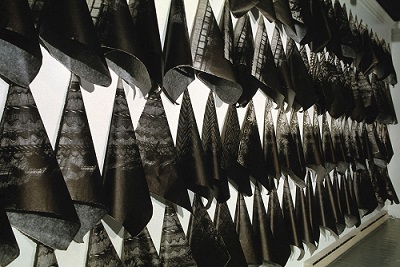 On March 5, a new exhibition opened at the gallery – returning to the Mount after being shown previously in 1995. Some Works About Guatemala, by Wilma Needham, includes three large drawings and an installation of lithographs recently donated to the Mount gallery's permanent collection by the artist herself. (Pictured at left: There is no other way to say this, a work about Guatemala III 1988-1995, by Wilma Needham)
Gallery visitors will have the opportunity to meet Needham, who frequently travels to Central and South America from her Dartmouth home, on Saturday, March 12 at 2:00 pm. During this public event (all are welcome!), the artist will discuss the intersection of peace, activism, and aesthetic strategies in her artwork. A guest speaker from the Maritimes/Guatemala-based network called Breaking the Silence will discuss current and past struggles for political, social and economic justice in Guatemala.
Some Works About Guatemala will soon share its Art Gallery space with another upcoming exhibit. Weaving the Existing, by Giorgia Volpe, will be unveiled March 24. Both exhibits will run through mid-May.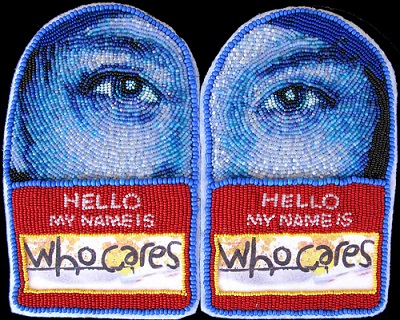 In January 2017, the MSVU Art Gallery is slated to be the sole Atlantic Canadian stop for Walking With our Sisters, a commemorative art installation for missing and murdered indigenous women. "We are honoured to host Walking With our Sisters here," says Claire. "As the only stop in the Maritime Provinces, we hope to expand the reach of our gallery and bring in many new visitors for this important exhibit." (Pictured at right: Moccasin Vamps by Teresa Burrows, Walking With Our Sisters)
To learn more about upcoming events and exhibits at the MSVU Art Gallery, click here.