Challenging the status quo was the theme for a recent special celebration to mark Mount Saint Vincent University's impressive 150-year history.
On November 2, 2023, more than 600 local business, community and government leaders, friends of MSVU, donors, alumni, faculty, staff and students gathered for a sold-out gala at the Halifax Convention Centre – unlike any event the university has held before.
Hosted by MSVU President and Vice-Chancellor Dr. Joël Dickinson and emceed by CTV Morning Live host Ana Almeida, the event featured a series of special presentations that together told the unmatched story of MSVU. These elements reflected the trailblazing and transformative commitment to challenging the status quo that has been at the university's core since its founding in 1873.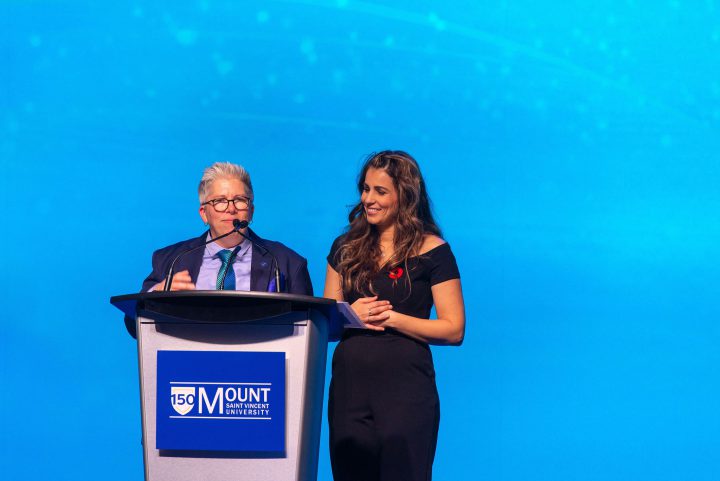 "The pride in MSVU as an institution that changed the face of education not just in Nova Scotia, but across Canada, was palpable at the anniversary gala last week," said Dr. Joël Dickinson. "The event was a tremendous show of support for this university's mission to make education accessible to all students, in particular students from underserved groups."
Special performances and presentations
Raymond Sewell, an MSVU alum (BA '08) and talented Mi'kmaq musician from Pabineau First Nation, opened the evening with a performance of Spirit Song.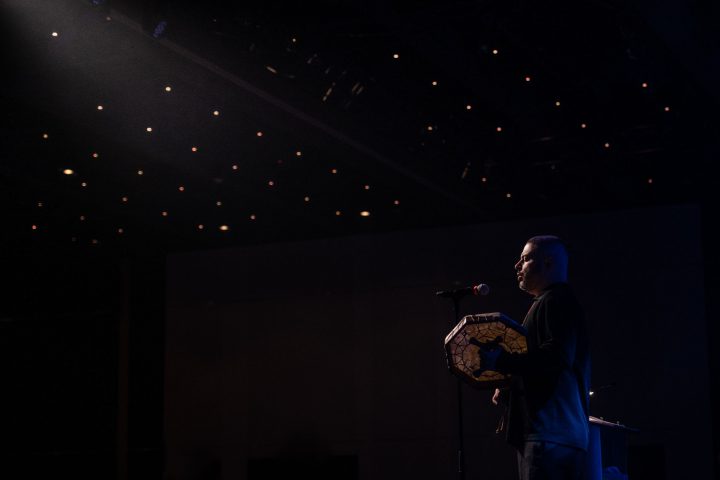 A series of video presentations punctuated the night, bringing to life all that is unique about MSVU.
The first was a video snapshot of 150 years of MSVU history, which featured (among other highlights) notable firsts at the Mount – including the first journalism course to be offered in Canada, the first Women's Studies department at a Canadian university, and the university's early leadership in nursing education.
Mid-way through the night, there was a video spotlight of the Mount's 150th anniversary "status quo challengers", followed by in-person introductions of each of them.
A final video presentation demonstrated how removing barriers to create access can have immeasurable impact. It featured the words of MSVU alum and honorary degree recipient The Honourable Senator Wanda Thomas Bernard. Senator Thomas Bernard, who came to MSVU in 1969, was one of the first three people from East Preston to attend and complete a university degree (all three attended MSVU).
The night's crowning moment came when Canadian R&B and soul icon Jully Black took the stage to share a mix of inspiring words and song.

When introducing Jully, emcee Ana Almeida said, "Jully is the very definition of a status quo challenger. You might know her best for the change she made in the lyrics to O Canada at the NBA All-Star Game earlier this year. It was a one-word change: rather than singing 'our home and native land,' Jully instead sang 'our home on native land' as a mark of respect to Indigenous groups within Canada. And what an impact she's had. Jully started an important national conversation that continues to resonate, and she has been honoured by the Assembly of First Nations for this action."
Jully's soulful singing and reflections focused on the power each person holds to be the change they want to see in the world.
Supporters
As for any event of this significance, it took a dedicated team to put this spectacular night together, including not just MSVU staff, but also a number of volunteers: gala co-chairs Dr. Ramona Lumpkin and Catherine Woodman; sponsorship committee chair John Flemming and committee members Janet MacMillan and Anne Marie Legere; and auction committee chair Rob Batherson.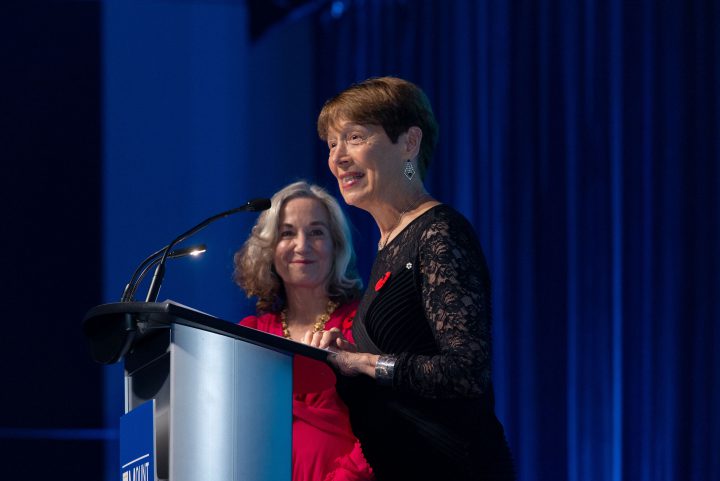 Proceeds from the night will go to the MSVU 150 Fund: Access and Impact, that will help remove barriers to education for students.
The evening was sponsored by Stewart McKelvey (platinum sponsor); Ocean Contractors,
TD Insurance, and Chartwells (gold sponsors); Shannex (reception sponsor); Chorus, O'Regan's, Luxor Group, Armour, rcs Construction, PwC Canada, Southwest Properties, Jarislowsky Fraser Ltd, Medavie, and Pacrim Hospitality Services (silver sponsors); as well as a long list of silent auction donors.
Check out some 150 photo booth pictures and 360 video booth footage from the gala.