Largest donation in university's 150-year history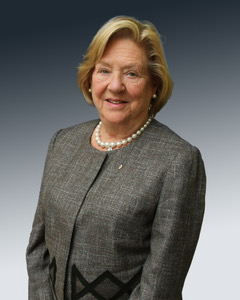 Mount Saint Vincent University is thrilled to announce that The Honourable Margaret Norrie McCain has made a legacy gift of $10 million to the University in support of teaching, research and practice on early childhood education.
This marks the largest gift in MSVU's history.
Mrs. McCain is a passionate and accomplished advocate for quality early childhood education. She's long recognized the benefit of quality play-based early childhood programming and the unparalleled opportunities it provides to Canada's youngest citizens. And she has been an unwavering champion of MSVU's work to help build capacity in the sector in Nova Scotia and beyond.
"Intervening in the earliest years so that as many children as possible are afforded the very best start in life will have a tremendous impact in the long-term," said The Honourable Margaret McCain.
"I am pleased to support MSVU's exceptional work in early childhood education, research and practice – work that will contribute to a Canada-wide early learning child care system that is universal, voluntary, high quality, aligned with public education, and organized to support parent's work and study."
Noted MSVU President and Vice-Chancellor Dr. Joël Dickinson, "We are deeply grateful for Mrs. McCain's generous support of our university's leading work in early childhood education – across teaching, research and programming. Through her donation to MSVU, Mrs. McCain is ensuring a continued emphasis on the critical work of MSVU's Child & Youth Study Department and Child Study Centre – and she's ensuring brighter futures for generations of children to come."
MSVU is leading the way in Canada on early childhood teaching, research and practice:
We are home to the only university-based Child & Youth Study programs (undergraduate and graduate) in Atlantic Canada. Through MSVU's Child & Youth Study degrees, students explore early childhood education, youth care, inclusive programming, as well as leadership and research in areas related to children and youth.
A new Early Childhood Education concentration in the Child & Youth Study undergraduate degree provides even more focused learning opportunity for students interested in careers in early childhood.
Our onsite Child Study Centre (director: Annette Comeau) provides care for young children of students, faculty, staff and broader community members while at the same time providing teaching, research and experiential opportunity for students.
Our Child & Youth Study department, chaired by Dr. Christine McLean, offers extensive professional development programs for early childhood educators and administrators.
The Early Childhood Collaborative Research Centre is a dedicated centre for research excellence in early childhood. The ECCRC team engages families, as well as partners in policy and practice, in research and evaluation to enhance early childhood well-being. The goal of the ECCRC is to ensure policy and practice are in place to support families across different early learning environments. The work of the ECCRC is supported, in part, by the Margaret and Wallace McCain Family Foundation Inc.
MSVU is home to Tier II Canada Research Chair in Early Childhood: Diversity and Transitions Dr. Jessie-Lee McIsaac. Dr. McIsaac also directs the ECCRC and is an associate professor in the MSVU Faculty of Education and Department of Child & Youth Study.
Mrs. McCain is a previous donor to MSVU. The Margaret Norrie McCain Centre for Teaching, Learning and Research was named to recognize a gift in support of the building's construction. The McCain Centre was opened in 2015 and remains the only building on a Canadian university campus dedicated to celebrating the accomplishments of women.
Watch a video celebrating Mrs. McCain's commitment to early childhood education