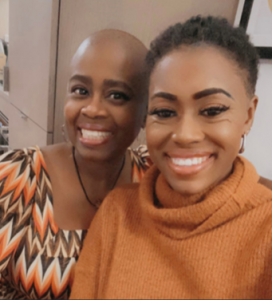 Black Nova Scotian mother-daughter MSVU alumni from East Preston, Nova Scotia, Cassandra and Amber Grosse, carry on family tradition
For Cassandra and Amber Grosse, attending Mount Saint Vincent University is a way of carrying forward a treasured family tradition that has seen several generations of women in their family attend and graduate from MSVU.
"In going to MSVU, I attended the same university that all of my aunts went to, along with my mom," says Amber Grosse, who graduated in 2021 with a Bachelor of Business Administration with majors in Marketing and Management. "There's a long, rich history of Grosse women who attended the Mount."
Amber studied at the university at the same time as her mom, Cassandra, who returned to MSVU as a mature student, graduating in 2018 with a Bachelor of Arts degree with distinction, and with minors in French and Business Administration.
Grosse Family Generations of MSVU alumni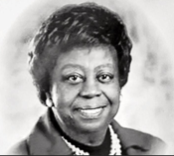 The generations of MSVU alumni in the Grosse family include Amber's great aunt Alma Johnson-Tynes (pictured at left), who served for 35 years as a teacher and guidance counselor in the Halifax County District School System, now known as the Halifax Regional Centre for Education. Johnston-Tynes was also the first teacher to graduate from the community of Cherry Brook.
"Around the time of Aunt Alma's era, the Mount was a leader in eliminating barriers faced by students from diverse communities, in particular Black students – it was a time when it wasn't popular to do so," says Cassandra.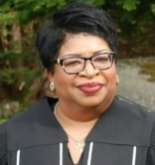 Another 'first' for the Grosse women involves Reverend Tracey Grosse (pictured at left), Amber's godmother and aunt. The late Reverend Grosse was an MSVU alumni member who held the distinctions of being the first ordained female Minister in the African United Baptist Association of Nova Scotia (AUBA) and the first Black ordained female within the Canadian Baptists of Atlantic Canada (CBAC) organization – formerly Convention of Atlantic Baptist Churches. Reverend Grosse graduated from MSVU with a Bachelor of Arts degree in Sociology in 1986 and continued her academic journey by obtaining a Master of Education degree in Counselling and a Master of Divinity degree in pastoral theology.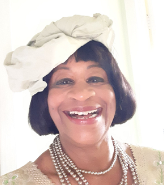 Mavis (Grosse) Akasike (pictured at left), another of Amber's aunts, also graduated from MSVU with a BA/BEd (integrated degree, 1986). Having retired after 34 years of service, Mavis currently assists teachers with classroom management.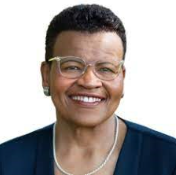 The Honourable Twila Grosse (pictured at right), Amber's godmother and aunt, graduated from MSVU in 1983, earning a Bachelor of Business Administration degree. She is the Minister responsible for African Nova Scotian Affairs and the Nova Scotia Public Service Commission. Minister Grosse was elected as the Member of the Legislative Assembly (MLA) for the Preston area riding in August 2023.
Enriching MSVU experiences
Connected by their shared time at MSVU, the two women each enjoyed very individual but equally enriching experiences.
Reflecting on being on campus at the same time as her daughter, Cassandra says, "I made sure that I kept my distance. We had a conversation where I said, 'Listen, I'm going back to school because I need to finish what I started, but I will not infringe on your circle of friends.' Soon after, Amber's friends became my friends. At first, they did not know I was her mother. I didn't introduce myself as 'Amber's mom.' I introduced myself as Cassandra. I was determined to allow Amber to have her own unique university experience, and I planned on doing the same. It was a blessing to be on campus at the same time with my daughter Amber, we managed to schedule joint lunch time and study dates."
Amber says of studying with her mom at MSVU, "Of course, her journey was different than my journey. She came back as a mature student. It was kind of cool to see her perspective and how she studied, while I was very social when I first came to the university."
Amber became active in campus life, working at The Crow's Nest convenience store, appreciating the diverse student body she was a member of and the opportunities available at the university, and enjoying time with the many new people she met during her studies.
"The diversity at MSVU is something that stood out for me," says Amber. "I was among the first students to participate in the Africentric cohort – a group under MSVU Africentric Support Coordinator Randy Headley's leadership."
Cassandra, meanwhile, was hopeful and relieved to learn that the Mount accepted previously earned university credits. This gave her the courage to continue her post-secondary education part-time. She was also encouraged to learn that she could qualify for a student loan while continuing to work full-time.
"I love the Mount for those two specific reasons, acceptance of my previous university credits was key; and without the student loan, I would not have been able to go back to school."
During her final semester, Cassandra was inspired by an assignment in a class taught by MSVU's Dr. Jeff MacLeod to submit and present a final creative project based on an interpretation of the J.R.R. Tolkien novel Lord of the Rings. She created a cookbook as her final project and, later, published her cookbook, Indulgence of the Ring Dessert Cookbook: A Taste of Hobbit Cuisine, via Amazon. The cookbook includes recipes for such Lord of the Rings-inspired dishes as 'Second Breakfast Candied Bacon' and 'Friendship Cake.'
Beyond the classroom
Cassandra says her cookbook project also resulted in another unanticipated benefit: encouragement to actually start her own catering and baked goods company. With more than 25 years of experience in baking and creative cake decorating for friends and family, Cassandra launched Goodies by Cee Gee in 2021.
Earlier this year, Cassandra graduated from the SPICE (Specialized Program in Cooking Entrepreneurship) program, offered through the Centre for Women in Business at MSVU.
Cassandra works full-time as the co-Regional Field Coordinator for the Joint Learning Program (JLP) for the Atlantic Region, managing the delivery of educational workshops and facilitated discussions for federal public servants.
Amber's studies also brought new opportunities outside of the classroom, ultimately leading to her current role as Communications Manager with the Black Business Initiative (BBI). Through her day-to-day work, Amber ensures effective communications for BBI by managing the organization's online presence and promoting its initiatives throughout Atlantic Canada. The job is a perfect fit given her ability to connect with diverse people, her degree, and her marketing and social media background.
"BBI is among the longest-running organizations supporting Black businesses and started in Nova Scotia, with our amazing rich Black history here," says Amber. "I create and manage the production of marketing content, including social media posts. I am also responsible for developing and implementing our communications strategies."
A supportive environment
Both Cassandra and Amber say they benefitted from the support of different members of the MSVU community who contributed to their success at the university.
Cassandra says, "My time at MSVU would not have been as enriching as it was had it not been for my student advisor, Erin Tomlinson. She was very patient, encouraging, and genuine and was able to help me find a schedule that worked for me given that I was studying while also working full-time and volunteering in the community. Erin always greeted me with a smile even when I dropped by her office unannounced and made me feel as if I was her only student. I would not have been able to navigate those five years without her unwavering support."
Amber also appreciated the mentorship of former MSVU Vice-President Academic and Provost Dr. Elizabeth Church, who led her to join her first board of directors with Phoenix (youth programs). She adds, "Kim Colley, from the registrar's office and from the community of East Preston, played a pivotal role in my student experience too, as did Professor Janice Landry. Lastly, Randy Headley was determined to not only watch me walk across the stage, but to stand beside me; he encouraged me to keep going and advocated on my behalf during my academic struggles."
Added Amber, "I took advantage of the supports available through the university, and I said to myself, 'I can do this. I can do this!' And lo and behold, I did it, and it was just amazing."