New Building to be Named in Honour of Margaret Norrie McCain
Halifax, NS – Margaret McCain's announcement today of her $2.25 million donation to Mount Saint Vincent University was received with cheers and applause by the more than 250 students, faculty, staff, alumnae and University friends who gathered to celebrate.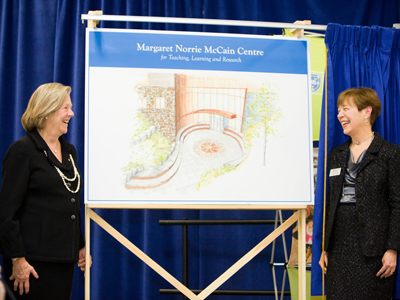 The donation represents the largest individual gift in the University's 140-year history. University leaders characterize its value as "transformational" to the institution.
"Mrs. McCain's act of generosity brings our plans for a new Teaching, Learning and Research Centre for our students, faculty and staff, that much closer to reality," said Ramona Lumpkin, President, Mount Saint Vincent University.
Mount Board Chair Sarah Veinot added, "It is a wonderful show of confidence in our mission, our place in education, and our vision for the new building. We are simply thrilled."
Mrs. McCain was drawn to the project in part because of the University's plan to utilize various spaces throughout the building to pay homage to women. "The Mount has always been a respected leader in Canada in the education of women. In fact, today's Mount Saint Vincent is the only independent university in Canada that places the advancement of women at the top of its agenda and at the centre of its academic programming." she said, adding, "That is very important to me."
The Mount has not constructed a new classroom facility since 1971, and places a high priority on constructing new, better and more functional space.
The new building will be named the Margaret Norrie McCain Centre for Teaching, Learning and Research. Construction is slated to commence upon the successful completion of the University's $12 million fundraising program entitled Project TWENTY12. Over 50 community volunteers currently serve on Project TWENTY12 fundraising committees. The current total stands at over $7 million. The University aims to conclude fundraising at the end of 2012.
The new "Margaret McCain Centre" will incorporate environmentally friendly design, learning labs, classrooms, interactive and collaborative technology and a student learning commons. Some of the Mount's flagship programs and initiatives, including Communications and Public Relations, Business and Tourism, Women's Studies, the Gail and Stephen Jarislowsky Chair in Learning Disabilities, the Institute for Women, Gender and Social Justice, and the Nova Scotia Centre on Aging will make the McCain Centre their new home.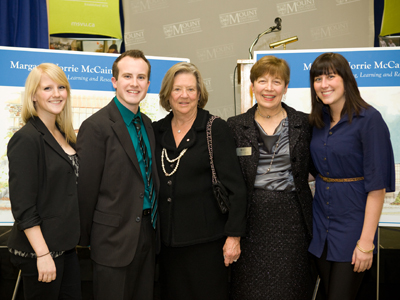 ---
Shown at left: Maia Greig, BPR Student; Daniel McKenna, Mount Students' Union President; Hon. Margaret Norrie McCain; Dr. Ramona Lumpkin, Mount Saint Vincent University President; and Caitlyn MacDonald, BPR Student.
---
Mrs. McCain has been active in organizations that promote women's rights, social equality, education and the arts throughout her career. She is the founding member of the Muriel McQueen Fergusson Foundation in New Brunswick whose mission is the elimination of family violence through public education and research. In 1994, Mrs. McCain was appointed the first female Lieutenant-Governor of New Brunswick. In 2005 she received an Honorary Doctor of Humane Letters Degree from Mount Saint Vincent University.
About Mount Saint Vincent University
Recognized as a leader in flexible education, applied research, and a personalized approach to education, Mount Saint Vincent University has been nationally recognized among undergraduate universities in Canada for our success in Social Sciences and Humanities Research Council grants and for having one of the lowest student-to-professor ratios. The Mount is committed to providing the best university experience for all members of our community and to developing thoughtful, engaged citizens who make a positive impact on their world. For additional information about the University, visit msvu.ca.
-30-
For more information contact:
Kelly Gallant
Communications and Marketing
Mount Saint Vincent University
Tel: (902) 457-6339
Cell: (902) 449-8708
Email: kelly.gallant@msvu.ca