Research on homophones and texting piqued Anika's, and judges', interest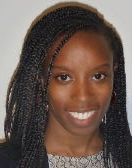 Bachelor of Arts & Psychology student Anika Needham-Reece was looking forward to the 37th Science Atlantic Undergraduate Psychology Conference to see innovative research from her peers. The idea of winning hadn't even occurred to her.
"There were grad students there," giggled the Ajax, Ontario native. "The projects were all very high quality, which is important, but the judges were really interested in creativity."
It's true that the judges were looking for creativity, but what earned her the Science Atlantic Research Award – Best Poster Presentation was her professionalism. Clear graphics, well organized information, and being knowledgeable about the subject all highlighted her unique project; The Effects of Text Language Knowledge and Visual Cues on Homophone Identification Skills.
Anika came up with the idea to focus on grammar for her course research project while helping edit her friends' essays. All first drafts have some grammatical and spelling errors, but the ones she kept seeing stood out to her. It's a common practice to blame text speak like using "ur" instead of "your" for these mistakes, but was that actually the problem? She decided it was time to find out whether the theories had any scientific merit.
Basing her research on tests done on children, Anika created a series of reading exercises to get those who frequently text and use social media to identify the meaning of underlined homophones in paragraphs. Homophones are words that sound the same and have different meanings and spellings, like 'pear' and 'pair', or more confusingly, 'they're', 'there', and 'their.'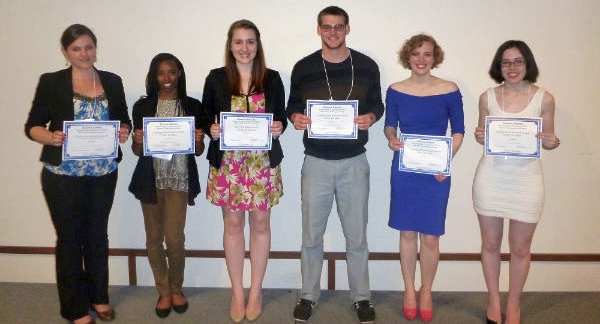 "The data didn't end up supporting these myths; in my studies there was no relationship between texting and homophone troubles… which 'there' did I use?" she jokes.
Although she was thrilled to have her hard work recognized by her peers, Anika has long recognized the value of doing hands on research.
"Once you start getting into your upper level classes, as hard as they're going to be, you will appreciate that the Mount takes a research focused approach," she explains. "Research is what gets you into grad school; to have experience working on real studies is imperative."
Her drive to get experience in the field is what encouraged her to volunteer as a research assistant in the Psychology department. With school and a job already keeping her busy, Anika had concerns about time, but the flexible learning experience proved invaluable, beefing up her research skills and her resume. Working alongside her professors made her feel comfortable reaching out to them when she needed help and empowered her to tackle different kinds of hypotheses.
"You learn so much just by helping others with their studies," she explains. "Always seek out as much hands-on learning as you can, and they learn from you too. You don't have to be a perfect student to accomplish amazing things; everyone can think creatively and have their hard work recognized."