Prestigious award recognizes Dr. Lumpkin's leadership and contributions both on and off-campus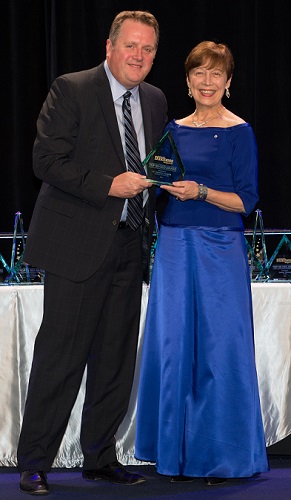 It's shaping up to be a year of significant honours for the Mount's President and Vice-Chancellor Dr. Ramona Lumpkin, CM, who last night was named one of Atlantic Canada's Top 50 CEOs at a gala presented by Atlantic Business Magazine. In February of this year, Dr. Lumpkin was invested as a member of the Order of Canada.
"I deeply appreciate sharing this honour with so many strong leaders from across our region," said Dr. Lumpkin of her Top 50 CEOs award. "It's a pleasure to see good friends and colleagues recognized for their important work."
Dr. Lumpkin has led the development of the Mount's current strategic plan and the successful capital campaign that raised $12-million in 20 months to build the university's new
Margaret Norrie McCain Centre for Teaching, Learning and Research
– the first building on a Canadian university campus dedicated to the advancement of women, set to open May 29.
"Dr. Lumpkin's deep commitment to the Mount and its students is admirable," said Deanne MacLeod, Chair of the Mount's Board of Governors. "Thanks to Ramona's vision and leadership, the Mount continues to make strides as a model of creative teaching and research that nurtures socially responsible global citizens. Ramona's legacy will be felt for generations of students to come."
In addition to her role on-campus, Dr. Lumpkin is the current Chair of the Association of Atlantic Universities, Chair of Engage Nova Scotia, Chair of the Atlantic Chapter of the International Women's Forum, a member of the Canadian Business-Higher Education Roundtable and a valued resource to many community groups.
"Dr. Lumpkin is a community leader who stretches the boundaries of academia and understands the relevance of education to professional growth, community development and economic prosperity," said Robert G. Zed, Chair, Triangle Strategies, and Executive-in-Residence, Dalhousie University, who nominated Ramona for the award. "She is an exceptional leader, a mentor to so many, and a tremendous contributor to our city, our province and beyond."
Congratulations, Dr. Lumpkin!