May 2015 is set to be one of the most exciting months at the Mount in a long time.
On May 29th, we will celebrate a huge milestone as we open our new Margaret Norrie McCain Centre for Teaching, Learning and Research and unveil the Riva Spatz Women's Wall of Honour – both dedicated to celebrating the achievements of women.
We are proud to note that the McCain Centre represents the first building on a Canadian university campus dedicated to the advancement of women – a giant leap forward in our 141-year legacy of helping women succeed.
As we countdown to this momentous event, we wanted to share a sneak peek of the stories of the many inspiring women to be showcased throughout the new McCain Centre. Please see below for Daurene Lewis's story. Ms. Lewis will be featured as one of 18 Inspiring Women in the atrium of the building.
For more on the McCain Centre, including the many departments that are starting to move in, please
click here
.
And stay tuned as May 29th approaches!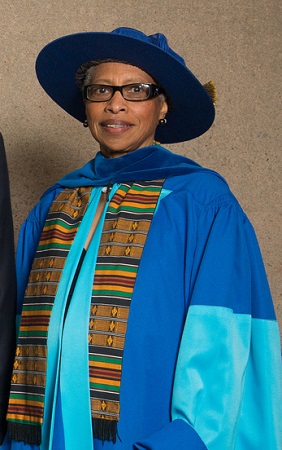 Daurene E. Lewis, CM
A former Executive Director of the
Centre for Women in Business
at Mount Saint Vincent University (the Mount), Daurene E. Lewis was an accomplished politician, nurse, educator, administrator, textile artist and volunteer.
A native of Annapolis Royal, N.S., she was a descendant of Black Loyalists and the seventh generation of her family to be born there. She joined town council in 1979 and was elected mayor of Annapolis Royal in 1984, becoming the first black female mayor in Canada. She went on to lead several higher education institutions in the Halifax region. Prior to entering political life, Ms. Lewis was a nurse and nursing instructor who worked in hospitals in Annapolis Royal, Yarmouth, N.S., and Toronto. Later she ran her own weaving and design business.
Ms. Lewis held a master of business administration degree from Saint Mary's University. Among her many awards, she was named to the Black Cultural Centre's Wall of Honour (1994), and received the Global Citizenship Award commemorating the United Nations' 50th anniversary (1995) and the Queen's Golden Jubilee Medal (2002). She was made a member of the Order of Canada in 2002.
At the time of her death in 2013, Ms. Lewis was principal of two Nova Scotia Community College campuses. Her affiliations included serving on the Premier's Council on the Economy, the Vanier Institute of the Family, the Board of Canada Post, and the Advisory Council for the Order of Canada, and chairing the Africville Heritage Trust. Ms. Lewis received an honorary doctorate in humane letters from the Mount in 1993. An inspiring trailblazer, she is remembered for her great sense of fun and style, and her extraordinary dedication as a community advocate.
Sponsored by Dale Godsoe, CM; friends and family