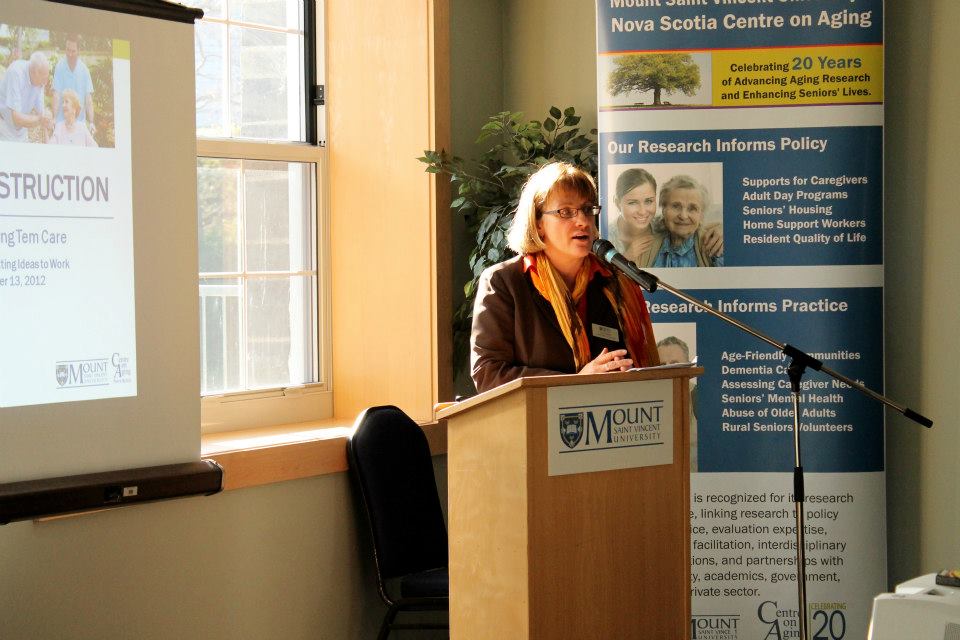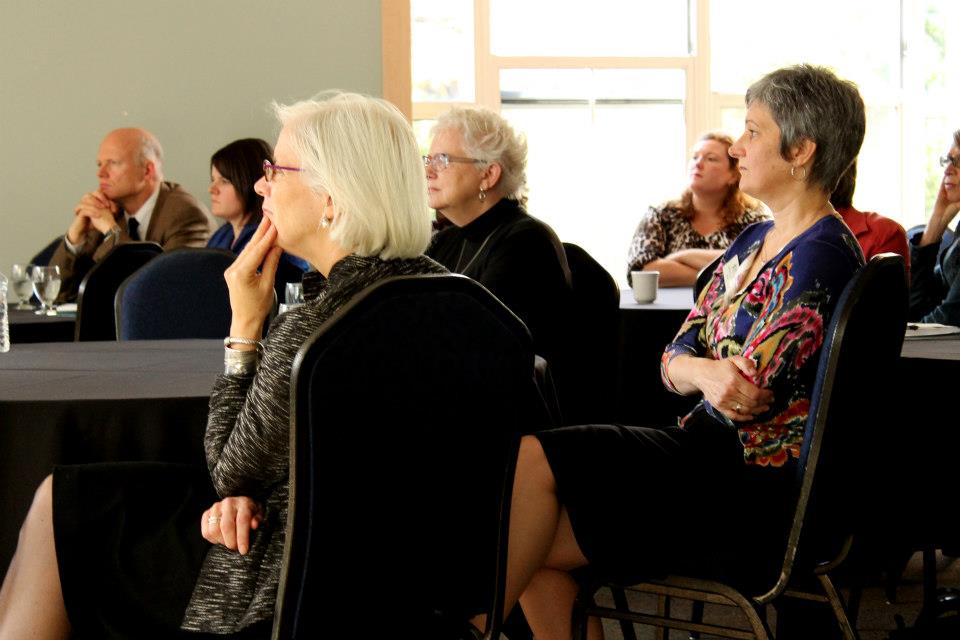 On November 13, Mount Saint Vincent University (the Mount) invited the Halifax community to celebrate a unique research partnership between the Mount and the continuing care community as part of the Association of Universities and Colleges of Canada (AUCC)'s Open Doors initiative.
Dr. Janice Keefe, Director of the Nova Scotia Centre on Aging and the Mount's Lena Isabel Jodrey Chair in Gerontology, was joined by Ann McInnis, Vice-President of Northwood and Mary Lee, President and CEO of Health Association Nova Scotia, to provide an overview of the Mount's Care and Construction project, a multi-faceted three year nationally-funded project which examin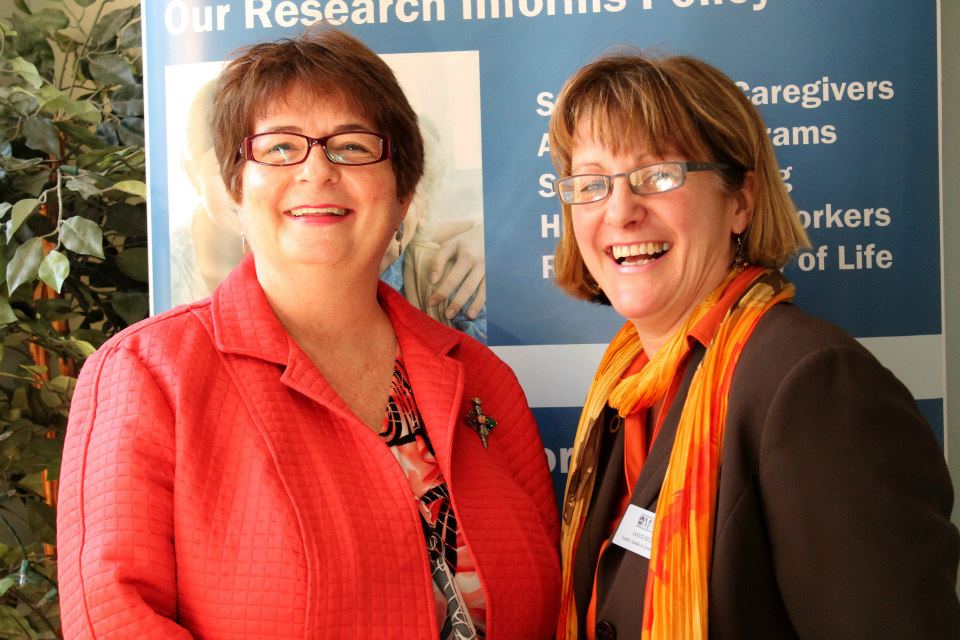 es the experiences of residents living in nursing homes in Nova Scotia. (Photo L-R: Ann McInnis shown with Janice Keefe after an engaging dialogue during the Mount's Open Doors event.)
"The Mount is committed to research around pressing social issues that are in need of solutions," said Elizabeth Church, Vice-President (Academic) at the Mount, as she welcomed guests and introduced the panelists. "Our university has long been focused on socially innovative research that has a direct impact on the lives of Nova Scotians and Canadians, and this project continues that legacy. "
The Care and Construction project officially launched in April of 2011 with a multi-disciplinary team gathering information from nursing home staff, residents and family members to determine the various factors that make up residents' "quality of life", such as meaningful relationships, meaningful activities and "home-likeness".
The research is certainly timely with an increasing need for continuing care required in jurisdictions across Canada. "There is great interest in this project across the country," said Dr. Keefe. "There are many groups who will benefit from our results."
Dr. Keefe cautions that they are committed to a careful dissemination of the results, working hand-in-hand with members of the health care industry. "Research is a dialogue," she said. "We need industry participation in order to shape the project and translate the results, to make sure they are communicated appropriately when shared with other jurisdictions."
The collaboration with Northwood, which recently celebrated their 50th anniversary of caring for Nova Scotians, was a natural fit and was embraced throughout the organization. "Buy-in has been tremendous," said Ms. McInnis. "Staf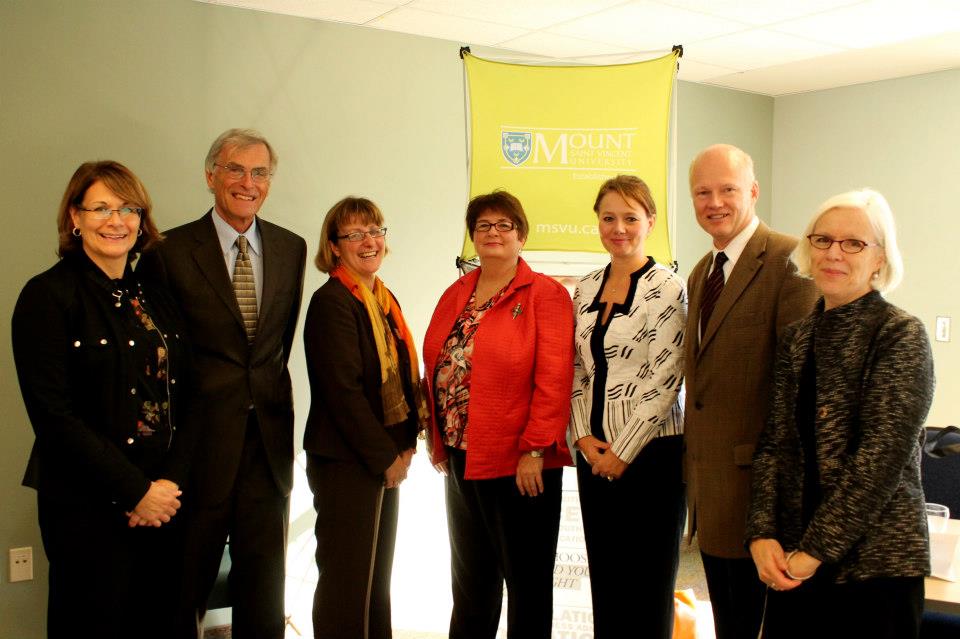 f members are delighted to be asked questions, and the residents are eager to share their experiences and be asked about their quality of life."
All stakeholders involved are emphatic about the need for a multi-disciplinary approach to the project. "We respect each other's expertise and limitations," said Ms. McInnis, speaking of the partnership and collaboration between the Mount and the continuing care community. "All team members are committed to providing the right care, to the right person, in the right place."
Distinguished guests Geoff Regan, M.P. for Halifax West and Senator James Cowan joined community members and continuing care providers following the panel presentation for a lively dialogue. Above Photo L-R:Ava Czapalay, Ministry of Labour and Advanced Education; Senator James Cowan; Dr. Janice Keefe, Nova Scotia Centre on Aging; Ann McInnis, Northwood; Mary Lee, Health Association of Nova Scotia; Geoff Regan, MP; and Elizabeth Church, Mount Saint Vincent University.
The first results from the Care and Construction project will be shared during The Nova Scotia Centre on Aging's 20th Anniversary Conference, to be held November 21 to 23 at the Delta Halifax Hotel. The event will feature a wide range of presentations on all aspects of aging. For more information on the conference and how you can participate, visit the NSCA website.