Big opinions led to the new Bluenose Bias webcast
Mount students Joshua Robin Young and Sean Joudry have created a webcast called the Bluenose Bias, and the show holds true to its namesake. The Bias (as Robin affectionately calls it) is a tri-weekly show aired on YouTube that explores local, provincial, and global news. Bluenose Bias is a refreshing take on what's happening in the news media today: hosts Sean and Robin don't so much cover news as tear it to shreds. All in good humour, of course, but not much gets past these guys – and they're not afraid to let you know what they think.
Kelly Lynch, editor of Symmetry Public Relations, sat down with Robin and Sean to get the the skinny on the Bias, which Symmetry will be airing a select episode of every Friday. You can further explore the Bluenose Bias YouTube channel, where you will find Robin and Sean's entire news-shredding repertoire. Below is the 'Obama back in the Whitehouse: What does this mean for Canada?' debut, featured on Symmetry's website.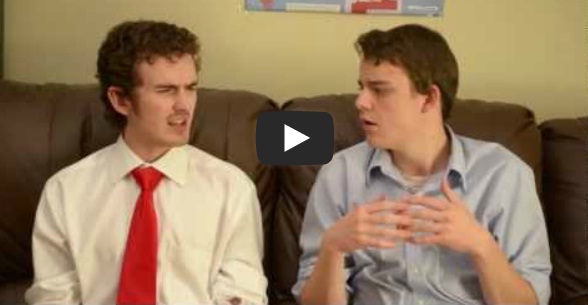 Q&A with the Bluenose Bias duo
Q: Who is the Bluenose Bias?
Robin: Well, Sean and I are the hosts, producers, promoters, creators – we do pretty much everything, although now we have a few others helping out. We started a Facebook group called the Bluenose Bias team. One [member] is Sam Coleman who is our sometimes film/cameraman. Our film expert. And then we have Jason Gardner who does editing…he also drives us around and lets us use his camera [laughs]. And we also have Josh Fraser, who is our "ideas guy."
Q: What is the Bluenose Bias?
Sean: The idea is to add in a voice from people who aren't the mainstream media. It's interpreting the news. But, despite being called the Bluenose Bias – it's not a lot of partisan content. We're rational individuals who want to talk about this stuff intelligently. The general concept for Bluenose Bias came to me a good five or so months back. I thought Robin and I had a lot of really great conversations, and they reminded me of a podcast called Diggnation. And it was just two guys sitting on a couch giving their opinions on news stories. There's not a lot of blatant interpretation of news stories here in Atlantic Canada. We wanted to provide that.
Q: Where is Bluenose Bias filmed?
Sean: We move around. When winter comes along it will be more difficult to stand outside for filming. It's a lot of time to set up, for Robin and I to coordinate our thoughts [laughs]. We have a lot of plans for the future for higher production quality. New media in general is really going to see a boom over the next 10 years as the influence of mainstream media decreases while independent, new media rises significantly.