More than 450 students from 18 countries graduated from Arts, Science, Education, and professional programs at Mount Saint Vincent University's Fall Convocation today. At the morning ceremony, S. Joan O'Keefe was installed as the Mount's 5th Chancellor.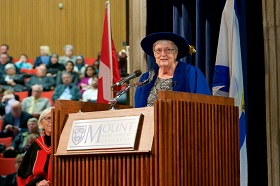 Sister Joan O'Keefe was elected Congregational Leader of the Sisters of Charity-Halifax in July 2014 and in that role also serves as Chancellor of the Mount. She has been a member of the Sisters of Charity leadership team and served as a teacher, coordinator of the Spryfield Single Parent Centre (now Chebucto Family Centre), community volunteer, advocate for those living in poverty and volunteer doula. As she accepted her new appointment, Sister Joan emphasized the accomplishments of today's graduates. "I have always welcomed students from the Mount into work placements in organizations where I have worked, as they always give me the energy to continue my efforts. As you graduate, I wish you passion and courage to be who you need to be."
Honorary Degree Recipients
Celebrated black history preservationist Elizabeth Cromwell and acclaimed philosopher and poet Jan Zwicky attended morning and afternoon ceremonies respectively to accept honorary degrees.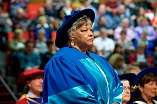 "Education is power," Elizabeth reminded the morning's Master of Education graduates, recalling a quote by Nelson Mandela. "We are so fortunate to live in a country where education is a right and freedom is respected and safe guarded. We must work diligently to ensure it remains so." (To watch Elizabeth's full convocation address, please click here.)


Jan reflected on the role education has played in the lives of the women in
her family, including three generations that sought to empower their daughters. "This is an unusual family history for people of my age. It's history, but it isn't ancient history," she said. "Education remains the cornerstone of all forms of liberation. Education is about coming to understand who and what you really are…achieved through careful reflection and striving for clarity." (To watch Jan's full convocation address, please click here.)
Professor Emerita Announced
The Mount also recognized Professor Wendy Doyle with the title of Professor Emerita for her 40 years of service to the University through the Department of Business Administration.
Student Prizes

Valedictorian Prizes for academic achievement, as well as significant contributions to extra-curricular activities at the Mount and in the community-at-large were awarded to:

The President's Prize, awarded to graduates whose generosity, energy and commitment enriches the university, was presented to:

Rebecca Skinner, Bachelor of Business Administration, from Halifax, NS
Sarah Shaw (Lake), Master of Science Applied Human Nutrition, from Hants County, NS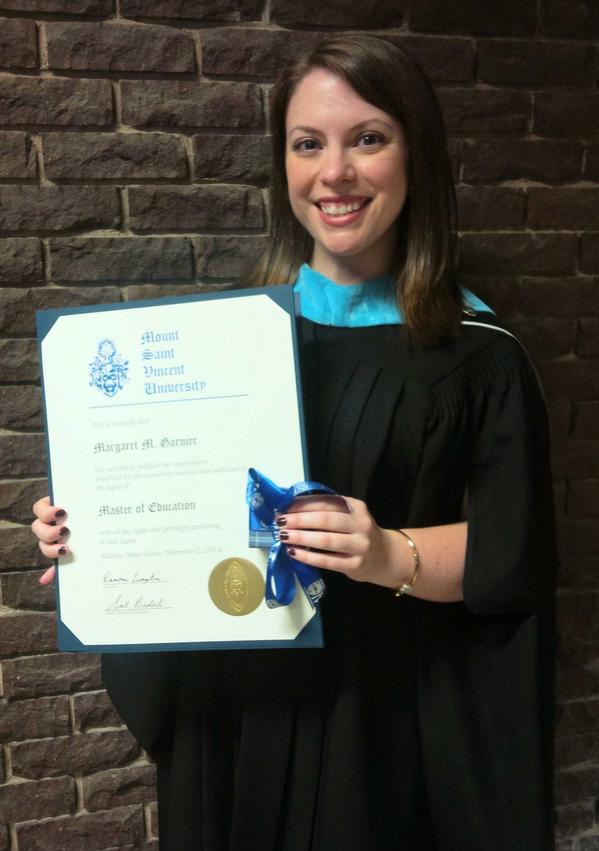 Membership to Kappa Gamma Pi, the National Catholic College Graduate Honor Society, is based on scholarship, leadership, and service, and was presented to:

Melissa Cooper, Bachelor of Public Relations, from Riverview, NB
Margaret Garnier (shown at right), Master of Education (Studies in Lifelong Learning), from Halifax, NS
About Mount Saint Vincent University
Recognized as a leader in distance and experiential learning, Mount Saint Vincent University takes a personalized approach to education to nurture socially responsible global citizens. The Mount has been nationally recognized for having one of the lowest student-to-professor ratios, for providing students early access to valuable research opportunities, and for facilitating critical advancements in food security, healthy aging, literacy, and childhood development.


-30-


For more information:
Gillian Batten
Manager, Communications
902-457-6439 / 902-441-0505 (c)
Gillian.Batten@msvu.ca