A 20-Year Journey to Graduation
"The faculty and administration at the Mount were outstanding. I always felt like all they wanted was for me to succeed."
A great few develop tenacity, grit and determination at an early age. For Natasha Penney, these characteristics were made apparent at two weeks of age, when she was diagnosed with congenital kidney disease. By all accounts, this health challenge would not dictate the course of her life; rather it would allow her to develop greater resolve at seeking out the opportunities she aspired towards.
Born in Bishop's Falls, Newfoundland, Natasha first enrolled in the Mount's
Applied Human Nutrition
program in 1994. Not even two months into the degree, she had to leave the university to undergo her second kidney transplant. Her first transplant had taken place six years earlier; the donor had been her father.
"There are no guarantees on the outcomes of a kidney transplant," said Natasha. "An additional transplant is always a possibility. It's not a cure; it's a treatment option."
After her second transplant, Natasha decided to take a job with a media organization back home in Newfoundland, now owned by Transcontinental Media. Working her way up from a freelance position, Natasha eventually took on the role of editor. In 2007, Natasha relocated to Halifax to begin hemodialysis sessions at the Victoria General Hospital (VG). While undergoing treatment at the VG, Natasha did a lot of soul searching, "I had always looked back on my first experience in university, and it felt undone. I felt as though there was something unfinished."
"Coming out of media where I covered government affairs, political studies seemed like a perfect fit."
With a tremendous amount of support and encouragement from her family, Natasha enrolled at the Mount once again in 2008, this time in the
Political Studies
program. "My first lecture was with
Dr. Michael MacMillan
and I was immediately hooked," said Natasha. "I felt perfectly at home, I absolutely loved it."
The feeling was mutual and Natasha quickly became a highly regarded member of the political studies community at the Mount. "Natasha is one of the brightest students to come through the Political Studies program," said
Dr. Jeffrey MacLeod
, Associate Professor and Chair of the Political Studies Department at the Mount. "She has a tremendous sense of humour and a tough spirit; she is assertive when she needs to be, and also compassionate and generous."
"Despite the extraordinary health challenges Natasha faced during her degree, she consistently delivered work that was of a high calibre." – Dr. Jeffrey MacLeod
Thriving in the program, Natasha's studies were frequently interrupted by a series of four operations while she was on dialysis, which took place between 2010 and 2012. In May of 2013 she underwent her third kidney transplant at the VG. The post-op period was fraught with challenges; it took eight weeks for the kidney to work, and during that period, more surgery was necessary to correct a complication. Her mobility was also impaired by a damaged femoral nerve, which was affected during the transplant. It resulted in a brief stay at the Nova Scotia Rehabilitation Centre, as well as the short-term use of a walker until the nerve began to regenerate. Once the kidney function stabilized, and the mobility issues began to improve, Natasha's thoughts returned to completing her program.

"My relationships with the staff at the Mount were cemented," said Natasha. "I never felt that I had to stop or discontinue my studies. I received phenomenal support from Dr. MacLeod and Dr. MacMillan in particular, and they were always firm in their belief that obtaining my degree was within my grasp. It was an important reminder that facing one set of challenges does not ever need to be a person's sole focus. If education is important, and you are open about issues that may complicate the academic process, you can find the support you need."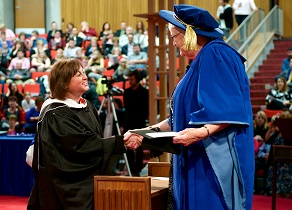 On November 2nd, 2014, Natasha finally received her well-earned university degree. While she is not sure what the future holds for her, she is determined to find a home for her writing skills combined with her newly minted political science expertise, "My dream job would be working for an elected official that I believe in," said Natasha. "I like the idea of taking the abstract theory of political studies and applying them to our day-to-day political system."
Whatever's next for Natasha, she will face it with the continued tenacity, grit and determination that has come to define the way she lives her life.