Jessica and Rebecca Skinner to share podium as co-valedictorians, best friends at fall Convocation.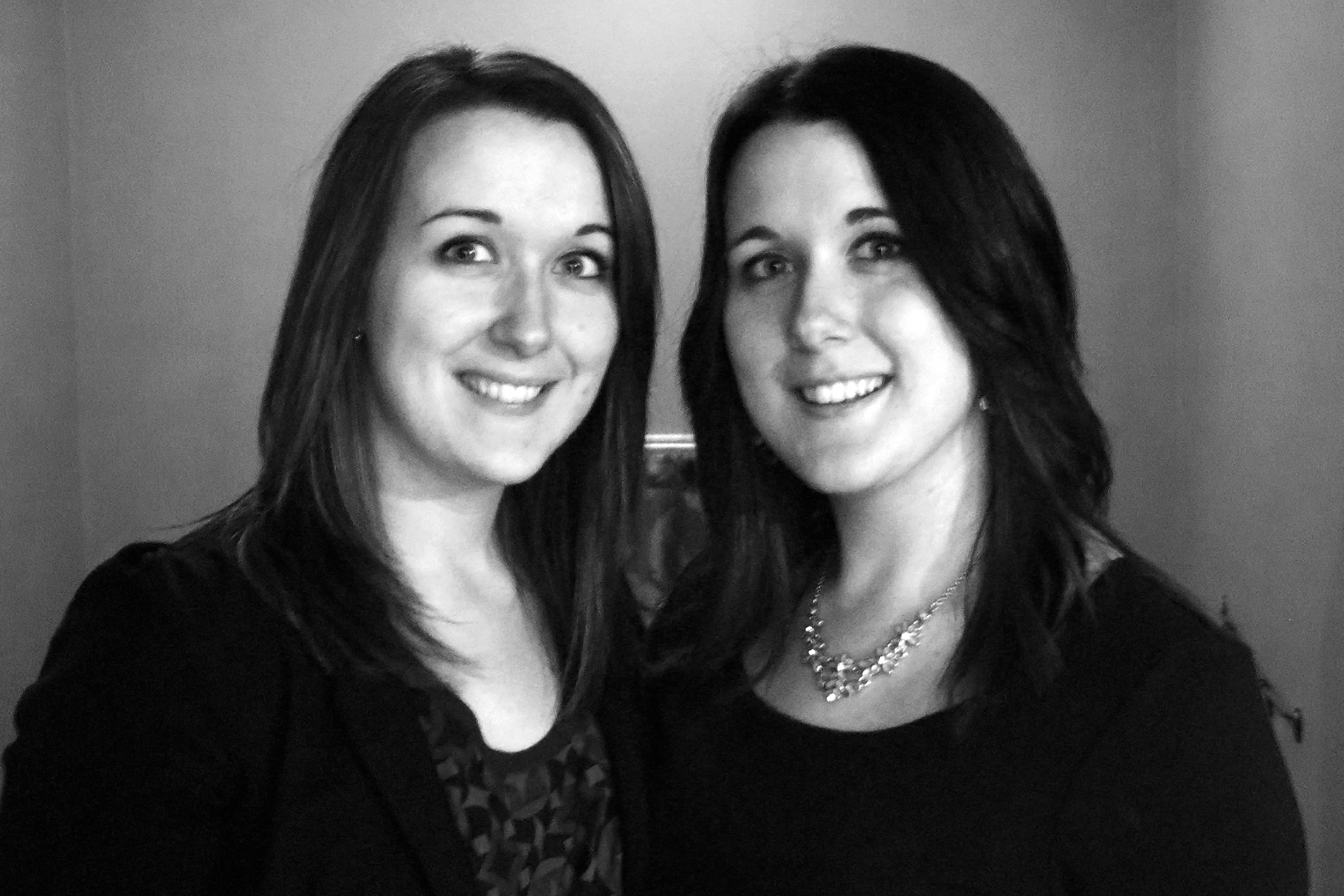 Jessica and Rebecca Skinner were introduced to the world just one minute apart in St. John's, Newfoundland. On November 2, they will become university graduates in much the same fashion, crossing the stage to earn degrees of Bachelor of Business Administration with distinction. As young alumnae, they will share the podium to address their peers as co-valedictorians – a Mount first and a fitting end to their four-year Mount journey.
"It's an honour," says Jessica. "We came to the Mount as a package deal and found out who we were as individuals. Now we get to leave the same way we came in – together." The Mount was a perfect fit for Jessica and Rebecca, who had an appreciation for a 'custom-fit' education. As toddlers, their father's job in the pharmaceutical industry led the family to Texas, where frequent travel made homeschooling an attractive option. To this day, Jessica and Rebecca credit much of their success to having learned the importance of self-motivation, a lesson made possible by their teacher – their mom.
Jessica and Rebecca shared serious entrepreneurial aspirations from an early age, but always managed to keep things fun, laughing as they describe their early vision. "We had this big dream that we'd be two pharmacists who owned our own pharmacy," says Rebecca. "We'd be twin pharmacists, and we'd wear pink lab coats." And while pharmacy fell out of the running over time, business remained a focus as the Skinner family moved back to Canada and the sisters took a year to work. As servers in a local restaurant, Jessica and Rebecca were encouraged to go back to school by a part-time cook who was also a Mount business student.
"Challenge Accepted…"
Jessica and Rebecca enrolled at the Mount and recall being asked to introduce themselves on the first day. "Our professors made the effort to learn who was who," says Jessica. "From that point on, we were no longer 'the twins' or 'the girls' – we became Jessica and Rebecca."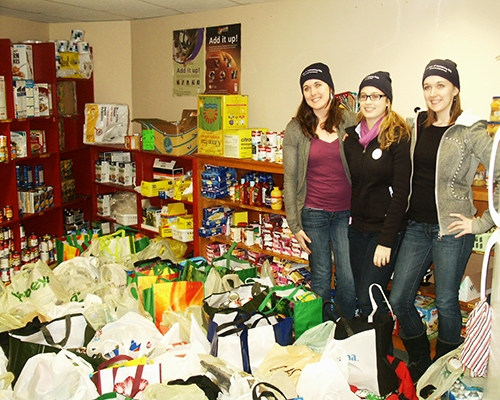 Boasting cumulative grade-point-averages of 4.03 and 4.05, respectively, Jessica and Rebecca can trace their quest for academic achievement to an introductory microeconomics class. "This is my favourite story," says Rebecca. "A girl who sat next to us was so together and organized. She told us to come to SI (supplemental instruction) with her that afternoon, and said she had to go because she wanted all A's. Jessica and I looked at each other and figured, 'Why can't we do that too?'"
Their "challenge accepted" attitude was not lost on Sandi Findlay, who encouraged the girls to get involved with the student-led Business & Tourism Society in their first semester. "By March, we were asked to return as Co-Presidents," says Rebecca. Jessica and Rebecca followed their co-presidency with various executive positions, crafting an illustrious career as student leaders within the Department of Business and Tourism. Together, they hosted the annual business conference, organized Caritas Day activities all four years (2013 food drive image above), tutored peers and participated in departmental recruitment events.
They also traveled to Orlando, Florida on a study tour with Habitat for Humanity (shown below), spent countless Saturday mornings at Feed Nova Scotia and remain dedicated volunteer leaders in their church.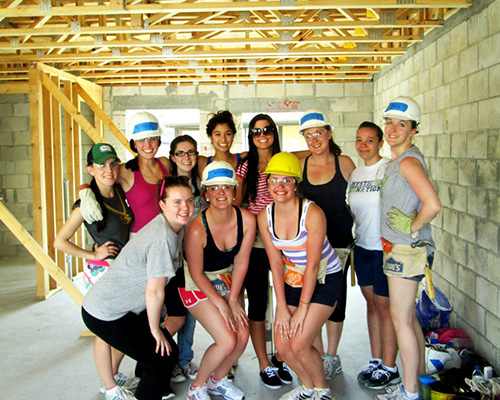 Jessica admits that early Saturday mornings spent at a food-sorting warehouse had implications for Friday night social activities, but she wouldn't have it any other way. "I remember thinking this is three hours to be with my sister, sorting food and catching up on what I missed all week. It was like reconnecting with my best friend."
"We were so busy in our third year," notes Rebecca. "We worked part-time, had separate classes and circles of friends, but giving back was so much of who we were – and are – as individuals." Their outstanding academic achievements and volunteerism were recognized with numerous awards and in-course scholarships including the Department of Business and Tourism Leadership Award. They were also named as finalists for the prestigious Frank H. Sobey Award for Excellence in Business Studies.
Experiential Learning Pays Off
As professional, mature and vibrantly articulate young women, Jessica and Rebecca excelled as students in the Co-operative Education program and are proving the value of experiential learning by having gained full-time employment in advance of graduation in their chosen fields of study. "Now that I'm in the workforce, I feel completely 100 percent prepared," says Rebecca, who's putting her collaborative leadership and big-thinking abilities to work in her role as Sector Strategist at Nova Scotia Business Inc. "I fell in love with the organization and the analytical, economics-based research I got to do in my second work term. "My work is helping communities across Nova Scotia create jobs – I love that."
As for the self-professed list-maker, Jessica found her path in an introductory accounting course taught by Elizabeth Hicks. "The way she taught the class got me excited about tax," she says. "I always found it interesting to learn how the rules were different here in Canada, compared to where we grew up." Jessica's passion for tax, warm spirit, and commitment to customer service is serving her well as a Junior Staff Accountant with the world's fifth-largest accounting firm, BDO Canada.
Though she has yet to graduate, Jessica is already enrolled in the CPA Atlantic School of Business, and has her sights set on becoming a tax specialist. Rebecca is currently preparing for the GMAT in anticipation of future graduate school, likely to pursue an MBA.
Reflecting on their Mount Journey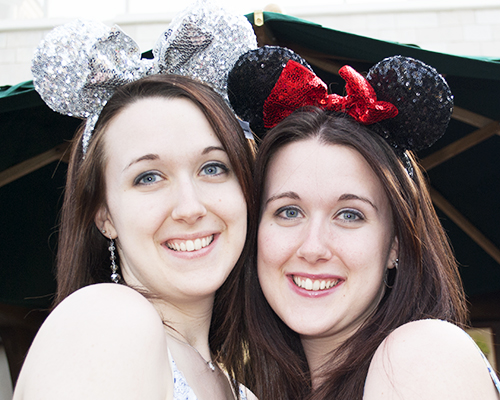 Looking back, both girls consider their extracurricular involvement an opportunity for professional development and refining of skills. "There was such a level of confidence instilled in us – it was like we weren't students," says Jessica. "Getting to work with professors and the Chair, many don't get that chance until third or fourth year – that was our entire experience."
Rebecca adds, "The individualized learning approach at the Mount has been the difference. Staff and professors care – not just about your studies, but how you're doing in life. Last year, our father was diagnosed with lymphoma, and they always made it a point to ask how we were doing. That meant a lot."
After meeting these young women, what remains unclear is who garners the title of 'big sister'. Jessica was born a minute earlier, but Rebecca stands an inch taller. Unmistakable, however, is their mutual respect and admiration for one another, making their competitive nature fun. And while their ability to complete one another's thoughts in unison may be expected, Jessica and Rebecca Skinner are anything but – we can't wait to see what they do next.