Innovative program to address Canada-wide need; graduates to bridge science and the larger public
Convocation is an important day for all graduating students. They bask in their friends and families' warm wishes, and as they cross the stage to receive their degrees, they receive tangible evidence of their hard work and success. Two of the students who crossed the stage during fall 2012's convocation ceremony, Leanne Marriott and Danielle Pinkney (shown below, left to right), also have something unique to celebrate.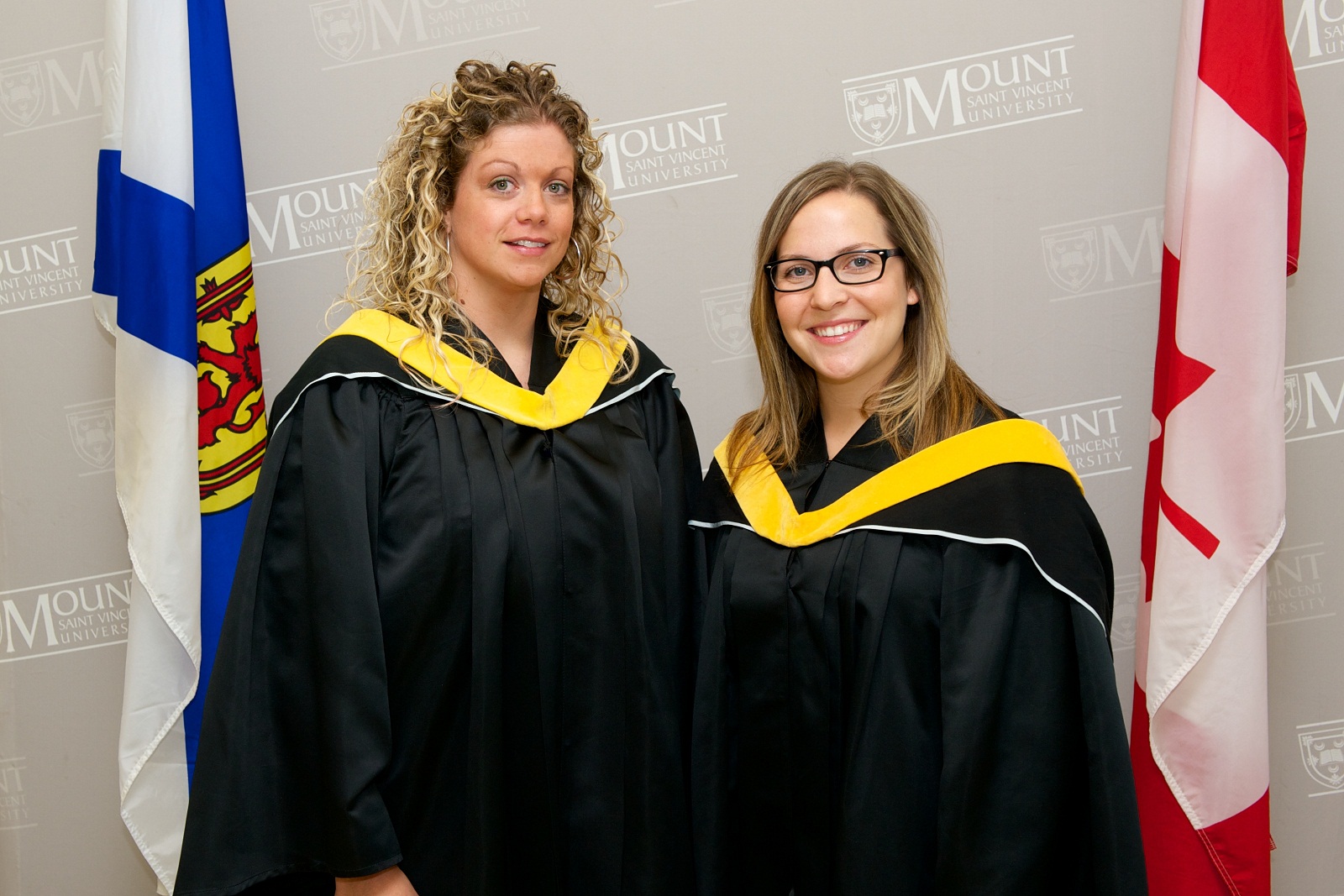 They are the first two Mount students to graduate with a Bachelor of Science degree in Science Communications; a journey that was both very rewarding, but one that also came with a lot of responsibility.
"Being able to provide feedback to the school to better the program allows me to be a part of something great. I think in some ways, we helped to develop the program further," explains Leanne, who previously received a Bachelor of Public Relations and a Marketing Certificate from the Mount. Danielle agrees with Leanne. "It's a great accomplishment to be one of the first two graduates of the program," she says. "I'm excited to be an ambassador for science communication."
Danielle learned about the Mount while she was employed as a police officer for the Truro Police Service. In her second year as an officer, she was appointed the Community Relations Officer – which sparked her interest in the field of communications, "In my first year at the Mount, I was enrolled in the Bachelor of Public Relations. When I learned about the Bachelor of Science Communications, it seemed like a better fit."
"It has been interesting looking at science and communication from a completely different perspective for the first time; one that considered both disciplines working together."- Danielle
Similarly, Leanne wanted to combine her PR degree with her interest in science, and the Science Communications program seemed like the natural solution, "I've always had a passion for science," says Leanne, "but I am more passionate about telling people how amazing it is than actually doing the research."
Leanne further explained that her interest in science is broad, and reaches across many disciplines, whereas a lot of scientists have just a single, core focus. "There are so many amazing things that happen right here at home, and generally go unnoticed, that I feel compelled to help bring awareness to advances in the sciences."
"The small class sizes, the experienced, passionate and knowledgeable professors and the integrated curriculum approach, will prepare you for your future more than you can ever imagine." – Leanne
While Leanne and Danielle are exploring different career paths — Danielle potentially going the medical school route and Leanne thinking of pursuing a Master's of Science in Project Management — both credit the Mount for giving them a strong foundation to embark on their next steps.
"This degree has taught me so much about the importance of knowing your audience and framing the message," says Leanne. "These skills are transferable to any field or discipline."
Danielle reflects fondly on her time at the Mount and the university's ability to be flexible around a student's exploration of their education goals. Her advice to other students is to be open to new opportunities the Mount experience may present. "It may take time to find an area of study, but don't get discouraged. Take the time to talk to fellow students and professors, learn from their experience and consider their advice."