On November 6 and 7, MSVU will be hosting its first in-person convocation ceremonies in two years. Though they won't look exactly the same as before – proof of vaccination and masks will be required, and attendees will be spread out over three ceremonies instead of the usual two – the events will be every bit as meaningful as they were pre-pandemic.
As is customary at convocation, several students have been chosen to address their graduating classes. Among them is valedictorian Megan Cook. Megan will serve as valedictorian for the ceremony taking place on November 7 at 10 a.m.
Meet Megan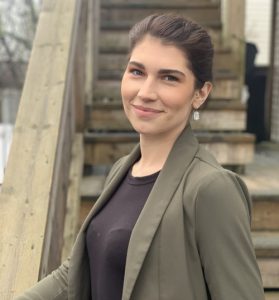 Megan Cook, from Brookside, Nova Scotia, came to MSVU as a mature student. She attended another Atlantic Canadian university when she was younger, and found that there were a number of barriers and challenges for students who struggled with organization. She also suffered the devastating loss of her father during this time. Megan decided to take some time off from post-secondary and move to Alberta, where she worked for five years before making the decision to move back to Nova Scotia to finish a degree in Business Administration.
Megan has truly excelled during her time at MSVU. She maintained a 4.01 GPA, and was awarded a prestigious Frank H. Sobey Award for Excellence in Business Studies in 2021, receiving $30,000 to support her development as a future business leader.
Megan's challenging experience during her first stint at university sparked her idea to create an app designed to help university students stay organized. In the past year, she has partnered with developers in the United States to bring the Studentgizor app to life, run a GoFundMe campaign to raise project development money, met with accessibility services departments, and has been working to secure investment backing. She hopes to launch the app in late 2022.
Aside from her academic and entrepreneurial successes, Megan is an experienced volunteer. Over the years she has given her time to a number of charities and non-profits, including Habitat for Humanity, Free the Children, Lady of the Peace Church, Greenland Daycare, United Way Halifax, and Feed Nova Scotia.
In addition to launching her app, Megan is looking forward to gaining management experience in the finance sector after graduation.
Megan's convocation address will be livestreamed on YouTube and Facebook as part of MSVU's fall convocation live broadcast.