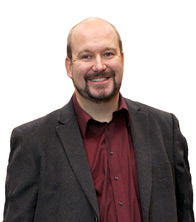 "The truth of our economy and society is that we need people who can imagine possibilities. We owe it to our students and to the public to cultivate that skill."
Inter-disciplinary study gives you the big picture
Dr. Jeff MacLeod has long believed that an understanding of the process of politics is essential for improving social justice and striving for the public good. He also believes that to understand that process, one has to understand culture.
As Chair of Political and Canadian Studies and Coordinator of Public Policy Studies, he walks the inter-disciplinary walk. He has combined an academic career with work for both federal and provincial governments while maintaining a lifelong engagement with fine art.
Indeed, his own art has won an award at HalCon and been displayed in several galleries, including the MSVU Art Gallery. Dr. MacLeod speaks from experience when he says, "Meaningful collaboration with other scholars in other fields improves the outcome of everything you do."
Dr. MacLeod has taken inter-disciplinary study to new heights in his collaboration with Dr. Nick Webb of Nova Scotia College of Art and Design. Together, they teach a course at both universities that connect culture and artistic expression with politics.
"In this kind of environment, you can really make stuff happen."
At the Mount, the disciplines don't just collaborate within classroom walls. This is a small university. Students and professors know each other.
About the Mount, Dr. MacLeod says there is support for collaboration and innovation at the highest level. "If you have a good idea and you can frame it appropriately, you will be supported. You can express yourself without being judged. There is not a 'Mount type' you have to fit into."