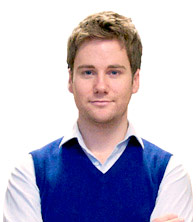 "Social media is like a balancing of the scales. Before social media, we just consumed what other people had to say – spokespeople, celebrity endorsers and experts. Today we all get our say and everyone benefits from the conversation."
Once upon a Blog
What began as a simple suggestion from a Mount professor has now positioned Mount graduate Ben Boudreau as one of Atlantic Canada's leading social media strategists.
Ben, a graduate of the Mount's Public Relations program, was introduced to the idea of starting a blog through a creative non-fiction writing course taught by Professor Brent King. "My prof thought it would be a great way for us to take our writing more seriously, and I'd say he was right."
Ben's blog, called No Ordinary Rollercoaster, acted as a launching pad for other initiatives – both personal and professional. In 2007, shortly after starting his blog, Ben was a finalist for CBC's Canada Writes, and more recently he competed, and won, the War Child Challenge – a program created to raise awareness around global issues. In February 2011, this program brought him to Ethiopia to share a first-hand view of the challenges young people face through his own social media channels.
Now a community and marketing manager for Yelp, Ben quickly learned the pros and cons to presenting yourself so openly online. "The whole social media craze happened in the midst of my university graduation and I tried to navigate it with zero practical experience and a naive optimism," says Ben. "Back then I was winging it. For people starting out today, it can be a confusing balance of trying to stand out without crossing that line."
"The Mount is a place where you get what you put into it – and then some."
Since graduating, Ben has helped countless organizations find that balance when building their presence online. His primary advice is to invest in a long-term strategy. "You'll never 'get it' unless you're using it regularly which I think is what keeps more people from understanding its value."
Ben says that his experience at the Mount largely paved the road to his current success. "Every single time, my Mount connections have continued to want to work toward bigger, better and cooler ways to accomplish things out there in the world."
For Ben, 2013 promises to be a big year. He has continued to gain prominence both in the online and traditional media channels, and notes, "This year is all about pushing even harder to see what the next phase of my writing and blogging might look like. I'm looking to incorporate all the lessons I've learned and skills I've honed since starting this journey."