Programming developed by the Mount Students' Union shines a light on consent culture on campus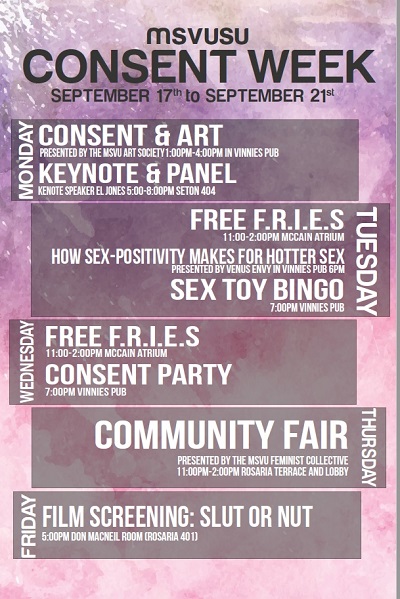 From September 17 to 21, 2018, the Mount Saint Vincent University Students' Union (MSVUSU) will host i
ts
inaugural Consent Week, a week of programming to promote consent awareness and bring the Mount community together in discussion, education and fun.
Coordinated by
Madeline Mitchell
, Vice President of Advocacy for the MSVUSU, the week will focus on building the consent culture on campus while promoting the resources available to students year-round. Topics being explored will include building an inclusive culture, advocating for reproductive justice and practicing confident communication. The week follows the traditional orientation and welcome weeks on campus.
"There aren't many other consent events happening on university campuses of comparable scale," Madeleine notes. "We want students to learn from this that the Mount campus is a safe and supportive place for all."
Over the course of the week, students will have the opportunity to connect with a variety of supports and services – including reproductive, spiritual and emotional health services, to name a few. Activists and services have been invited from Ontario, New Brunswick and Nova Scotia to participate in the week's events.


Madeline hopes that the events will help Mount students connect to services both on and off campus that they can rely on throughout their university years, while also providing practical advice that will serve them for years to come. The F.R.I.E.S. event at lunchtime on Tuesday, September 18, for example, will give students an opportunity to grab a free bite to eat (spoiler – it's free fries!) while also learning the breakdown of consent: F.R.I.E.S. =
F
reely given,
R
eversible,
I
nformed,
E
nthusiastic and
S
pecific. Additional events this week include a panel discussion, featuring keynote speaker El Jones, Nancy's Chair in Women's Studies at the Mount, a consent party, community fair and screening of the film Slut or Nut (
get more details here
).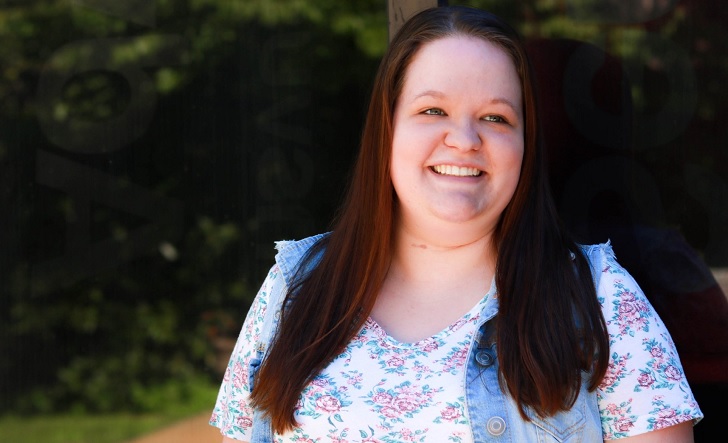 "Where consent education is not always taught from a young age, it is important for us to bring this education to students in a fun, engaging and accessib
le way," Madeline says.


Her efforts were supported by the MSVUSU Feminist Collective – a student society she h
as been part of for many years. When working with the group in prior years, Madeline recognized a desire from students for consent-oriented activities and campaigns on campus. When she ran for the VP Advocacy role on the Students' Union earlier this year, her platform featured a commitment to heighten consent awareness on campus; she began planning Consent Week 2018 this past May.
As part of the Mount's dedication to ensuring a culture of consent on campus, additional education and programming took place this month as part of orientation for new students, and training was provided for orientation leaders and Residence staff. It's a topic that is also being considered by the University's Sexual Violence Prevention Advisory Committee, chaired by Associate Vice President of Student Experience Paula Barry. "The work of the Mount Students' Union on this topic has been outstanding. Madeleine has contributed tremendous leadership to this initiative and all Mount students will benefit as a result."
Madeline hopes that this inaugural week will spark a tradition for years to come. "Consent is a healthy thing for everyone to participate in," Madeline says. "It should be practiced in all aspects of life."