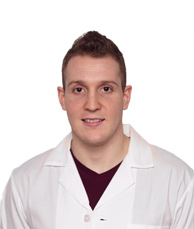 "I feel privileged to be working on such an important project at my age."
The opportunity for hands-on research is big at the Mount.
Jay Kelly is in the third year of his BSc, with a major in chemistry. Last summer he was awarded a grant from the Multiple Sclerosis Society of Canada to research molecular imaging of the brain. The project has the potential to revolutionize the diagnosis and treatment of multiple sclerosis and Alzheimer's. "MRI is just not reliable for these diseases. It doesn't give us the information we need," says Jay.
At just 21 years old, Jay knows this is an exceptional opportunity for someone his age. He believes the Mount's small classes are a contributing factor for students to get hands-on research experience and one-on-one time with professors.

The hands-on quality of Jay's education took a literal turn when he had the opportunity to visit the Maritime Brain Tissue Bank, which is run by Dr. Sultan Darvesh. Holding a human brain in his hands was a profound experience for him. The purpose of the bank is to collect brain tissues and make them available for researchers such as Jay.
Jay also credits his research professors, Dr. Ian Pottie and Dr. Sultan Darvesh.
"You get a lot of independence. Dr. Pottie is there to guide you, but you do the work."
Jay also credits his research professors, Dr. Ian Pottie and Dr. Sultan Darvesh. It was Dr. Pottie who approached him to work with the MS Society. "I wouldn't have even known the opportunity existed. Dr. Pottie is very enthusiastic about chemistry and has a lot of time for student."
The work-life balance starts early for Mount students
As much as Jay loves his time spent in the lab, he has other enthusiasms. One of his major commitments is to the Mystics, the Mount's men's basketball team. The quality of coaching and the team's recent achievement of going to the Nationals six years in a row was a big draw for Jay. The intimate campus environment makes it easy to be involved in a wide-range of activities. "At the Mount, everyone knows each other. It's like a family."