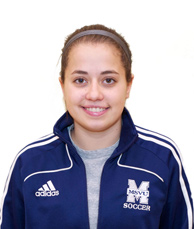 "The Mount is a great place to grow as an athlete."
Athletics and academics a great combination at the Mount
Danielle Cyr was steered to the Mount by her club soccer coach. She was also inspired by her parents, both of whom graduated from the Mount with a degree from the Faculty of Education.
Danielle is a President's Scholar, and both a goalkeeper and captain for the Mount Mystics Women's Soccer team. Now in her second year of the Public Relations program, Danielle says the Mount is very accommodating to athletes. "Balancing the demands of the team with study can be tough," she notes. "You get a lot of understanding and support from both sides – professors and coaches."
"From the first day, I felt I had a home away from home with the Mount's Athletics Department."
Danielle, an Academic All-Canadian for the Canadian Collegiate Athletic Association, says the coaching and training she gets at the Mount are second to none. "Our varsity athletics department at the Mount is a little smaller than most universities, but they run a competitive and enticing program. I can honestly say that being a Mount athlete has made my university experience."
"It's nice to have a real workplace experience to relate to what we're talking about in class."
Danielle has big plans to combine her love of sports and her degree to work in an area where she can motivate Canadian youth and promote healthy living. She recently completed her first work term at the Nova Scotia Teacher's Union (NSTU). "It was my first real work experience," says Danielle. "Working at the NSTU was the first time gym pants weren't part of my job attire." Her second work term will begin in January 2013, and Danielle is hoping to spend it working with a local sport or health organization.
With the many demands on her schedule, Danielle still finds the energy to volunteer. She is an active volunteer for ACTIVATE, a Motivate Canada youth leadership program. Danielle was one of the hosts of ACTIVATE 2012, where 38 youth from across Canada met for five days to discuss how to develop sport and recreation in their individual communities. She also volunteers with True Sport, a social movement powered by people who believe that sport can transform lives and communities. One of her proudest moments was when she became a Big Sister with Big Brothers Big Sisters Canada. "I spent time with my little sister this summer," says Danielle. "She's awesome, and loves soccer, so we hit it off right away!"
"The Mount is a community. You can really feel it."
Danielle's vision for her future includes more than a fulfilling career. She is making friends at the Mount she knows she'll have forever. "No team I've played on is like my soccer team here. at the Mount."