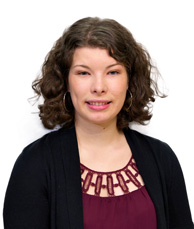 "We have really small class sizes so you get to know your teachers, which is a bonus especially during the transition from high school to university."
Lending Expertise to Benefit a Community
There is a long list of stories detailing Mount students who are making a difference overseas, but sometimes the biggest impacts are made closer to home.
An Applied Human Nutrition student, Rebecca's decision to choose the Mount was influenced by the education opportunities offered outside the classroom. "The Mount has more integrated internship opportunities," explains Rebecca. "For someone like myself, who wants to be a dietician and needs to get an internship, there is a better chance of getting that placement at the Mount."
While Rebecca feels her Mount experience has been made richer by these internships, the team at Beacon House Food Bank would argue that their organization has benefited the most. During her recent placement at the organization run by the Beacon House Interfaith Society in Lower Sackville, Rebecca's main research project was to conduct a nutritional analysis of client food orders. "I went through everything they were to receive to see if they were meeting the recommendations of Canada's food guide," says Rebecca. "My manager suggested that recipes would be beneficial for the clients."
Rebecca loved the idea and quickly took to compiling quick and easy recipes into a cookbook using the food items that were found in each food order. The book, which will soon be posted on the Food Bank website, has proven to be a very positive tool for food bank clientele.
---
"We've got staff with interest and commitment but lack the formal background in nutrition – that's where Mount students comes in. Their education is invaluable to us. I try to get Mount students involved anytime I can."
– Susan Moriarty, Chair of the Board of Directors for the Beacon House Interfaith Society.
---
Now in her fourth year at the Mount, Rebecca is inspired by her Beacon House experience and looks forward to integrating that experience into her work as a registered dietician post-graduation. Looking back at her time at the Mount this far, Rebecca says her best decision was to involve herself in the community at the outset, a strategy she advises for any new Mount student. "I would encourage people to get involved, there are lots of societies to join and on campus events," says Rebecca. "It's a great way to meet people, and in the case of societies, a great way to get experience."