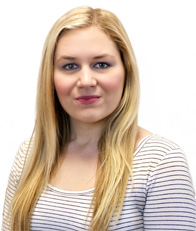 "There are so many opportunities to get involved. The people are awesome."
The Mount stood apart from the others
Amy Tattrie did her homework when selecting a university. While in high school, Amy investigated several universities and kept coming back to the Mount. She visited the campus several times, including both Open Campus Day events. The Mount's small campus with small class sizes and a variety of extracurricular activities sealed her decision. With just one semester under her belt, Amy already feels like she's made a home at the Mount. Living in residence played a big part in this, and Amy believes on-campus living is a great option for first-year students. "You'll find an immediate community. It's not as scary as you might think," she says.
Mount scholarships recognize contributions and help with the cost of education
In both her high school and her home town of Truro, Nova Scotia, Amy was highly involved in extracurricular and volunteer activities. For this reason, Amy earned a Leadership Scholarship at the Mount that covers the cost of living on campus in The Birches. Amy thinks anyone considering the Mount should investigate the scholarship program.
Amy's thorough knowledge of the Mount, and her energy for helping others, led to a position as a Student Ambassador, representing the Mount at events on campus, including those where prospective students are invited to spend time on campus.
A working trip to Ghana is an education in itself
Last year, Amy's compassion for others inspired her to travel to Ghana where she spent two weeks volunteering at a school and an orphanage. "It dispelled some of the stereotypes I had. They taught me much more than I was able to teach them."
Still in her first year of a Bachelor of Arts, Amy hasn't fully decided on what degree program she wants to focus, but she is enjoying exploring many areas of study. What she does know is that her study will follow her interest in developing nations and human rights. She also plans to continue her travels and volunteer work.