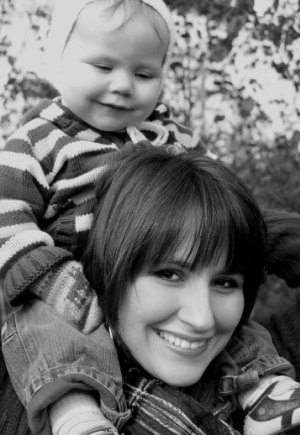 "Learning is what life is all about; it's growth. I have loved school since I was a little girl.  The inspiration for lifelong learning has always been there," says Pamela Blotnicky.
Pamela will be graduating on Oct. 24 with her Master of Arts in School Psychology (MASP)—and though it has been a long road to this point, her passion for learning has driven her to work hard and stay focused, even when life presented challenges.
For Pamela, her challenge was also her greatest reward. When she had just begun the final phase of her program, an internship in the public school system, she became pregnant with her son, Zachary.
"I had a complicated pregnancy and was forced to discontinue my internship," says Pamela. "If it had been a normal pregnancy, it wouldn't have been so difficult to finish."
After taking a maternity leave, Pamela continued with her studies when Zachary was one year old. Now, little more than two and a half years after becoming pregnant, she is graduating with a career in the field, and a nomination for the Graduate Thesis Award.
But going to school while caring for a young child can be a huge challenge, and Pamela had the added concerns of being a single parent. She is thankful to have had the support of her family and friends during the course of her degree when she needed a helping hand.
Pamela is particularly grateful to her mother, Dr. Karen Blotnicky, an Associate Professor in the Mount's Business Administration program.
"My mother is my biggest inspiration. She has always been a great resource and support throughout my university career and personal life," says Pamela. "She also completed her Ph.D. recently with three grown children and two grandkids. Her persistence and passion to succeed, and her ability to strike a remarkable work-life balance, inspires me."
Now that Pamela is moving on from her time at the Mount, which began in 2002 when she entered the Bachelor of Science (Honours) with a major in psychology and minor in biology, she is looking ahead to where she eventually wants to be.
"I am currently working in the field, and I love my career. Long term, I hope to work toward a doctorate in psychology and continue to work in the field as well as teach and do research," she says.
Given her commitment to lifelong learning, there is little doubt that she will achieve this goal, and any other she sets her mind to. After a long road in attaining her MASP, Pamela is now ready to move on and see where her education can take her and her son, but she looks fondly upon her eight years at the Mount.
"Being a parent, particularly one without a co-parent, does add an element of challenge to completing a graduate program. However, no goal is unattainable, and if I could do it, there is no reason anyone else couldn't. What it comes down to is passion, determination and confidence in one's own abilities. The Mount helps to foster that confidence and passion. There was never a moment when I doubted I would eventually succeed."