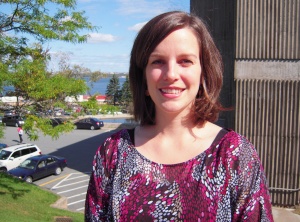 If you are studying in a professional studies program at the Mount, chances are you will meet Kirsten Somers at some point during your degree. Kirsten is a Coordinator for Co-operative Education (commonly referred to as the Co-op Office), helping students navigate their way through the hectic co-op process.
A Mount employee since 2006, Kirsten has attended many convocation ceremonies. In October, she will be there in a different capacity—as a student, graduating with her Master of Education (Lifelong Learning). 
Kirsten, a St. John's, Newfoundland native, comes from a family that deeply values education and she has always planned to get a Master's degree. Her decision to continue with her education at the Mount seemed like a natural step after she became a staff member.
"The university environment is very supportive and open," says Kirsten, who feels she has been able to turn to her colleagues for advice and support, as well as to her family back home.
But even with so much support behind her, Kirsten admits that it can be tough to strike a balance between school and a career.
"It was challenging in terms of the thesis," she says. "It was the most difficult part of the degree [for me]. I am a very social learner, and a thesis is very independent work."
Being a social butterfly works well for Kirsten in her work with the Co-op Office, even if it creates challenges when writing a thesis. Kirsten's job allows her to interact with many students as she helps direct them through the co-op process. She feels her previous degree, a Bachelor of Social Work from McGill University, helps her handle the many issues that co-op students are faced with.
"I'm able to apply a lot of my background," says Kirsten. "I love working with students."
She also feels that attaining her Master's degree while maintaining her career at the Mount has improved her ability to relate to students.
"It gives me an understanding of what the balance is," she explains. She cites the many pressures facing students nowadays, including maintaining their grades while working full or part-time to support themselves and pay for their education. She has been able to use her education and practical experiences when helping students who are feeling the stress of too many obligations, and too little time.
 
As Kirsten continues with her role as a Co-op Coordinator, she now feels she has even more to offer students who come to her for support, advice and direction. Having worked so hard to further her education, Kirsten now hopes she can pass those valuable lessons along to the students she works with every day, and share her passion for lifelong learning.