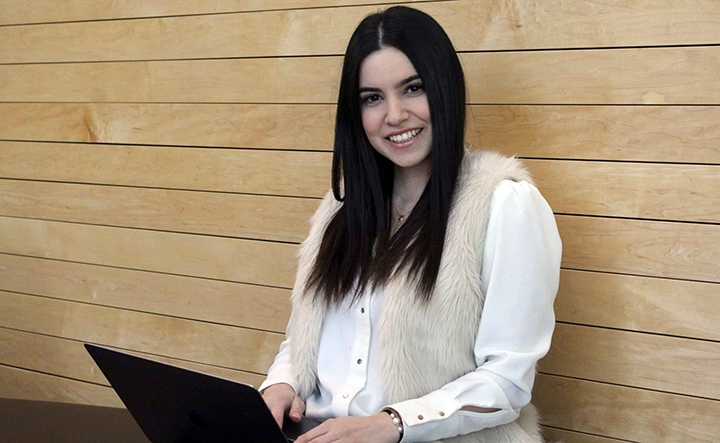 "Who doesn't dream of owning their own business?" Elsy Makhlouf is a fourth-year Public Relations student at the Mount, and CEO of Lively Public Relations and Branding Inc.
Confidence is the secret ingredient to fourth-year Mount Saint Vincent University Public Relations student Elsy Makhlouf's success. Along with a full-time course load, she is the founder and CEO of Lively Public Relations and Branding Inc. – a Halifax-based creative agency that works with local businesses to build brand awareness and community connections. Balancing roles of student and CEO can be a challenge, but it is one that Elsy would not trade for the world.
Making Her Mark in Halifax
Originally from Lebanon, Elsy's first time leaving her home country was to pursue her dream degree of Public Relations at the Mount in 2015. Eighteen years old at the time, Elsy eagerly joined her brother Elio to experience life as a Canadian student. She worked diligently to overcome the challenges of moving to a foreign country, like learning to speak English fluently (she also speaks Arabic, French, and Spanish) and navigating a culture she had never experienced before.
That did not deter her from immersing herself in all that Halifax has to offer, and she quickly became an avid community volunteer. So far, she has volunteered with the Halifax West Liberal Association, UN World Interfaith Harmony Halifax, the Atlantic International Film Festival, the Halifax Jazz Festival and more. She has also given of her time and expertise as a communications assistant with a local Lebanese church, and has been involved with numerous Lebanese events throughout the city.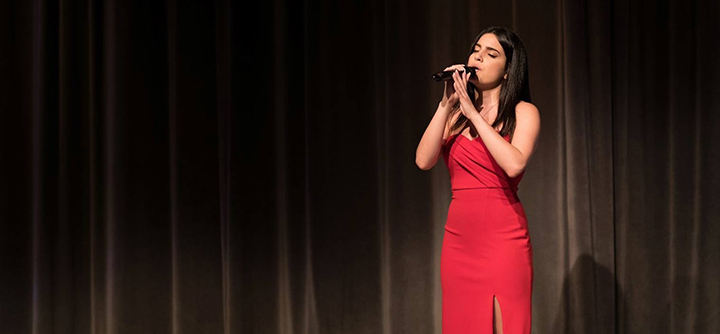 Another passion Elsy was keen to explore in Halifax was her life-long love of music. While a teenager in Lebanon, Elsy established a singing career – she studied classical guitar, music theory and vocal lessons for six years. Once in Halifax, she joined the Maritime Conservatory of Performing Arts to continue her musical training alongside her undergraduate studies. She has since performed across Canada. Locally, she has performed on Global News and at events including the Mosaic Festival, the National Liberal Convention (hosted in Halifax in 2018), the Grand Opening of the Halifax Convention Centre, the Spring Dinner of the Halifax Chamber of Commerce and Mount events including Multicultural Night and the Board of Governors Holiday Dinner. She also performs regular sets at the Halifax Marriott Harbourfront Hotel. Able to sing in eight languages, Elsy notes: "Singing has taught me to give every opportunity my all," she says.
Building Her Business
Elsy's first taste of Public Relations work came from her first co-operative education work-term, a required component of the Mount's Public Relations degree. She spent four months working in the National Research Council's Halifax office, where she was nominated for Co-op Student of the Year. Her second and third work terms were with the Atlantic Canada Opportunities Agency (ACOA) and Halifax Partnership, respectively. These experiences inspired Elsy to make her dream of owning her own business come to life. "I told myself I have nothing to lose by offering my skills to those who can use them," she says.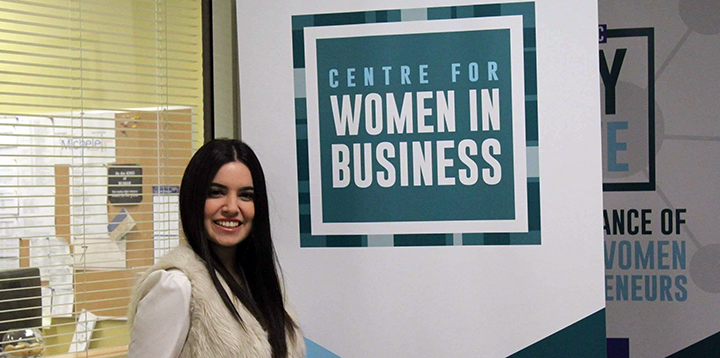 In October 2017, Elsy officially made the jump into entrepreneurial life. With a network of supporters in the Halifax business community behind her, Elsy launched Lively. One piece of advice that shaped Elsy's approach was to surround herself with people who motivated her. "I've always worked by the quote, "If your circle doesn't inspire you to be better, you are actually in a cage," she says. With this at heart, she brought in specialty contractors, including her brother, who helped her divvy up the work and get the company off its feet. She also sought support from the Centre for Women in Business at the Mount, which Elsy notes has been a tremendous asset as she navigated her first year in business.
Elsy' first client was a local Bedford community theatre company. She created an advertising strategy for the company's schedule, and developed print and digital promotional materials. The campaign was her company's first success, helping to put them on the map in the Halifax market. From there, business grew exponentially – Elsy has built an exciting portfolio of work, including the launch of a local Thai Express location and brand advising for numerous Halifax-based businesses. Now, her company offers customers a unique mix of services that include digital media, event management, media relations, advertising campaigns and brand strategy.
The experience of running her own business has also inspired Elsy to give back to her community in new ways. Elsy was part of the winning team for Youthful Cities' 30Lab project, which enables youth to affect change in their communities. Their proposed non-profit project "ROOF", which aims to find solutions for housing issues in Halifax, received $7,500 in start-up funding. ROOF is an online platform and mobile app, where people can find supports and service providers, such as food banks, mental health services and homeless shelters, to aid in their journey toward safe and affordable housing. Elsy and her team hope to have the online platform ready sometime in the next five months.
Now towards the end of her degree, and shortly after her first full year in business, Elsy can see how far she has come. The biggest lesson she has learned is the importance of believing in herself. Overcoming the challenges that come with moving to a new country and focusing on her dreams has taught Elsy much about herself – like how to manage her time and stay true to her (many) passions. Whatever comes next for Elsy and Lively, she knows that she has what it takes to bring her dreams to life. "I came to Halifax and the Mount as a stranger," she says. "Now, I'm part of a huge, supportive community."