Adventures in interdisciplinary entrepreneurship
Mount Saint Vincent University is home to Canada's only university-based resource centre for women entrepreneurs – the
Centre for Women in Business
. It's a resource to community members, students and faculty alike, and one through which students Gurneet Dhami and Freya Poirier have grown as entrepreneurs.
Perhaps what they've learned most through their entrepreneurial journey is that relationships can form in the most unlikely of places and there is immense entrepreneurial value in interdisciplinary connection.
Gurneet
, an MSc Applied Human Nutrition student at the Mount, and
Freya
, an Interdisciplinary Design student at
NSCAD University
, were both members of the winning team at the 2018 Food Hackathon, which also included students in economics and agricultural business. Their winning innovation was called
@SecondWaveNS
and is a sustainably-sourced fertilizer made from lobster waste, which would help the agriculture industry while promoting Nova Scotia's vibrant fishing industry. As they've continued to advance their idea over the past year, Gurneet and Freya have gone from business collaborators to friends.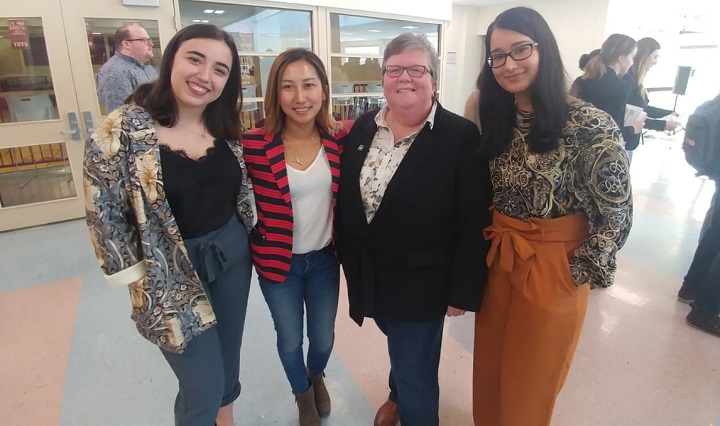 (From left to right: Freya Poirier, Nasil Nam of the CWB, Nora Perry of the CWB, and Gurneet Dhami — at the 2019 Food Hackathon)

Seizing professional development opportunities outside their fields of study has helped the pair to grow their connections in Halifax. They have continued to pitch their Second Wave innovation at competitions, both as a pair and with other students, including at Start It Up! led by the Acadia Entrepreneurship Centre, Startup Weekend at Launch Dal, and the Atlantic Lottery Hackathon hosted by Volta.
Gurneet and Freya have also presented a poster at the Sustainable Oceans Conference at Dalhousie University, attended the StartingPoint Entrepreneurial Conference at Saint Mary's University and, most recently, worked on creative housing solutions with Future City Builders Halifax. All these ventures have challenged the dietetic and design duo to think creatively, adapt to various situations, and ask and respond to tough questions. They also recognize the benefit of sharing these experiences with their peers and teachers towards encouraging an entrepreneurial spirit in others.
As members of the Centre for Women in Business and
Spark Zone
at their respective universities, Gurneet and Freya have also participated in the CWB's monthly networking breakfasts, 2018 International Women's Day breakfast, and workshop series. They note that all of these experiences have taken them outside their comfort zones, for the better.
After joining Saint Mary's Enactus team last year, Freya has gone on to start a chapter at NSCAD University with Gurneet serving as a community liaison. The team debuted at the 2019 Atlantic Canada Regionals, presenting their cookbook idea dubbed
Forks and Spoons
. Though they didn't take top spot this time round, they still look forward to attending nationals in Vancouver in May as well as continuing to grow the team.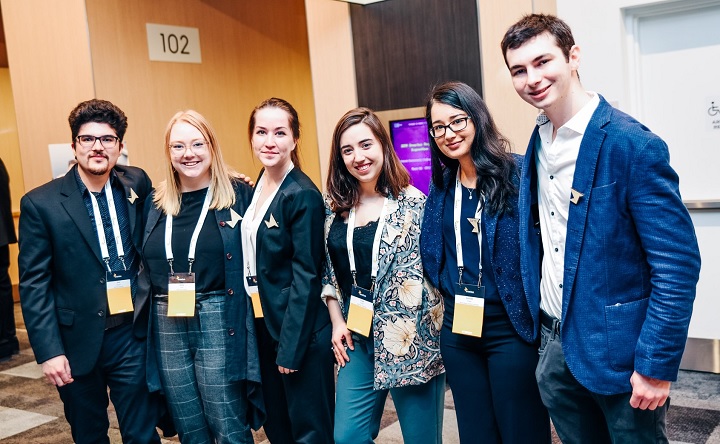 (NSCAD Enactus team members at the Atlantic Canada Regionals, including, from left to right, Paul Guardia, Emily Clark, Hilary Jones, Freya Poirier, Mount student Gurneet Dhami and Sam Stein)
Their adventures in entrepreneurship recently came full circle when the duo gave an opening keynote at the 2nd annual Food Hackathon (held in March) and participated as mentors.
"We want to inspire others with our stories and share the potential we all have as CEOs of our lives," noted Gurneet. Freya adds, "We need to encourage spaces for students from different disciplines to connect with one another and break down the silos." They credit a long list of professional mentors, including: Nora Perry, Nasil Nam, Jason Turner, Linda Mann, Jennifer Brady, Christopher Kaltenbach, Mark Corbett and Umesh Kumar. With their support, Gurneet and Freya have gone from mentees to mentors.
In the spirit of their favourite fictional characters Anne and Diane (think green gables), Gurneet and Freya note that they hope to keep their friendship strong in the years to come and continue on their shared entrepreneurial path.
Both want to encourage others to explore new sides of themselves and see what "can be dreamt up" through event, programming and project opportunities. They cite this quote from Lucy M. Montgomery's Anne of Green Gables in sum: "Because when you are imagining, you might as well imagine something worthwhile."