"The Mount has been a warm, cozy, comfy place, but it has also been a place that gets you to push your limits."
Catherine Alexander wasn't considering returning to university when she left Toronto having partially completed an acting degree at York University.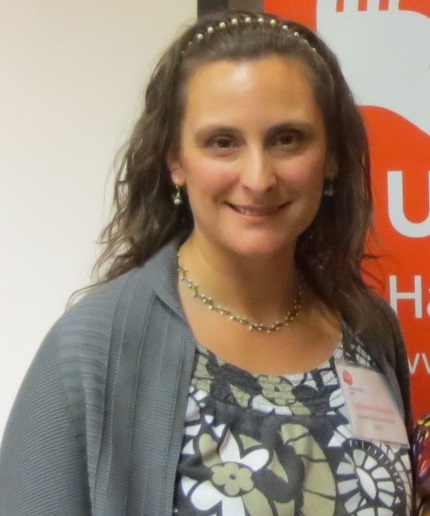 Making her education fit her life
As a mother, wife and full-time administrative assistant at the Nova Scotia Community College (NSCC), Catherine found a way to complete her education while keeping many other balls in the air. She plans to put her aptitude for psychology and the skill set she furthered at the Mount to work in helping others.
"Studying psychology gives you a different insight and a better way to understand people. It gives you a different perspective on life, on people and on interactions. It allows you to be a lot more empathetic, understanding and kind," she said.
Working in Student Services at NSCC, Catherine has always felt that she "just seemed to click" with those seeking help, in part because of her own experience.
Overcoming hurdles along the way
"I grew up with a learning disability," she said. "It feels like being told that you can't do something, or that you aren't smart enough, but sometimes it's just you telling yourself those things and that can be hard to get past."
Catherine never let a learning disability hold her back. She persevered with the help of the Mount's
disability services
staff who helped her determine what supports she needed in order to achieve her goals.
"I wanted this for myself, but I also wanted to show my son that if you want something, you can do it. It might take a bucket load of work, but you will get there."
Catherine attributes much of her success to the encouragement and support she received from the faculty at the Mount. "They are almost willing you on. You sense that the faculty believes in you. It makes a huge difference and there are a number of faculty along the way that have been champions for me," she said.
It's about helping
"What it boils down to is a desire to help people," said Catherine about her time at the Mount – she also volunteers feeding stray animals with Hope for Wildlife, fundraising for the United Way, and empowering kids through Big Brothers Big Sisters.
"That's kind of my thing," she said.
Catherine has been selected to speak on behalf of her graduating class at the Mount's spring 2015 Convocation, fulfilling her ambition to become valedictorian. The obstacles she overcame and her ability to make a difference in the lives of others make her worthy of the title.
"It's a real honour to be able to speak on behalf of my fellow students. I come from a different place than some students, but to be recognized as a disability student, a woman, a mother and employee, to be recognized for those things, it's such a sense of pride."