March 19 to 23 marks the 2018 National Co-op and Work-Integrated Learning (WIL) Week – a week dedicated to celebrating the benefits of experiential learning in post-secondary education.
The Mount is home to the longest-standing accredited co-op program in the Maritimes, offering opportunities to complement classroom learning with on-the-job experience since 1979.
To celebrate the week, we caught up with current Mount students completing co-op placements to see what they have learned.
Ashley Burgess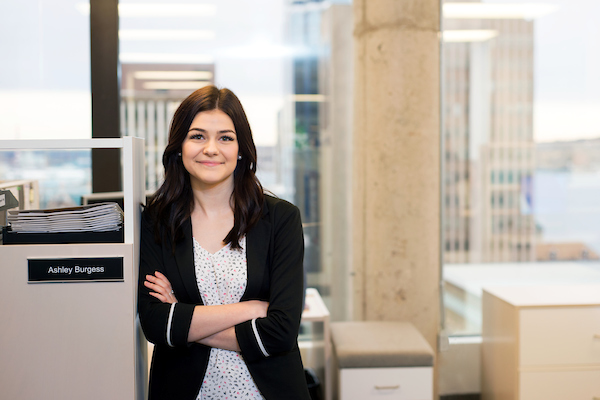 Program: Bachelor of Business Administration in Management with a minor in Marketing, third year
Position: Business and Marketing Assistant, Nova Scotia Department of Energy
Responsibilities: Program assistant, event planning, marketing outreach, stakeholder communications
Growth: "I have become confident and comfortable in professional environments. I feel more motivated academically because I have seen first-hand that my studies are relevant to the jobs I'm interested in."
"At the end of my last work term with Scotiabank, I was invited to play for my branch's softball team in their annual tournament. We played against other branches from HRM and didn't win anything, but it was a great time! I felt lucky to be able to participate in such a fun bonding experience.
I encourage everyone to participate in a co-op program if they have the opportunity to do so. The benefits are endless."
Rob Petolas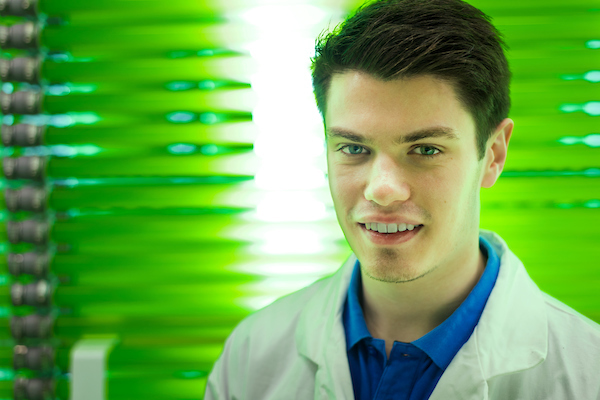 Program: Bachelor of Public Relations, third year
Position: Junior Communications Officer, National Research Council of Canada
Responsibilities: Event planning, social media management, internal communications, editing and graphic design, publishing, employee outreach, photographic government relations
Growth: "Co-op has allowed me to step out of my comfort zone and work in an unfamiliar industry. It has allowed me to expand my knowledge and refine my communications skills."
"My favorite experience of co-op so far was the first time a speech that I had written was read by a Member of Parliament. After spending time writing and re-writing this speech, going through the numerous steps of approvals and then finally having it approved, watching an MP read my words felt great. It made all of my hard work worth it.
Throughout my co-op experiences, I have never felt under-valued. My management and co-workers go above and beyond to include me in decisions and projects that actually carry weight and value to the organizations. The experience has been invaluable."
Nada Halaweh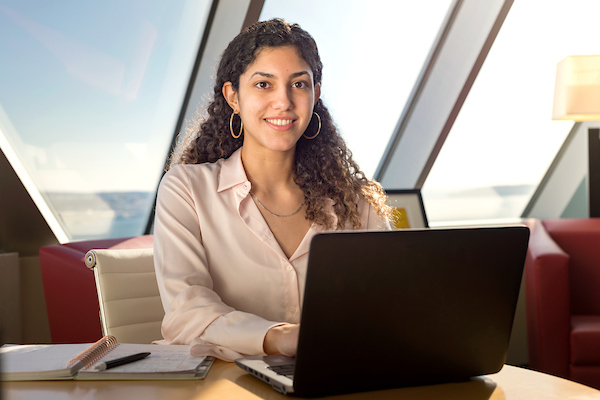 Program: Bachelor of Public Relations with a minor in Marketing, fourth year
Position: Marketing and Communications Assistant, Halifax Partnership
Responsibilities: Social media management, writing communications materials, event coordination for #HireMeHalifax, video production
Growth: "Co-op keeps you learning and adapting because no two days are the same. There might be a new project or new task that comes to life out of nowhere and that's where the fun is. I was exposed to different aspects of public relations and marketing in each co-op and in very different industries."
"My favourite part about taking part in co-op is the hands-on experience you get. For example, while I did have practical experience creating a video in my audio-visual class, I was given a video-interview project to do on my own through a co-op term. I was given a grade for the project in the classroom, but the videos I had to create were to be used and shown to the public. The process excited me from prepping the interview subjects at the given sites, to trimming out the unneeded clips. In the end, I was able to create a series of tools (videos) to help people."
Devin Sturge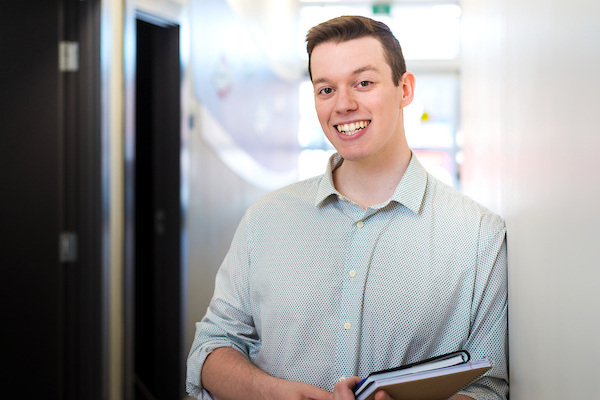 Program: Bachelor of Public Relations, third year
Position: Marketing and Communications Coordinator, Canadian National Institute for the Blind
Responsibilities: Social media management, event management, media relations, graphic design, communications writing, internal communications
Growth: "I have gained many professional technical skills that can be used further in my career, but I have also been able to develop my professional attitude towards both class and co-op. I have been able to learn from the experience of my coworkers, and gain experience of my own in new areas. I enjoy being able to get hands-on learning while still feeling productive and like an important part of a team."
"My manager at CNIB has become a volunteer puppy raiser with our Guide Dogs program. This experience has helped me understand how people with vision loss can live independent lives with a guide dog, the long process these individuals have to go through to receive one, and how to interact with guide dogs. Having a puppy in the office was quite the reward, as well!
I feel more prepared for the work force after taking part in my co-op terms. Public relations is such a vast profession with many different sectors, that it would be difficult to enter the workforce and know which sector works best for you without any prior experience. Co-op has given me that experience."
Klara Needler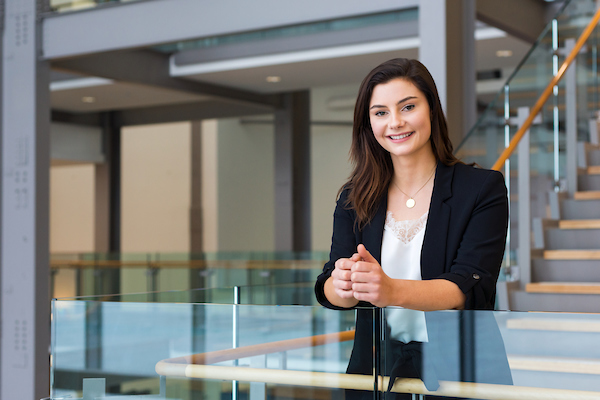 Program: Bachelor of Public Relations, third year
Position: Communications and Public Affairs Co-op Student, Nova Scotia Power
Responsibilities: Produce newsletters, write and design communications materials, perform daily website updates, create bi-weekly media summaries, and assist in the Emergency Operations Centre during storms by providing social media support
Growth: "I have learned a variety of aspects of public relations from each of my work terms – from PR writing, to organizing events to communicating with the media. Each co-op work term has really helped me to hone my written and oral communication skills and has also boosted my confidence in my own abilities moving into the professional world."
"Working with the communications team at Nova Scotia Power has taught me so much about the ins and outs of public relations in the corporate sector. I am thankful to the mentors I have met, like my current supervisor Maeghan Murphy. (Editor's Note: Maeghan is an alumni of the Mount's Public Relations co-op program!)
Being in the 'real world' of public relations has given me a realistic view of what's out there. I now have a clearer picture of what I can see myself doing in the future and have gained a sense of what working in different fields of public relations is like."
Hamid Reza Afkari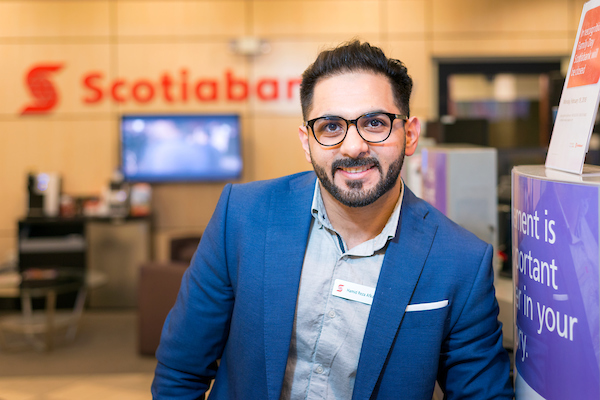 Program: Bachelor of Business Administration in Management, fourth year
Position: Teller, Scotiabank
Responsibilities: Depositing cash, completing wire transfers, helping customers pay bills and make payments
Growth: "This job has helped me think through completing tasks and has made me more confident in asking questions without hesitation."
"Co-op is the best opportunity to find and experience the work place that you are looking for. I found a job that I actually want to be in and see my future there."
MacKenzie Wentzell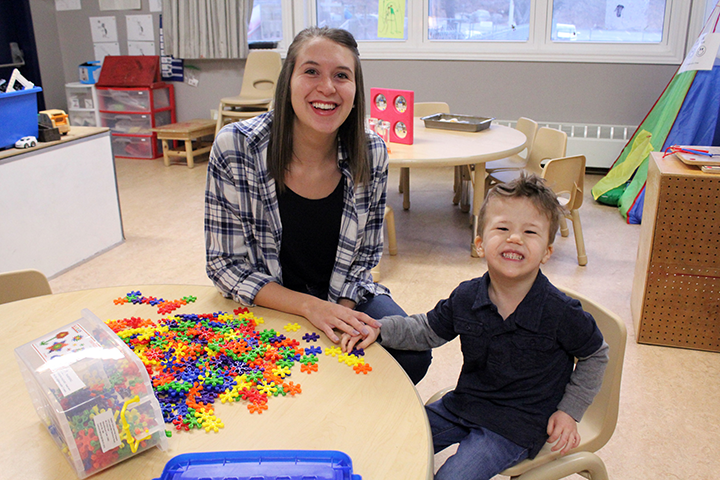 Program: Bachelor of Child and Youth Study, second year
Position: Practicum Student, Mount Saint Vincent University Child Study Centre
Responsibilities: Planning and implementing activities based on the age, ability and interests of the children.
Growth: "Starting a placement can be nerve-racking. You are entering a new place where you have many responsibilities, and for Child and Youth students you have children looking up to you. Practicum has helped me step out of my comfort zone — I have gained confidence in my skills that I will carry with me to my future placements. It has also helped me confirm that I want to work with children and that I am on the right track to my end goal, which is a career as a speech language pathologist."
"On one of my first days, a child asked me to write my name and his name on a piece of paper. From there he asked me to write a combination of our two names together. Of course this made a silly word (as he called it), and we continued to do this for quite a while. There was lots of laughter as I pronounced the words for him so he could say them as well. This is an example of how a learning experience for a child doesn't always have to be pre-planned.
I have gained so much knowledge of the profession of an Early Childhood Educator through my experience at the Child Study Centre. Practicum placements are a great learning experience because you are immersed in your field, it is hands on, and you use what you've studied in the classroom and apply it to real life situations. To me it's the best way to learn."