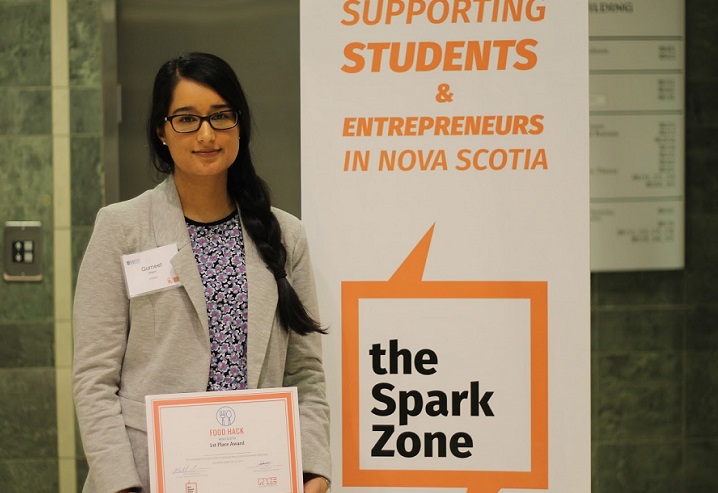 Mount students recently joined forces with peers from across the province to develop innovations to tackle food insecurity and sustainability in Nova Scotia. Food Hack Nova Scotia, which took place February 19 and 20 at Saint Mary's University, was a collaboration of the Spark Zone (a student-focused business development and social innovation hub), the Mount's Centre for Women in Business and the NSCC Centre for Entrepreneurship. Pace Ventures, a United Kingdom-based venture building group, facilitated the event.

Jordan Landry, Manager of Entrepreneurial Relations for NSCC, said that when deciding on a topic of focus for the event, battling food insecurity was a common goal for all involved. More than 23,000 Nova Scotians accessed food banks last year, helping make Nova Scotia the second most food insecure province in the country. "It is important to find ways to combat the issue that are meaningful for the people here," noted Jordan.


Creating a winning pitch
Mount Master of Applied Human Nutrition student Gurneet Dhami was a member of the student team that took home the event's top prize. Her team, Second Wave, pitched a sustainably-sourced fertilizer made from lobster waste, which would help the agriculture industry while promoting Nova Scotia's vibrant fishing industry. The team's goal was to create a sustainable resource that could close the supply chain gap in the system. "We chose to do something very symbolic to Nova Scotia and landed on the fishing industry, but more specifically lobsters," Gurneet said.

Her team included students from Dalhousie, NSCAD and Saint Mary's. Gurneet was the only nutrition student in the group, with teammates studying food business, creative design and economics. Gurneet cites their diverse knowledge base as the main contributor to their success. "It goes to show that multiple perspectives are crucial in solving a problem such as food insecurity, because it affects us all at different stages," she said. "Working together can help break the silos and help identify a unified path towards a solution."

Gurneet's group was supported by Saint Mary's Manager of Skills Development and Training Michael Sanderson and tech start-up professional Ross Arsenault. Each group had the benefit of guidance from event mentors. Their assistance helped the students see the bigger picture of the issues involved, while also identifying opportunities for the idea to grow beyond the event.


Spreading focus on the issues and solutions
Of note, third year Mount Applied Human Nutrition student Elizabeth Manderson received the event's Social Media Guru award in recognition of her live-coverage of the event on Twitter. "I have enjoyed tweeting during various conferences and events in the past," Elizabeth said. "Using Twitter and the hashtag #FoodHackNS, I posted regular updates from the Food Hack event on what we were doing and what we were learning." Not only did her social media activity share event news, but through her efforts Elizabeth was also helping to raise awareness of the problem of food insecurity and potential solutions.



Elizabeth's team, comprised of Mount and NSCC students, pitched an after-school food literacy program for kids aged eight to 12 focused on making food education more accessible to rural communities. Event mentors helped them shape the logistics of their plan to make it mobile and sustainable. Elizabeth noted that the experience left her motivated to continue collaborating on food insecurity projects. "I realized there is a lot of help out there for making ide
as come to life."

Unpacking a problem of significant proportions
At the event, students learned about the state of food insecurity in Nova Scotia from industry and research leaders, including Mount Applied Human Nutrition assistant professor Dr. Jennifer Brady and Mount Research Chair in Food Security & Policy Change Dr. Patricia Williams. With a focus on food insecurity and sustainability in her research and classes, Jennifer notes that in their complexity these issues are a "wicked problem". "The definition of the problem is not necessarily clear, making the solution very complex," said Jennifer. "When you bring students together from across disciplines, it brings an opportunity to see how each discipline sees the problem differently. It shows their skills and strengths differently in tackling the problem, which overcomes its complexity."

Added Gurneet, "This event went to show that the future is in the hands of our generation. We have the brains and tools necessary to tackle 'wicked problems' such as food insecurity through socially responsible solutions. It's just a matter of coming together so we can all benefit."