Longest-standing accredited co-op program in the region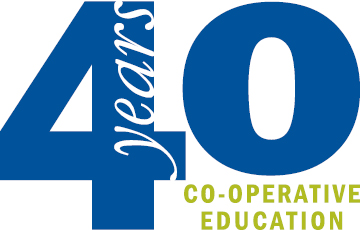 This January, Mount Saint Vincent University
is marking an impressive milestone with the 40th anniversary of its co-operative education program.

The longest-standing nationally accredited co-op program in the Maritime Provinces, the Mount began offering an optional co-op program in 1979 for students in the Bachelor of Business Administration program. Four decades later, more than 8,000 Business Administration, Public Relations, and Tourism & Hospitality Management students have taken their learning from the classroom to the workplace, completing paid work terms in industries related to their field of study (today co-op is a required part of the Public Relations and Tourism & Hospitality Management degrees). Since 2014, the Mount Co-op Office has also enabled experiential opportunities for Arts and Science students through an Arts & Science Internship Program.

Throughout 2019, the Mount will be sharing stories of co-op successes via social media channels and on its website with the hashtag #peopleofmountcoop.
"Each year, almost 300 students gain valuable co-operative work experiences locally, nationally, and internationally," notes Mount President and Vice-Chancellor Dr. Mary Bluechardt. "Countless more benefit from practicum and internship opportunities across other Mount programs. These experiences can be transformative for students as they develop their professional networks and apply what they've learned in the classroom."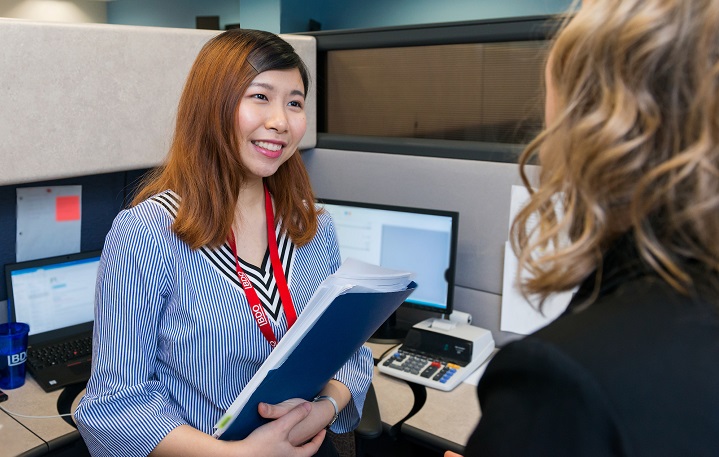 One such student is Ploynapas Jirarungroj (pictured above), who came to the Mount from Thailand in 2015. As an Accounting major in the Business program, she quickly realized the benefits of gaining on-the-job training as part of her degree and applied to the co-op program. Asked about her experience thus far, Jirarungroj is enthusiastic. "It's remarkable and rewarding! The co-op program gives me opportunities to show the professional world what I am capable of."

Jirarungroj also appreciates the opportunity to gain industry experience in Nova Scotia, noting that while international students can face barriers to entering the Canadian workforce, such as language difficulties or cultural differences, "participating in the co-op program can greatly benefit international students in overcoming their fears and challenges and making themselves competitive" in the local job market.

Mount alum Scott Verret completed the Public Relations program in 1988 and has been hiring and supervising co-op students in various communications roles within the federal government for ten years. His strong commitment to mentorship and fostering a supportive work environment has led to multiple nominations for the Mount Co-op Employer of the Year award by his former co-op students.
---
"For four decades now, the Mount Co-op Office has been helping the learners of today become the leaders of tomorrow across Nova Scotia, Canada, and the world."
— Scott Daniels, Co-operative Education Manager
---
As Verret notes, the benefits of co-op are not just one-sided. "Our communications unit operates very much as a team, and we really enjoy welcoming a new student every four months. Each student brings different ideas and experiences that enrich and refresh our whole team. The benefits to co-op are many. Not only do we get enthusiastic and capable students that help better serve our clients, but we build a pool of candidates from which we can recruit for future positions, and we develop friendships."

Verret also appreciates the support he has received from the Mount Co-op Office throughout the hiring process, and says the co-op team has "listened to our suggestions and has been responsive to the needs of employers. I'm very happy with the relationship that we have built over our many years of working together."

Mount Tourism & Hospitality Management Program Coordinator and Associate Professor Dr. Candace Blayney sees the co-op program as an excellent way to compliment and enhance the skill-set students gain in the classroom. "The work experience ensures a good, well-rounded education with hands-on experience, in addition to theory. Through co-op, students have the opportunity to test drive several potential career paths before they graduate, while employers can recruit potential future hires." Together with the Co-op Office, Mount faculty support students in achieving their academic and professional goals by offering career advice, information about various industries, and opportunities to connect with employers on campus.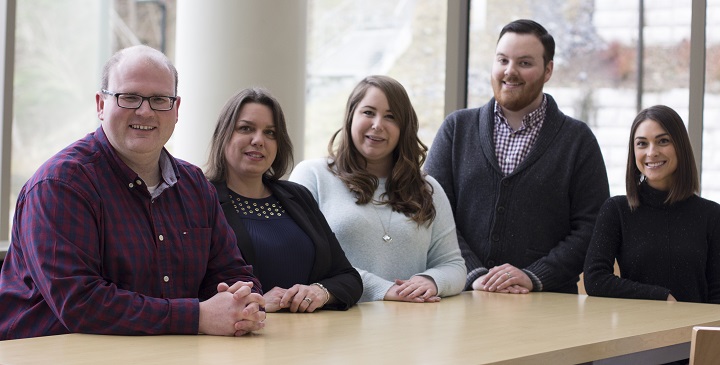 The Mount co-op team
"For four decades now, the Mount Co-op Office has been helping the learners of today become the leaders of tomorrow across Nova Scotia, Canada, and the world," says Co-operative Education Manager Scott Daniels
(at left in the photo above)
. "The co-op program has provided students with the support and experiences needed for career exploration, promoted an environment where diversity is celebrated and valued in the workplace, maintained a network of strong employer partners, and developed skilled professionals to strengthen the workforce in new and innovative ways."
Recent co-op service expansions include the addition of two dedicated interview rooms on campus in 2015 (when the program moved into its new space in the McCain Centre) and the launch of Career Connects in 2018, an online portal allowing students and employers to post jobs and applications, arrange interviews, and make and accept job offers with ease.

The benefits of co-op are evident beyond graduation as well. In a survey of recent Mount co-op graduates, 100% of respondents said they felt prepared for the workforce after completing the co-op program, and 90% secured employment in their field of study within six months of graduation. Bluechardt commends the program for its past successes and future endeavours. "I congratulate the Co-op Office on the program's 40th anniversary, and look forward to many more successful experiential learning connections for our students in the years to come."
---
Gillian Batten
Director, Communications, University Relations
Mount Saint Vincent University