Meet Jeff McKinnon
Jeff McKinnon is no stranger to the Mount. He completed his undergraduate degree at the University in 2002 and has been a part-time instructor in the
Business Administration
program for the past 10 years. In the fall of 2018, he joined the department full-time.
Jeff credits one of his
accounting
professors at the Mount, Ann McGillivray, with encouraging him to pursue his MBA combined with his CMA designation (which he completed at Saint Mary's University). "Ann was the one who guided me down this path and I'm grateful she did. I realized I could still earn a living while taking the next step in my education."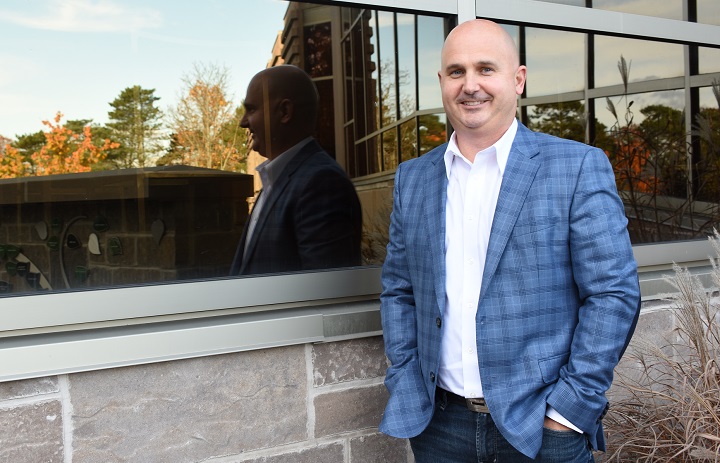 And while Jeff has always enjoyed both learning and working, his true passion is being a connector for students. "It is all about the interaction with the students and seeing students succeed. I want my students to do well and I want them to do well post-graduation. This is 110% why I do this. Here at the Mount we often see students who are more mature and are working while completing their degrees. I've been in their shoes and I want to help alleviate the pressure and make the experience better."
A diversity of experience
Based on his more than 15 years working in business, Jeff is always looking to bring real-life examples into the classroom. He likes to inject a little humour too. He is adamant about ensuring that students leave his class with a smile and having learned something new. "Accounting can be the lifeblood of business. Whatever position these students find themselves working in, it is important to have an understanding of accounting and having real-life examples makes it easier to make connections."
Jeff brings a wealth of knowledge and experience to the classroom. Prior to teaching full-time, he worked with entrepreneurs from a variety of backgrounds to help them grow their businesses. He has also been a business owner himself and currently serves as the CFO of TruLeaf Sustainable Agriculture Inc., an agricultural technology organization that strives to enable every community to grow healthy food locally and sustainably.
---
"I am most fulfilled when I am working with students in the classroom or talking with them about their future plans…my focus is on helping people find their version of success."
— Professor Jeff McKinnon, Business Administration

---
One of the things that Jeff has enjoyed most about his career is the opportunity to meet new people and to learn about different industries. "I like to connect with people. My journey has taken me all around the world and I've had the opportunity to build relationships with prominent business figures in Canada. The network in Canada is fairly small so once you have your in-roads the opportunities are endless."
This past year, Jeff also started his Doctorate in Business Administration at California Southern University. His experience working with entrepreneurs has informed the direction of his research, which includes helping entrepreneurs find resources to grow their business. He is examining the investment criteria of venture funds and how they perform their valuations of potential portfolio companies. The overall purpose is to give entrepreneurs perspective on how they can create an effective investment pitch, which can be difficult for businesses starting out. Jeff has also been working with one of his colleagues in the Mount's Business Department to explore the usefulness of financial statements. The initial findings provide insight on how businesses may use financial statements and what information may be included to maximize readability.
A commitment to seeing others succeed
Though his life is multi-dimensional, it's his work with students he is most passionate about. "I am most fulfilled when I am working with students in the classroom or talking with them about their future plans– whether that be a job after graduation or additional education."
"At the end of the day what inspires me is success and everyone defines this differently. In my view, you are successful if you are happy. For some people, this may be monetary and for others this is being surrounded by family. I just like to see people happy. I have had success in business and now my focus is on helping people find their version of success."
And while Jeff acknowledges that accounting may not be for everyone, he believes that there are great benefits to studying the topic. "Accounting takes a lot of work and dedication, but it is an extremely rewarding career and there are a lot of jobs and well-compensated opportunities. If you like numbers and the quantitative skills that go along with understanding business, you will likely do well in this field."
Outside of school and work, Jeff enjoys spending time with his wife and three girls. He is an avid sports fan and was thrilled his team, the Philadelphia Eagles, took home the Super Bowl in 2018.