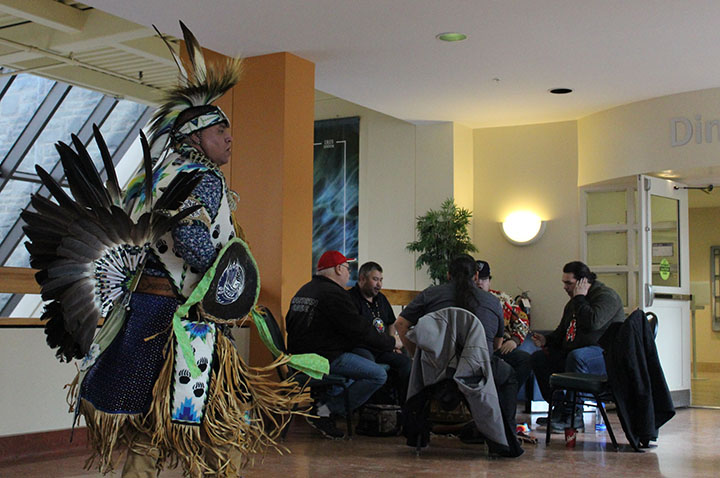 Earlier today (Jan. 22), the Mount's Aboriginal Student Centre and Office of the President hosted the second annual Mi'kmaw Mid-Winter Feast. Students, faculty, staff and community members gathered for a traditional Mi'maq meal of fish chowder with bannock, maple glazed salmon, roasted vegetable stew, berries and more. Attendees also enjoyed drumming by Eastern Eagle and dancing by Trevor Gould.

"The Mi'kmaw Mid-Winter Feast is an ancient Mi'kmaw Feast. It was traditionally celebrated shortly after the first new moon of Punamuiku's (January). Mid-winter was the end of the year and the start of the new ceremonial year for the ancient Mi'kmaq. The Mid-Winter Feast purpose was the presentation of thanksgiving to all the spiritual forces, especially to the Great spirit, for the blessings of life, health, and sustenance and the privileges of social life." (source: Potlotek First Nation)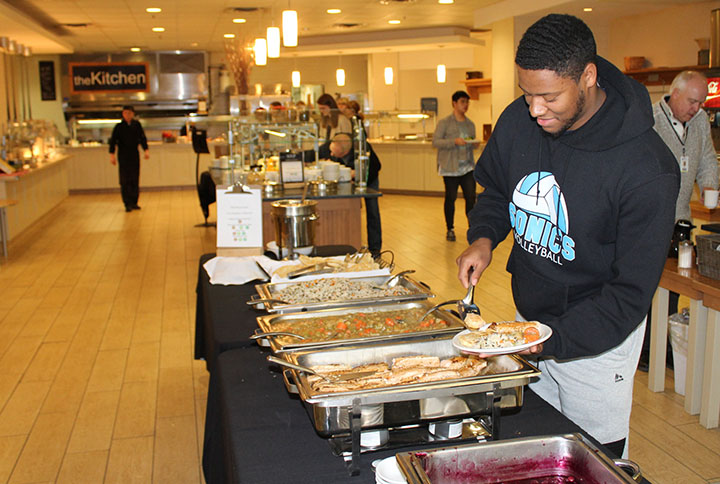 In a video message, Mount President and Vice-Chancellor Dr. Mary Bluechardt (who wasn't able to attend the event in person) affirmed the Mount's commitment to truth and reconciliation efforts. "It takes all of us working together, truly listening and truly understanding to enact positive, sustainable change for all." Dr. Bluechardt also shared with the Mount her spiritual name, Silver White Wolf Woman, which was presented to her by Elder Joe Michael in a ceremony held last fall.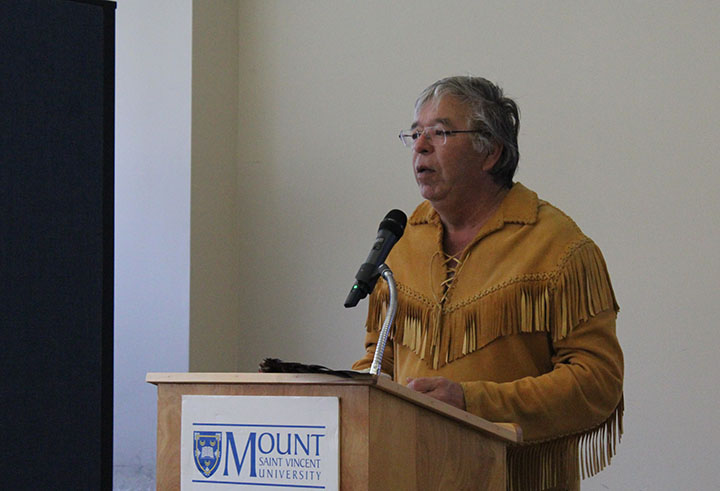 In an address, Elder Joe (pictured above), the first-ever Elder in Residence at the Mount, echoed Dr. Bluechardt's comments, noting the importance of hosting events such as the Mid-Winter Feast on campus. Joe commended the Mount for being one of the first universities to host an event of this kind. "The Mount is sitting down and listening," he said.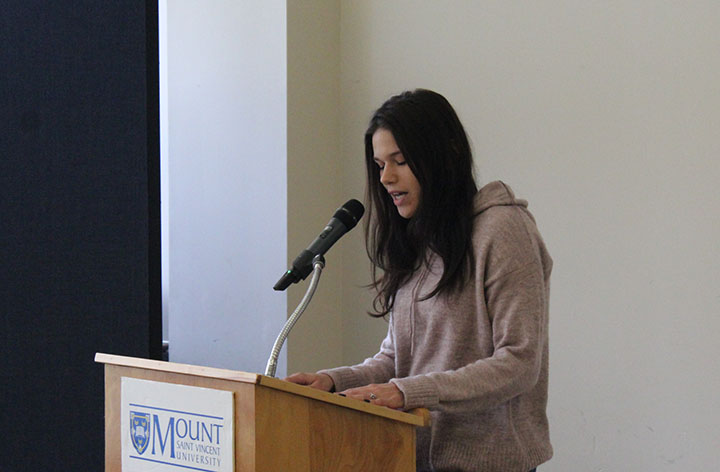 Kathleen Arsenault (pictured above), who served as event emcee, is a Mount student originally of the Inuit Nation, Newfoundland and Labrador. She is also currently working at the University in the role of Aboriginal Student Centre Assistant. Kathleen noted the importance of bringing cultural traditions like the Mi'kmaw Mid-Winter Feast into university spaces. "Along with bringing these traditions into the university, the Mount works to bring awareness to Indigenous issues, including the 1,200 missing and murdered Indigenous women."

The Aboriginal Student Centre at the Mount offers supports for students in an educational and culturally engaging space on campus. The Centre provides academic advising and offers the opportunity for students to learn more about Aboriginal culture while providing a place to study and engage with peers.