This fall, Elder Joe Michael of Indian Brook, Nova Scotia, has joined the Mount community as the University's first Elder in Residence. In this role, Joe works with the Aboriginal Student Centre (ASC) team in advancing the university's efforts in support of Indigenous learners and communities, including increasing awareness and understanding of Indigenous culture and issues.
A steadfast commitment to students
Joe is no stranger to the Mount community. He has often led Indigenous ceremonies on campus and been part of classroom discussions on Mi'kmaq culture. He is glad to formally join the University in the role of Elder in Residence, a position that he notes marks "a positive step in helping Aboriginal and all students succeed."
When describing the role of an Elder, Joe compares it to that of an older family member, like a father or grandfather. As a mentor, he hopes to pass along knowledge of Mi'kmaq culture and life skills to students. And his audience isn't just Indigenous students – Elder Joe aims to broaden awareness and understanding of Mi'kmaq culture among non-Indigenous students too. His presence is being felt already – in a couple of short months, he has already become a familiar face on campus, presiding over many events and sharing his expertise across many efforts and learning opportunities.
One of Elder Joe's biggest passions is communication. A believer in positivity, he emphasizes listening empathically and building connections with others. He's also committed to sharing his knowledge of Mi'kmaq language. He enjoys helping students learn the language by teaching its history and meaning. The chance to learn about Mi'kmaq language from Joe has been of particular value to students completing the new Conversational Mi'kmaq for Non-Speakers course (offered at the Mount in partnership with Cape Breton University) – for them, he has provided an opportunity for additional practice, learning and support.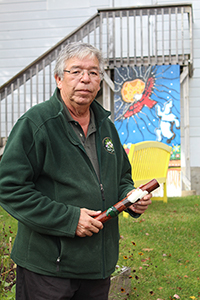 Joe is keen to connect with students and help however he can in the adjustment to university life. For those seeking the comforts of home, he hopes the Aboriginal Student Centre will be seen as warm and supportive space. "The resources here are second to none," he notes. "This is a home away from home for everyone." Joe says his role doesn't stop at the borders of campus. He is also eager to connect students with resources in the community, including local reserves and community hubs.
A leader across many communities
Prior to joining the Mount community, Joe dedicated 25 years of service to the Royal Canadian Mounted Police (RCMP) throughout Nova Scotia. Elder Joe was the first Mi'kmaq officer sworn in to the RCMP.
He is also a Pipe Carrier and a maker of customized Talking Sticks which can be found world-wide. Some of the sticks he has made are on display in the Aboriginal Student Centre at the Mount.
Perhaps what he's most looking forward to in his new capacity at the Mount is seeing students he has worked with cross the stage at convocations for years to come. "If I play even a small role in helping students make it to the end of their degree, then I have succeeded."
The Mount community is delighted to welcome Elder Joe Michael in his new role.
---
Elder Joe Michael will be at the Aboriginal Student Centre Tuesday and Thursday afternoons, and can be contacted through the Centre at 902-457-6228.