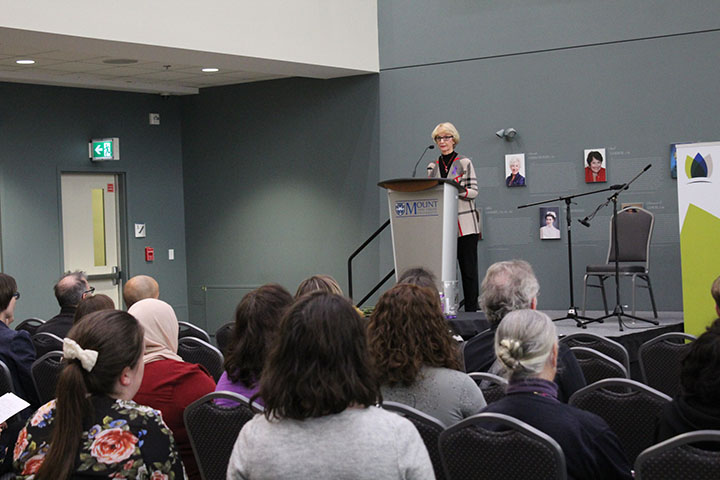 Earlier today, members of the Mount community gathered for a special ceremony organized by the Alexa McDonough Institute for Women, Gender and Social Justice to mark the National Day of Remembrance and Action on Violence Against Women.
Established in 1991 by the Government of Canada, this annual tribute began after 14 women were tragically killed at l'École Polytechnique in Montréal on December 6, 1989. Now in its 29th year, the Day of Remembrance falls in the middle of the worldwide 16 Days of Activism against Gender Violence, which runs from November 25, the International Day for the Elimination of Violence against Women, to December 10, International Human Rights Day.
At the event, Dr. Mary Bluechardt, President and Vice-Chancellor of the Mount (pictured above), highlighted the continued need to end gender-based violence,
stating,
"While half of Canadian women have experienced at least one incident of physical or sexual violence, the risk of violence is much greater for some groups including immigrant women, senior women, Aboriginal women and members of the 2SLGBTQ+ community."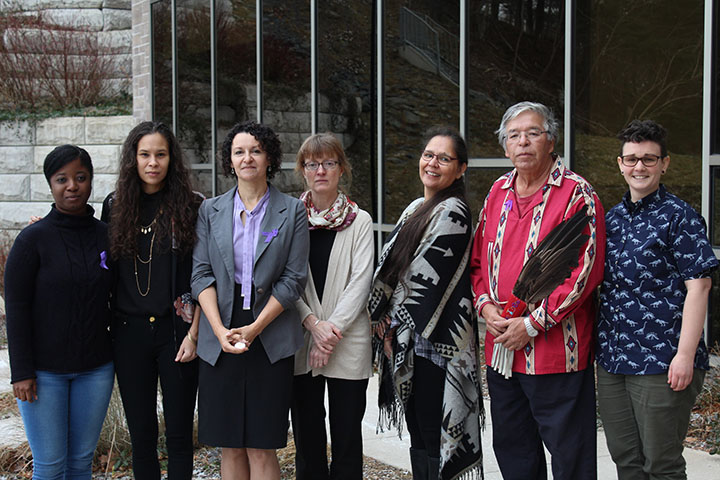 Pictured (l-r): Abimbola Schoboiki (event emcee), El Jones (Nancy's Chair in Women's Studies), Dr. Susie Brigham (AMI Chair), Dr. Juliette Valcke (Associate Professor, Modern Languages), Veronica Gore (Aboriginal Student Centre), Elder Joe Michael (Elder in Residence at the Mount), Sebastian Gaskarth (MSVU Pride Centre)
---
The Mount's ceremony was emceed by Mount student Abimbola Shoboiki, and included presentations by students, faculty and staff, including two powerful spoken word poems by student Sebastian Gaskarth and Nancy's Chair in Women's Studies El Jones. Inspired by the Stonewall Riots, Sebastian's piece acknowledged violence faced by the 2SLGBTQ+ community. "As a trans, non-binary person, to be asked to deliver this piece, which represents our community, is an honour."
El's piece, titled Fourteen, noted how systemic issues of violence against women have intensified since the Montreal Massacre in 1989. She highlighted that such violence is still happening today. "These were young women and university students. We're remembering them and still fighting these issues almost thirty years later."
The Mount's first Elder in Residence Joe Michael delivered the Mi'Kmaw welcome and closing remarks, and
Dr. James Sawler
, an associate professor of Economics at the Mount, sang and played guitar.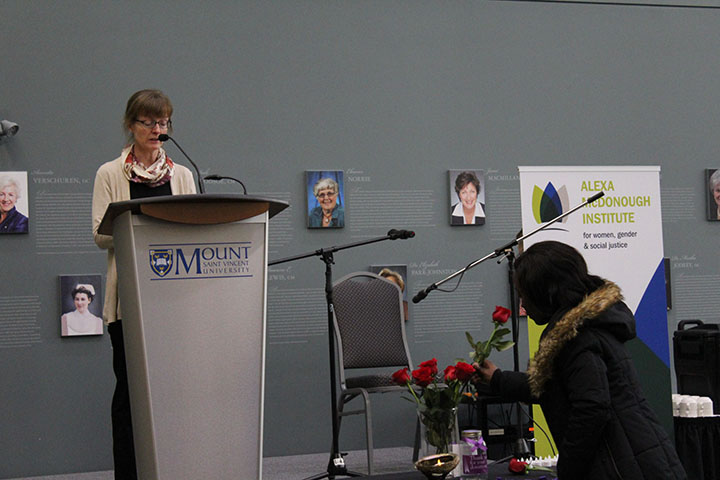 The names of the 14 women murdered in the Montreal Massacre, listed below, were read aloud by Dr. Juliette Valcke, an associate professor in the Department of Modern Languages (pictured above).
Hélène Colgan
Nathalie Croteau
Barbara Daigneault
Anne-Marie Edward
Maud Haviernick
Barbara Klucznik Widajewicz
Maryse Laganière
Maryse Leclair
Anne-Marie Lemay
Sonia Pelletier
Michèle Richard
Annie St-Arneault
Annie Turcotte