Bernadette Bernard came to the Mount with a plan and she's following through.
Set to graduate in 2016, she intends to move back from Halifax to the Mi'kmaq community of Eskasoni in Cape Breton, NS, where she grew up. And there she hopes to put to work the skills she's acquired as a student in the Mount's Child & Youth Study program, specifically supporting children with behavioural challenges in local schools.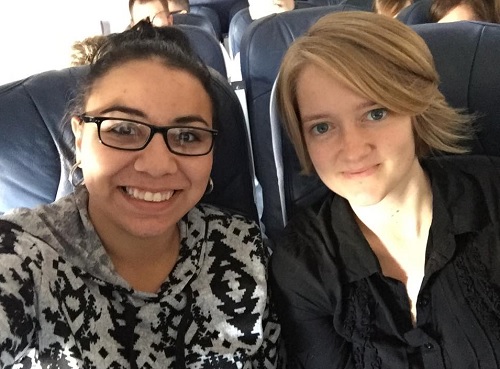 Also part of Bernadette's plan for her time at the Mount was to embrace as many opportunities as she could, and she's certainly done that. Earlier this fall, she attended the national 'Change it Up' conference of young change leaders in Toronto, and, most recently, Bernadette (left in photo at right) and fellow Mount student Isabella Redgate (right in photo), travelled to Salt Lake City, Utah to participate in the 2015 Parliament of the World's Religions – two among a handful of students from eastern Canada.

Held from October 15 to 19, this international gathering was a celebration of diversity, multiculturalism and religious pluralism. With nearly 10,000 participants, the 2015 World Parliament was only the sixth of its kind since the first was held in Chicago in 1893.

Bernadette describes the experience as "life changing", noting that the event opened many doors for her. For example, while squeezing in some studying between sessions, a woman approached her and asked whether she could borrow Bernadette's laptop to adjust the presentation she was about to give. As Bernadette helped the woman, she shared her story and was quickly woven into the fabric of the presentation, appearing on stage with the presenter.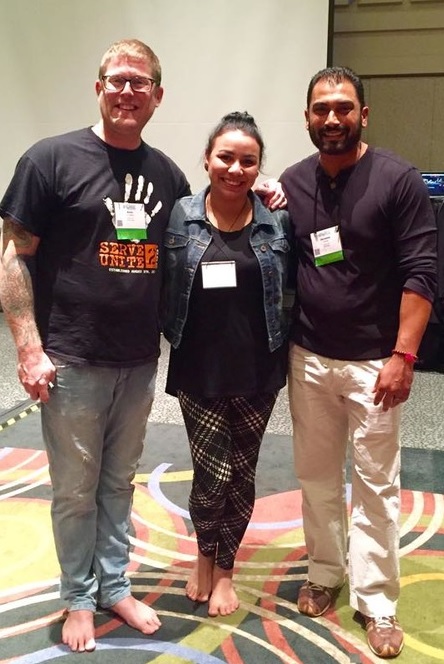 On another occasion, Bernadette gave up her chair to an elderly woman with mobility issues at the start of a crowded session held by elders from Indigenous communities. Suddenly, she was being called to the stage and held up as an example of the importance of respecting ones elders, something Bernadette said is an important part of her Mi'kmaq culture.

But the encounter that had the biggest impact on Bernadette was her meeting with the founders of Serve 2 Unite (photo at left), following a session they hosted called "My life after hate." The Serve 2 Unite website describes the group as having emerged in a spirit of defiance "in the wake of the Sikh Temple of Wisconsin shooting on August 5th, 2012." Moved by the personal stories that were shared, including the story of a former hate-metal band member turned Serve 2 Unite team member, Bernadette plans to stay in touch with this group, hopefully serving as their first Indigenous partner and link to Canada.

In the meantime, she plans to pack a lot into her last year at the Mount. Not only is Bernadette a busy student, but she's also a volunteer and supporter of the work for the University's Interfaith Peace and Friendship Centre and Aboriginal Student Centre.

Bernadette and Isabella documented their journey to this year's World Parliament via a blog. Read more at: Mount Gals to World Parliament.