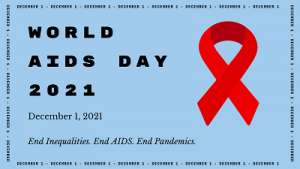 Today, December 1, marks World AIDS Day. This is a time to raise awareness about prevention and treatment, support those living with HIV/AIDS, commemorate lives lost, challenge stigma and discrimination, and celebrate achievements in the national and global response to HIV/AIDS. It is also the start of Indigenous AIDS Awareness Week in Canada.
The theme this year is End Inequalities. End AIDS. End Pandemics. There are increasing disparities in access to essential HIV services for prevention and treatment. The COVID-19 pandemic and AIDS epidemic intersect as they are both impacted by the same structural inequalities. COVID-19 has also affected access to HIV prevention, testing, treatment, and care. In turn, we could see a surge in HIV that would threaten the public health response to COVID-19.
Globally, millions of people are living with HIV. In 2018, the Public Health Agency of Canada estimated there were more than 62,000 Canadians living with HIV. For more information about HIV/AIDS explore the resources below:
The MSVU community is involved in important HIV/AIDS research. Last year, Dr. Phillip Joy and Dr. Shannan Grant, Department of Applied Human Nutrition faculty members and researchers, received a grant from Research Nova Scotia to investigate the nutrition and food needs of people living with HIV/AIDS in Nova Scotia. The Associate Vice-President of Research at MSVU, Dr. Jacqueline Gahagan, recently published a systemic review of the diagnostic performance of multiplexed rapid technologies for screening for sexually transmitted infections, including HIV.
The AIDS Coalition of Nova Scotia (ACNS) is holding the 2021 Halifax World AIDS Day Vigil December 1, 2021 at 7:00 p.m. AST. The event will be both in-person and virtual to remember and celebrate the lives of those with HIV/AIDS who have passed away in Nova Scotia. For more information and to register visit ACNS's website.