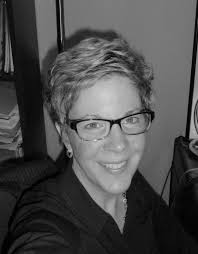 Ensuring Mount Saint Vincent University's researchers can continue to do the work they're passionate about for the benefit of as many people and communities as possible is one of the things Dr. Jacqueline Gahagan is most excited about as they become the university's Associate Vice-President, Research on September 1.
"I'm very familiar with MSVU's reputation and the amazing cutting-edge work that's coming out of the university," Jacqueline says. "I think there are many opportunities for MSVU to showcase its community-facing research strengths and I want to work with research communities to look at what the most pressing issues are for Indigenous communities, women's communities, LGBTQ communities, and feminist communities, among others."
Jacqueline says the pandemic has made many disparities requiring greater research focus readily apparent, and this has significant potential to shape research priorities moving forward.
"What we've seen laid bare in the context of COVID-19 are all of the extreme disadvantages experienced by particular segments of the population. This has been, sadly, an opportunity for everyone in Canada and beyond to realize the longstanding disparities that exist within Indigenous and Black Nova Scotian communities, as well as others," Jacqueline says. "I want to understand how we can use the strength of research to address pressing social, economic, political, environmental, health and other issues and use our evidence base to encourage real action."
A medical sociologist by training, Jacqueline has engaged in research in the areas of public health and the social sciences locally, nationally and internationally and has also worked with colleagues at MSVU on past social justice and equity-related research initiatives. MSVU's strong research reputation and well-known focus on accessibility align well with Jacqueline's personal priorities. Jacqueline led the push for the tuition waiver program for former youth in care at Dalhousie University and was grateful to MSVU for being the leader in the region in mobilizing this important initiative.
"This is a great opportunity to work in a place that resonates with my own program of research and my own sensibility in the world, which is that education should be a right for everybody," Jacqueline says.
Building upon existing relationships in the MSVU research community and connecting with researchers and others they haven't yet had the opportunity to meet will be a key focus in the early days of Jacqueline's new role, with the creation of a five-year strategic research plan (further to the recent launch of a new pan-University strategic plan) as another key priority.
"My first order of business will be getting to know people and getting to know their thoughts about the various research strengths of MSVU," Jacqueline says. "I want to gain a greater appreciation for the depth and breadth of the research enterprise at the university, and then move to co-developing the five-year strategic research plan, which is a great opportunity to have as the incoming Associate Vice President, Research."
Jacqueline brings important lived and career experience to their new position, providing them with important perspective and understanding that directly aligns with MSVU's focus on accessibility and equity.
"I am a member of the LGBTQ communities as well as a former youth in care and have witnessed social injustices in these contexts. I have worked in public health and on a wide array of health inequities including in HIV and HCV prevention, care, treatment and support," Jacqueline says. "Public health has a big job, but sometimes in the process of undertaking that job we pay less attention to populations and issues that are on the margins. I want to draw from my background in public health and social justice-focused research and my own lived experience and reimagine how we frame issues to make sure that we are not leaving anybody behind."
Jacqueline holds a PhD in Medical Sociology, a Master of Arts in Sociology and Bachelor of Arts degrees in Sociology and Anthropology. They have served as the Head of the Health Promotion Division and Interim Director of Dalhousie's School of Health and Human Performance, as Co-Director of the Atlantic Interdisciplinary Research Network in the Social and Behavioral Aspects of HIV and HCV, as a Founding Fellow of the MacEachen Institute for Public Policy and Governance, and Director of Dalhousie's Gender and Health Promotion Studies (GAHPS) Unit, which conducts multisectoral health promotion research and health policy analyses in relation to gender and sex as key determinants of health.
Jacqueline served as Chair of the Queer Faculty and Staff Caucus at Dalhousie University, and currently serves as a Scientific Officer for the Canadian Institutes of Health Research (CIHR) and as an Institute Advisory Board  Member of the CIHR Institute of Gender and Health. They were the 2017 recipient of the Dalhousie University Faculty of Health Professions' Senior Research Excellence Award, a recipient of the HIV/AIDS Research Initiative Community Based Research Program Distinguished Service Award presented by the Canadian Institutes of Health Research in 2016, the Ron Draper Health Promotion Award presented by the Canadian Public Health Association in 2015, and a Queen Elizabeth II Diamond Jubilee Medal presented by the Canadian AIDS Society for excellence in HIV/AIDS research in 2012.
"I'm absolutely thrilled to have this opportunity to come to MSVU, and to work with the great people here," Jacqueline says. "The philosophy of MSVU really resonates with me, so it's a bit of a gift to take my 20 years of research experience and bring that knowledge here. I'm so excited about this opportunity and, at this point in my career, it's time to pay it forward."