Thirty-two years ago (on December 6, 1989), 14 women – 12 engineering students, a nursing student and a financial clerk at École Polytechnique in Montreal – were murdered by a man who was motivated by his hatred of women and feminism.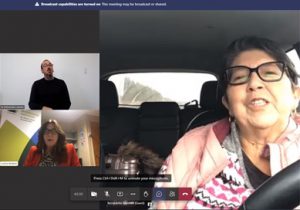 In 1991, the Government of Canada proclaimed December 6 to be the National Day of Remembrance Action on Violence Against Women. The day falls in the middle of the worldwide 16 Days of Activism against Gender-based Violence, which runs from November 25 (the International Day for the Elimination of Violence against Women), to December 10 (International Human Rights Day).
In partnership with the Nova Scotia Native Women's Association, the Alexa McDonough Institute for Women, Gender & Social Justice (or AMI) at Mount Saint Vincent University today hosted an online event to mark the day of remembrance and action.
The event was an opportunity to remember the victims of the shooting at École Polytechnique, reflect on the report of the National Inquiry into Missing and Murdered Indigenous Women and Girls, and re-commit to action against gender-based violence.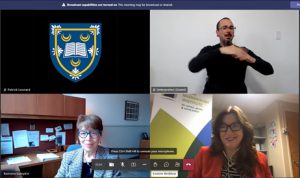 Presenters reminded of the continued prevalence of gender-based violence. Said Dr. Ramona Lumpkin, CM, Interim President and Vice-Chancellor at MSVU, "In 2019, 118 Canadian women and girls lost their lives due to gender-based violence. That same year, the National Inquiry into Missing and Murdered Indigenous Women and Girls released its final report titled Reclaiming Power and Place, calling attention to the fact that Indigenous women in Canada are 12 times more likely to be missing and murdered than non-indigenous women."
Dr. Lumpkin described the issue of violence against women as "a global human rights problem of epic proportions" noting that we must all be part of the solution.
"The UN says that 1 in 3 women around the world are abused in their lifetime. And Indigenous women are killed at nearly seven times the rate of non-indigenous women," said Leanne Beddow, Chair of the AMI. "Data has shown that that number increases in times of disaster, and the COVID-19 crisis has created what is known as the 'shadow pandemic' of violence against women and children."
Featured presenter Bernadette Marshall, niganus (the Mi'kmaq word for leader) of the Nova Scotia Native Women's Association, reflected on the day the news broke of the tragedy at École Polytechnique. "Ever since that day we have never forgotten," she said. "It reminds us that so many of our women go missing across Canada, including many unreported. It's a somber time for us remembering the women of our culture and your culture."
Bernadette reminded that women across all communities are both the same and unique. "We are all one people. We hurt the same. Our messages are the same: to help people and help women especially. … We're all in mourning today," she said. "Every day I find Mi'kmaq women are in mourning, every single day. … Right now, being Mi'kmaq, it's a hard time with everything that's going on within our communities for our women and children – they are the vital core of our culture."
Bernadette ended her remarks with a prayer for all women who have gone into the spirit world, noting that their spirits live on in every one of us.
As the names of the women who were killed at Ecole Polytechnique 32 years ago were read, an MSVU student placed a rose in their memory. We remember:
Geneviève Bergeron
Hélène Colgan
Nathalie Croteau
Barbara Daigneault
Anne-Marie Edward
Maud Haviernick
Barbara Klucznik Widajewicz
Maryse Laganière
Maryse Leclair
Anne-Marie Lemay
Sonia Pelletier
Michèle Richard
Annie St-Arneault
Annie Turcotte