Mount English professor Nathaniel Street on the power of language to challenge our perception of the world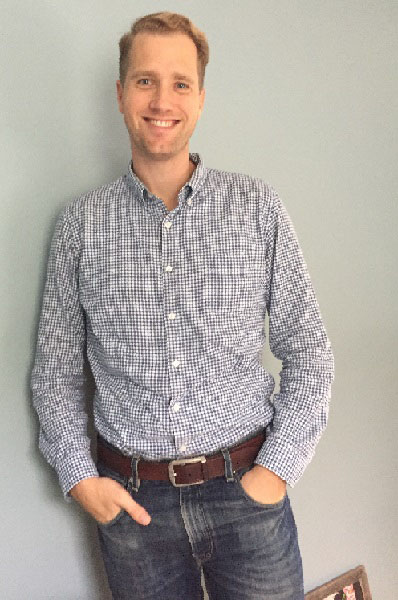 Mount English Professor and Writing Coordinator Dr. Nathaniel Street is curious about the world and how we use language to make sense of the things around us. Dating back to his early childhood years, Nathaniel recalls his family encouraging his hunger for knowledge.

"I have this reoccurring memory of my mom when we would ask questions of her. She would very rarely answer the question and instead go to the wall of encyclopedias, find the right volume, and read to us. She modelled to me what it was to ask a question and not pretend to always know the answer. Through this, she impressed upon me the importance of reading and exposing myself to different things and ideas."

It was this openness and curiosity about the world that led Nathaniel to complete a Bachelor of Arts in Philosophy with Minors in Classics and Art at Valparaiso University in Indiana. Oddly enough, it was an administrative error that steered Nathaniel into a philosophy course, which he later declared as his Major.

"I ended up in a philosophy course in my first semester because of a scheduling mistake. My professor, Dr. Shodhin Geiman, shifted the world from under my feet. His course opened up philosophy as a way of thinking about the world. The basic assumptions I had made about the world, Dr. Geiman made me question and showed me it was possible to challenge."

This notion of critical thinking is important to Nathaniel, and something he continues to cultivate in the classroom. "I never worry too much if, long after a class is over, a student can't remember a specific detail about a text or concept we talked about; rather, I feel that I've done my job if they can engage new complex concepts and texts critically, patiently, and thoughtfully."
---
"My job is to come into a place where smart people, both students and faculty, make it a priority to explore interesting things about the world. I get to do it every day and surround myself with people who honour this. From my perspective, I don't think anything could be better."
— Dr. Nathaniel Street, English
---
Bringing concepts to life in the classroom
Nathaniel describes his teaching style as active and collaborative. He uses the whiteboard as a place for collective thinking and wants students to be "engineers of concepts". "I want them to see how concepts work, what they can do and what they could do differently." For example, this may mean taking a theory from Aristotle and applying it to a modern day text. Nathaniel will often encourage students to think about how broader concepts illuminate language and the foundational beliefs and assumptions that they rely on all the time without knowing it. Ultimately, he hopes his classroom can be a place for exploration through careful conversation – two pillars that he feels made his educational journey so enriching.

It was in the latter part of Nathaniel's undergraduate program when he knew that he wanted to become a professor. But it wasn't until he was a graduate student that he decided on his field.

"I didn't even know what rhetoric was until I got to the University of South Carolina. But, there, I discovered that rhetoric offered me a perfect way of blending what I had learned in philosophy, English, classics, and even art. This unique blend set me apart in my classes. It was especially fortuitous because the field was really expanding and there were good job opportunities."

Nathaniel sharpened his critical thinking skills through his educational journey. "I had one professor, Dr. Visser, who had us write ten argument reconstructions every semester. They were hard to do and I struggled at first. But, after time – and plenty of corrections – I got the hang of it and found that I could dissect arguments much more quickly and precisely than I used to. In effect, Dr. Visser taught me to think more like a laser." This methodology and analysis continues to be helpful in Nathaniel's research, where he is providing perspectives on what rhetoric is.
---
"I often get my best thoughts, ideas or problems through interactions with students. The classroom is a fertile ground for thinking."
---
Making meaning through writing
"My research is giving me an insightful and more productive definition of what rhetoric is. I look at concepts like how rhetoric works independent of language or people and how persuasion works on us even when no one is speaking to us. I consider myself a rhetorician and philosopher. I don't have data sets out in the world. My raw material is my text and ideas."

Nathaniel is currently looking at how the logic and construction of writing teaches us rather than how we teach through writing. He is exploring how writing develops our habits of thinking and re-orients us in our world. The other side of his research focuses on writing pedagogy, where he applies his insight about rhetoric to teaching practices.

"Writing is a means of processing the world around us. For example, when you write descriptively or analytically, the world becomes those things to you. Writing trains us to think about and engage with the world in different ways. In ancient times, language was like a form of magic. How else could you explain something that could change beliefs, have the power to betray or even start a war. Gorgias likens speech to a drug that influences us and Plato was notoriously suspicious of writing's ability to work independently of our wishes. I mean, what could make this stuff more interesting?"

Nathaniel's hope is that his research will continue to challenge himself and others in teaching courses like writing and rhetoric. He credits his time with students as being his greatest motivation for his exploration into the pedagogy of writing and rhetoric.

"I often get my best thoughts, ideas or problems through interactions with students. The classroom is a fertile ground for thinking. The insights students share and the discussions we have in the classroom prompt me to explore certain areas and make new connections."

It is evident that these principles of curiosity, expansion and growth are also important in Nathaniel's personal life. "I try to be a bit hesitant about what I believe. I get worried that if I get too comfortable with my beliefs, that I am going to calcify. I want to always challenge my opinions about the world and see if they can be better formed. This is intoxicating to me. I like to find new and compelling ways to think about the world which means I can gather inspiration from a lot of seemingly unconnected places, from physics, to literature, to ancient Rome. This is why I love rhetoric because it can be so interdisciplinary."

When Nathaniel isn't in the classroom, he loves to experiment in the kitchen. He is inspired by colours and smells. "I'll often ask myself, do these colors go together? What is possible with this color palette? How do these smell together? Figuring out the taste often just follows." He also enjoys biking, reading, wood-working, and gardening. But most of all, he loves exploring with his wife and five month-old son, Lachlan.

While moving his family from the United States to Canada has come with a few challenges, Nathaniel feels he has found his home here in Halifax and at the Mount. "My job is to come into a place where smart people, both students and faculty, make it a priority to explore interesting things about the world. I get to do it every day and surround myself with people who honour this. From my perspective, I don't think anything could be better."