Mount Saint Vincent University will recognize the achievements of several hundred students during fall convocation ceremonies on Sunday, November 5, 2017. The University will officially install its new President and Vice-Chancellor at the morning ceremony, while graduates will be joined in the afternoon by Winnie Byanyima, Executive Director of Oxfam International, who will receive an honorary degree from the Mount.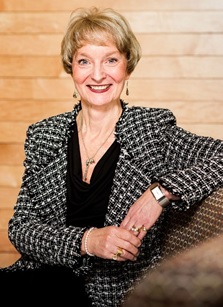 Dr. Mary Bluechardt
joined the Mount on July 1, 2017. An experienced academic and administrative leader, Dr. Bluechardt most recently held the position of Vice-President (Grenfell Campus), Memorial University of Newfoundland. Prior to that, she served as Dean of the Faculty of Health Sciences at the University of Ontario Institute of Technology and Dean of the School of Human Kinetics and Recreation at Memorial University. She was previously National Director of Coach Development with Special Olympics Canada for five years.
Born and raised in Sarnia, Ontario, Dr. Bluechardt earned her Bachelor of Physical and Health Education and a Master of Science in Coaching from Lakehead University. She obtained her PhD in Exercise Science and Health Promotion from the University of Toronto (Faculty of Medicine – Department of Community Health). She was a professor at the University of Regina for 17 years, in both the faculties of Kinesiology and Health Studies, and Education, with expertise in Adapted Physical Activity. As an active community leader, Dr. Bluechardt has worked tirelessly to advance the lives of people with disabilities through inclusive environments.
Dr. Bluechardt has been the recipient of several awards, including the YWCA Women of Distinction Award for Health and Wellness; University of Regina Alumni Award of Excellence in Public Service and Canadian Association for the Advancement of Women in Sport Award for the Most Influential Women in Sport and Physical Activity.


Winnie Byanyima
is Execu
tive Director of Oxfam International, a confederation of 20 organizations working in more than 90 countries empowering people to create a future that is secure, just, and free from poverty. Ms. Byanyima is a global women's rights leader, human rights defender and authority on economic inequality.
Born in Mbarara, Uganda, her activism was first inspired by the courageous women in her village and her family. Today she continues t
o support women's rights and social justice movements around the world.
Ms. Byanyima was recently appointed to the Global Commission on the Future of Work established by the International Labour Organiza
tion, and the Commission on Global Economic Transformation initiated by the Institute for New Economic Thinking. She serves as a global ambassador for the Open Government Partnership. She has served on the United Nations (UN) High-Level Panels on Access to Medicines and on Women's Economic Empowerment.
Prior to Oxfam, Ms. Byanyima led the directorates on gender and development at the UN Development Programme and the African Union Commission. She served eleven years in the Ugandan Parliament after having participated in Uganda's resistance struggle against dictatorship. A signatory to her country's 1985 peace agreement, Ms. Byanyima led Uganda's first parliamentary women's caucus which championed ground-breaking gender equality provisions in the county's 1995 post-conflict constitution.
In 2016, she was granted an honorary doctorate by the University of Manchester, which she first attended as a refugee and graduated with a degree in Aeronautical Engineering.
Note: The Mount will award only one honorary degree this fall, as the first of its two convocation ceremonies on November 5 (morning) will feature the official installation of its new President and Vice-Chancellor, Dr. Mary Bluechardt.
Convocation Ceremony Details
Dr. Mary Bluechardt will be installed as the Mount's 13th President and Vice-Chancellor during the morning ceremony (10 a.m.) on Sunday, November 5, 2017. Winnie Byanyima will be honoured during the afternoon ceremony (2 p.m.). Both convocation ceremonies will be held in the Seton Centre Auditorium and will be streamed live
here
.
About Mount Saint Vincent University
Recognized as a leader in distance and experiential learning, and based on a strong tradition of social responsibility, Mount Saint Vincent University takes a personalized approach to education to nurture socially responsible global citizens. Founded in 1873, the Mount has been nationally recognized for having one of the lowest student-to-professor ratios, for providing students early access to valuable research opportunities, for its legacy in the advancement of women, and for facilitating critical advancements in food security, healthy aging, literacy, and childhood development.
---
Media contact:
Gillian Batten
Manager, Communications
Mount Saint Vincent University
902-457-6439